ATV Accessories Guide
The Problem - Thousands of ATV accessories to choose from. You know you need that certain something to make your 4 wheeler perfect. You're just not sure exactly what it is or where to find it.
The Solution - Our Four wheeler accessories guide. We'll cover piles of accessories for all the popular ATVs. What's available - what works and what doesn't - and where to get the best deal on that accessory that will make your quad perfect!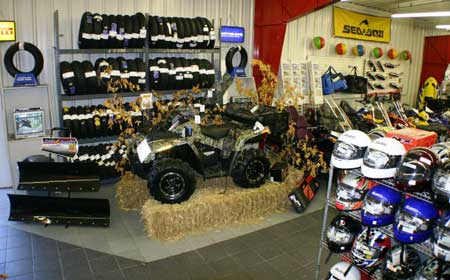 Improve your ATV with the right accessories.
We've divided things into the most popular categories for general ATV accessories here. If you're looking for a make and model specific accessory - just go to the section for that manufacturer listed on the left. Ready? Then let's do it!
---
ATV Accessories Categories


New ATV Accessories
Apparel and Riding Gear
ATV Dust Mask -  Review and test of the RZ M2 Mesh Mask for hot weather riding.

ATV Riding Gear - Best riding gear and how to prioritize your choices.
Body - Plastic, Controls, Graphics, Etc.
ATV Covers Guide - Buyer's guide to the different styles of 4 wheeler and side by side covers. Complete with listings of best daily deals.

Utility Implements
Manuals
Racks , Bumpers, Skid Plates
Mud
ATV Snorkels - Get all the facts about ATV Snorkels - What are they, how do they work, and do you really need them?

ATV Snorkel Kits Guide - This Guide will cover the most popular kits and where to get the best deals. We'll tell you what to look for and why, along with some more tips about how to have some fun with muddy 4 wheelers.
Snow
UTV and ATV Snow Plow Guide - The latest scoop on all the snow plow systems with info on blade styles, mounts, and lift types.
ATV Plow Systems - Polaris - Learn about the plow systems available for your Polaris ATV. Tips on which system will work best for your needs. Includes our list of where to find the best deals.

Guide to ATV Snowblowers - Answers to your questions about snowblowers for ATVs. Covers the most popular features, along with advice on which ATVs work the best with a snowblower. Don't miss our top buying tips for finding the best deals.

What is the Best Snowblower for ATV Four Wheelers? - Detailed description of the features of the most popular snowblowers for ATVs. Video demonstration of the various features in action. Tips on which snowblowers work best for different situations.
Wheels / Tires
ATV Tires, Wheels Kits - Learn the ins and outs of popular tire/wheel combo kits.

ATV Beadlock Wheels - Learn why you need them and where to find the best deals.

Douglas ATV Wheels - Find out what makes these specialty wheels so special! And of course don't miss the Best Buy recommendations.

Honda ATV Wheels - Buyer's Guide to the Best Deals. Where to find special wheel/tire combo deals. We're tryin' to save you some money here!

Honda ATV Rims - Check out our article on why you might want to upgrade your ATV's wheels. Complete with recommendations and where to find the bargains, of course. Because we care.

ATV Tire Sealant - Everything you wanted to know about tire sealant. Includes a Buyer's Guide to the best deals online.

ATV Tire Studs - Complete guide to tire studs and ice racing screws for ATVs.
Winches
Guide to UTV and ATV Winches - Buyer's guide to best value winches. Learn what features you need, how much winch you need, specs that matter, and recommendations for winches in three price categories. Under $100 - $100-$250 - Over $250.
ATV Winch Accessories - Don't miss our list of the best accessories for your ATV/UTV winch. Includes our recommendations for a winch accessories kit to carry with you.
Miscellaneous 4 Wheeler Accessories
ATV Performance Parts Guide - A different take on performance parts for your ATV or UTV. This guide concentrates on bolt on parts that will improve the performance of your 4 wheeler the way you use it. 
---
UTV Accessories - Buyer's guide to the many accessories offered for the exploding UTV/Side by Side segment. Covers the most popular UTVs and buying tips for finding the best values. We even include links to the best online deals for the top accessories.
---