Yamaha Side by Side Buyer's Guide.
Includes all Rhino UTV models from 450 to 700.
The Yamaha Side by Side ATV, introduced in 2003 and continuing into 2012 as the Rhino, blew the lid off the stodgy UTV class at the time. It redefined the UTV category by showing you could have fun and still get some work done, all with the same all terrain vehicle.
We'll cover the original Rhino 660, along with the newer 700 and 450 Rhinos in this guide. What's good and bad, safety issues, what actual owners say, and even some popular accessories for these Yamaha side by sides.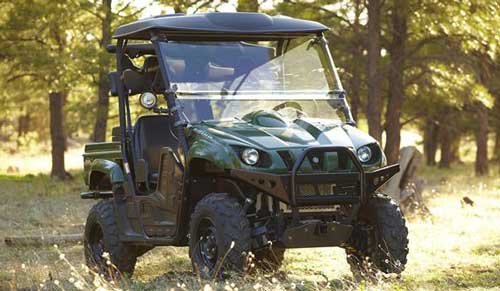 The Yamaha Rhino is one of the highest rated UTVs in owner surveys.
The Rhino 660 that set off the explosive growth in the UTV class by combining great off road capability with plenty of useful working utility. Nobody had seen anything like this before! Better safety, comfort, and more utility than traditional ATVs - more power, better handling, and more fun than existing side by side UTVs.
Dealers were backlogged with orders and Yamaha couldn't build enough of these in their Georgia plant to keep up with the demand! Early owners were blown away - here are a few quotes:
Pros
"This Yamaha side by side is simply amazing in all regards. Yard work, landscaping, logging or just burning up the trails, this machine is definitely in a class all its own!"

"I LOVE MY RHINO!!! Took it on the trails Sunday morning. Unbelievable! The handling and ride on the trails was so close to my Polaris Sportsman 500 I was shocked. I would recommend this vehicle to anyone."

"WOW! This thing was every bit of what I was expecting and a little more. It is very responsive and powerful. It ate up the bumps as if they were not even there."

"I've had mine for a couple of weeks now (just in time for deer season), and I have to say that I'll never go back to a 'four-wheeler'. It climbs hills that, on a four-wheeler, I would have to ride over the handlebars. It takes these hills with a great feeling of safety and stability. The turning radius is amazingly tight(no backing up to make those tight switchbacks). Mud and water are a joke - can't stick it! Yamaha nailed it. More off-road than utility. It's the Hillbilly Cadillac."
You can see that these owners loved what the new Yamaha side by sides could do. But as usual - not everything was perfect. After a few miles some problems began to show up:
Cons
"There was a loud rattle coming from the bed in the back that was very annoying. The lack of speedo or hour meter is something the factory needs to look at - (Not very well thought out YAMAHA !!!)"

"Use belts and helmet. I flipped it twice. (yes, they are tippy) No fuel gauge. Fuel top leaks. Plastic floor boards should be steel. (I had a log bust through one and nearly got my leg)."

"The power train, transmission, and main components are great, but the attention to detail is lacking."

"It won't start without cranking it about 11 times. If I get the gas cap on, it takes a hammer and screwdriver to get it off."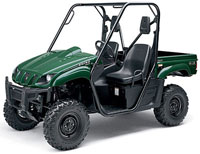 The original Rhino 660
But the pros far out weigh the cons as owners give this Yamaha side by side a 4.71 out of 5 rating in a current powers ports survey. The highest of any UTV side by side vehicle. Most of the common problems were corrected, along with several improvements, beginning with the 2008 models.
Guide to Yamaha UTV Models - article details all the changes for recent models. All five of the Rhino 700 models are covered, along with the Rhino 450.
Yamaha Rhinos for Sale will show you where the deals are if you're already in the market for a Yamaha side by side.
Yamaha Side by Side Specifications for Rhino 450 and 700.
Yamaha Side by Side Safety Issues
The Rhino has had some bad publicity concerning safety that has prompted an investigation by federal safety regulators. Two of the main problems were roll overs and leg injuries.
Legs getting outside the vehicle due to no doors or restraints seemed to be the problem. Warning stickers were issued that warned - "Abrupt maneuvers or aggressive driving have caused roll overs -- even on flat, open areas." That one came with a letter offering free installation of short, windowless doors and an extra hand hold, features that became standard in 2008.
Yamaha has always recommended that operators be at least 16 years old and have a driver's license. Yamaha says many injury claims stem from improper operation, modifications such as removing the protective "roll cage," or failure to use a helmet and seat belt. There was a recall issued for 2008 models concerning a leaking brake caliper although no injuries were reported as being caused by that.
Beginning in 2011, and continuing for 2012, the track width has been increased from 54.4 inches to 56.6 inches. Top speed is restricted to somewhere between 37 and 43 mph, depending on who you want to believe. Let's just say top speed for the 700 is somewhere around 40, which is about the same as the 450 Rhino.
The increase in width should improve cornering stability and lessen the chances of a rollover. Limiting the top speed is intended to help owners from getting in over their heads, though that wouldn't be our first choice of how to accomplish that.
Editorial Opinion:
Personal injury lawyers say the basic design is unsafe, that Yamaha should have foreseen the "misuse that its' Rhino UTV would be undergoing."

If you want an all terrain vehicle that's capable of covering rough terrain and going on narrow trails - it will be relatively narrow, and have a high ground clearance. Just like military jeeps in WWII.

The laws of physics dictate that it will tip over easier than a vehicle that is wider and lower - and that does not have the same all terrain capability. It's a black and white issue to me - if you want an all terrain vehicle that can actually go off road - you accept those compromises and get on with it.

If you expect to be "misusing" your Yamaha side by side - I strongly recommend you equip it with the appropriate safety gear. Just remember - The most effective safety device is the gray matter between your ears, and it costs nothing!
Yamaha Rhino Accessories
Check out our customized links below for the best daily deals on the most popular accessories.
Front and rear bumpers along with all bumper related accessories.

Every kind of top from roll up canvas soft tops to aluminum and molded plastic hard tops.

Windshields came in a bigger variety than you might think. There's full, half, folding, and vented, plus several combinations with multiple features.

You'll find several good deals on winches, along with different mounting plates and other winch accessories.

Front and rear racks of all types - at great prices!

The best wheel and tires deals listed every day.

---
---