ATV Snorkel Kits Guide.
ATV snorkel kits have become one of the most popular ATV accessories over the last couple of years. Several manufacturers now offer kits, with more entering the market. If you plan on riding your ATV in mud or deep water - you'll be needing some of these ATV aftermarket parts.
This Guide will cover the most popular kits and where to get the best deals. We'll tell you what to look for and why, along with some more tips about how to have some fun with muddy 4 wheelers. 
Check out this article about ATV Snorkels for some background info. Or if you would to do a little shopping first, use the link below.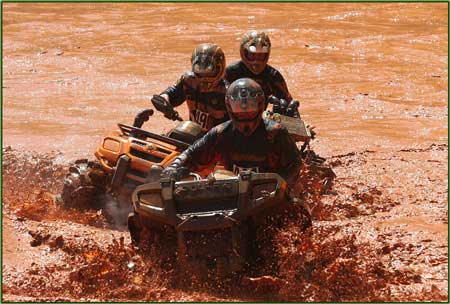 You need a snorkel kit if you plan on riding like this!
What do ATV Snorkel Kits Do?
The main purpose of ATV snorkels is to allow you to ride in deeper water or mud than you probably should or that the manufacturer of your four wheeler intended. The idea is to extend breathers, air inlets, and exhaust above the water level you're operating in.
The critical thing to remember is that no matter how you do this, the whole snorkel system must be water proof! Even tiny leaks can be catastrophic with major engine or driveline damage.
If you decide to go the do-it-yourself route - be sure to use plenty of sealant around all the joints and fittings. That's the best tip I can give you. Everything else is pretty obvious - just follow the instructions and use the right tools.
What parts are included in ATV Snorkel Kits?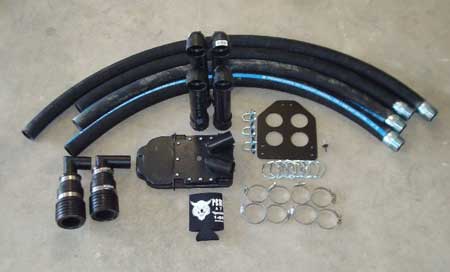 Complete snorkel kits can save a lot of installation time.
Flexible or rigid tubing made from PVC, aluminum, rubber, plastic, or steel.


Connectors to join the tubing together.


Fittings to attach the tubing to the various components on the ATV.


Glue, clamps, sealants, etc. to provide a water tight connection to all joints.


May come with support brackets or rack mounts to improve stability of the snorkels.
Note: Most kits don't include a snorkel for the exhaust - but the manufacturers do have them available separately.
ATV Snorkel Kits - Manufacturers
This list includes those builders that distribute to retail outlets and/or offer online sales. We know there are several local shops doing snorkel kits - and if you have a good one near you - that's great. They may have as good or even better product than those listed. But we thought it best to include established companies with widely available products for this list.
Bayou Snorkels - Offers kits to fit a wide variety of ATV models including: Arctic Cat, Can Am, Honda, Kawasaki, Polaris, Suzuki, and Yamaha. They also have Polaris snorkel kits for the RZR and RZR-S. Yamaha Snorkel kits for the Rhino are available too.
These guys have been in business a while - plus they're in Louisiana (swamp capitol of the South!).
Triangle ATV - Started with kits for Honda but has expanded their product line to several other makes. These guys seem to be the most innovative with new "Stealth" kits that exit in the headlight or upper pod under the handlebars. That would be a good solution for those that just want some extra protection without having to do radical surgery on the front end plastic.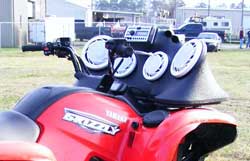 Speaker Box Snorkel.
Now the Speaker Box Snorkel Kit is the latest innovation. It comes as a pod that mounts on the front rack and houses both speakers and built-in snorkel extensions.
You might want to ask if those speakers are waterproof first! I have to admit this combination would never have occurred to me.
Triangle is in Beaumont, TX. and offers full installation of their systems.
Submarine Snorkels - Widely available through retail and online outlets. They have kits for several models from all the major manufacturers. Even a Suzuki snorkel for the Vinson! The Submarine kits look to be well engineered and of good quality materials. They even claim a power increase due to better air flow.
Steel crash plates are included to prevent damage in case of rollovers. You also get a choice of flexible or rigid extension stacks depending on your needs. Submarine says their kits have been pre-assembled for a precision fit. They do recommend professional installation.
Performance ATV Snorkels - Recently came out with their version of a snorkel kit using marine exhaust hose for the tubing. Extension stacks are black pvc. They only had kits listed for the Yamaha Grizzly at this time.
Gorilla Axle Snorkels - This company is well know in the ATV mudding world for their radical high lift projects and heavy duty axles. Now they have jumped in the deep end of the bog with their own line of ATV snorkel kits. Model coverage is a little thin right now, but they do have something for most of the top manufacturers other than Suzuki.
Extreme Snorkel.
Extreme Snorkels - A newer company that started with Honda kits and has now expanded with Kawasaki Brute Force and Polaris RZR snorkels.
For those of you that don't want to cut holes in your fenders but still want maximum snorkel height - they offer this external kit for the Honda Rancher.
Top ATV Snorkel Tips
Get one that fits your exact model ATV. Universal fit kits can be tough to install and it takes a lot more work.


If you don't have the right tools or aren't confident you can install the kit - pay a pro to do it. You'll be money ahead in the long run.


We like kits with the fewest joints - the more joints the more likely you are to spring a leak.


Pre-assembled kits are easier to install.


Don't spare the sealant around joints and fittings. Even a small gap could be disastrous.


Be prepared for extra hassles when it comes to maintenance. Flexible hose may be better than rigid pipe when you have to disassemble the snorkel system for access.


Flexible extension stacks are safer and may cause less damage in a roll over.


Stacks need to be stabilized so they won't cause the snorkel tubing to move if they get hit.


Be aware that you may lose a lot of rack space.


Don't forget the exhaust snorkel. If your engine dies in water over the tip - it will suck it in like a vacuum!


Check for leaks often. Impacts and vibration can cause joints to shift or loosen. It only takes a small leak to do your engine in!


Belt housings need to be well sealed or the snorkels won't help.
When you're ready to buy a kit, check out the link below for the best deals currently available. It's set up to update contantly, so the listings stay up to date.
ATV Snorkel Kits - Disclaimers.
You probably guessed that there might be a down side to this snorkel thing. And you would be right. Just to be sure we're giving you both sides of this story - we've included some excerpts from the disclaimers posted on manufacturer's web sites.
"No ATV snorkel kit will make an ATV waterproof!"

"Keep in mind that a snorkel system that is incorrectly installed can cause damage to your ATV and there is a NO RETURN POLICY on snorkel systems."

"ATV Snorkel kits should only be used as an added protection against water. Snorkel kits DO NOT allow your atv to operate under water!!"

"Riding in deep water can be dangerous, possibly leading to serious injury or death."

"Even a properly installed snorkel kit may leak under certain conditions potentially causing catastrophic engine failure."
ATV Snorkel Kits - Conclusion
If you've been thinking about getting more serious about deep water and mud riding then you already know it takes dedication and money to do it right. First on the list should be ATV Snorkel kits. There just isn't another option.
And you'll need special ATV tires for just mud riding. A lift kit to clear those mud tires, maybe a gearing change, and maybe heavy duty axles. Major commitment! Major dollars!
There is no doubt that ATV mudding is exploding in popularity with thousands of people participating at events around the country. If you're prepared to do it right it's a ton of fun. But try to half-ass it and it can quickly turn into a muddy nightmare.
Casual riders that just want some added protection for those deeper than expected water crossings can probably do fine with one of the less radical kits that fit in a headlight housing or front pod.
---
---