Latest UTV News and Rumors.
Learn about all the latest UTV news and rumors. Current info about all brands and models. Newest accessories and innovations. Stay up to date on recalls and reported problems. 
UTV News - New Models
---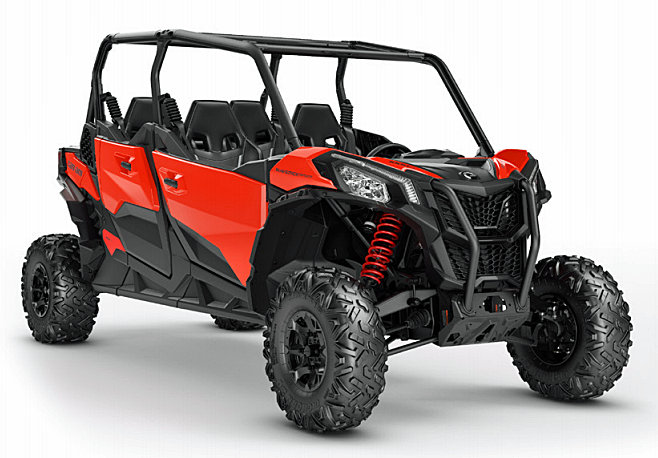 2019 Can-Am Maverick Sport Max DPS - Can-Am throws down in the four seat sport utility side by side segment with 100hp Rotax engine and high performance suspension.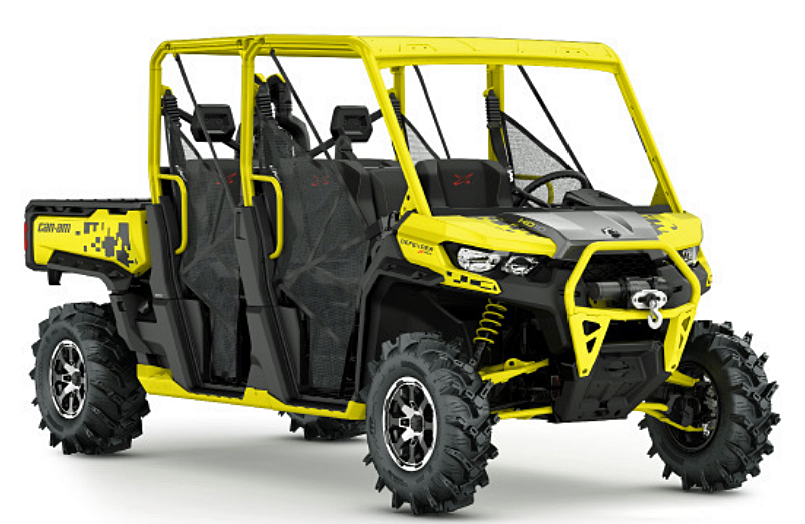 2019 Can-Am Defender Max Xmr - Six seat utility fans don't need to feel left out of the fun in the mud. Get the latest scoop here.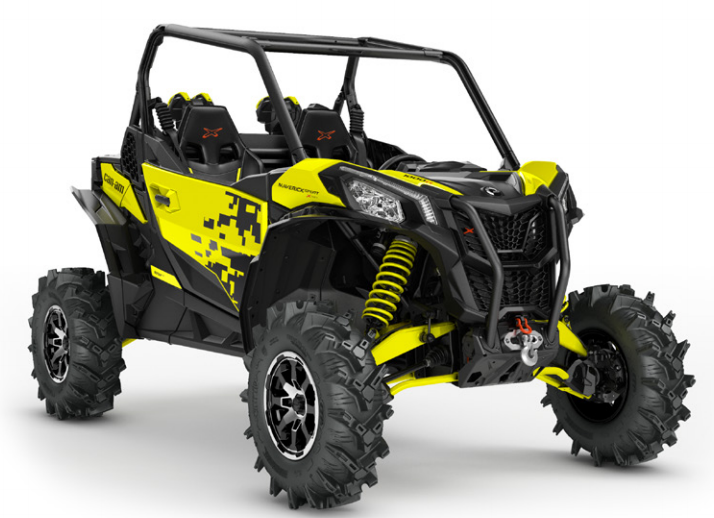 2019 Can-Am Maverick Sport Xmr - New model for mudders. Get all the details in one place with info, photos, videos, and specs.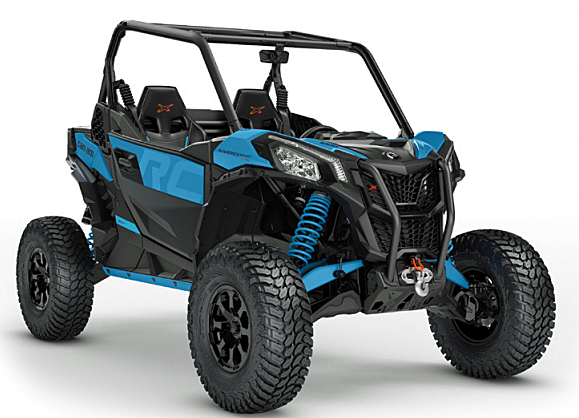 2019 Can-Am Maverick Sport Xrc - Rock crawling special loaded with unique features for rock fans. Get the scoop on all the details for this latest model.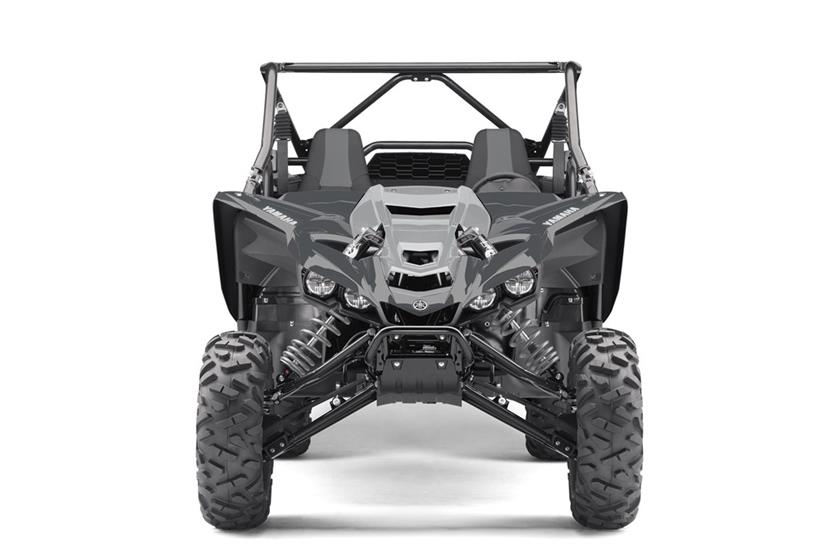 2019 Yamaha YXZ 1000R - The pure sport model gets some significant updates.
Powertrain - Lower gearing in first gear for more technical low speed riding and better performance on tight trails. Heavier duty internal engine components to handle the optional turbo kit.
Cooling System - features a new rear-mounted radiator: this system not only reduces heat in the cabin, it remains clear of mud or debris build-up, and is designed to funnel cool air through the radiator at low or high speeds equally well. 
New Wheels and Suspension - FOX 2.5 Podium RC2 Shocks with  piggyback reservoirs. 29-inch Maxxis Bighorn tires. All four corners are fully adjustable—spring preload, rebound and both high- and low-speed compression damping—with 16.2 inches of front travel and 17.0 inches at the rear for ride quality, tuneability, and handling.
Larger All-Wheel Disc Brakes - Bigger diameter brake rotors for more power and better feel.
New Styling - An updated frame allows sharper styling from nose to tail, better driver visibility with the low hood design.
---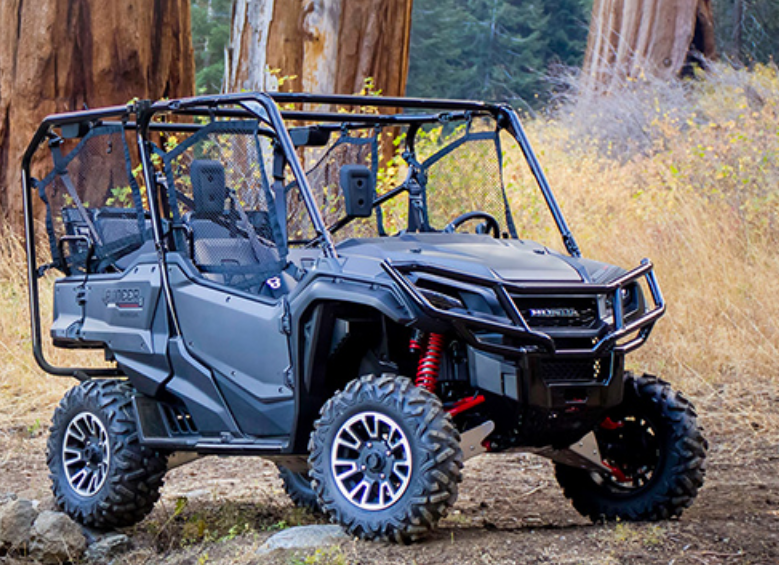 2019 Honda Pioneer Models - Honda announces an October 2018 release date for the 2019 Pioneer models. That would include the Pioneer 500, 700, 1000, and 1000-5 models.
The 1000 LE features Honda's new I-4WD traction control system. Based on technology from the auto division, Honda says it will greatly improve diff lock performance while improving driving feel.
---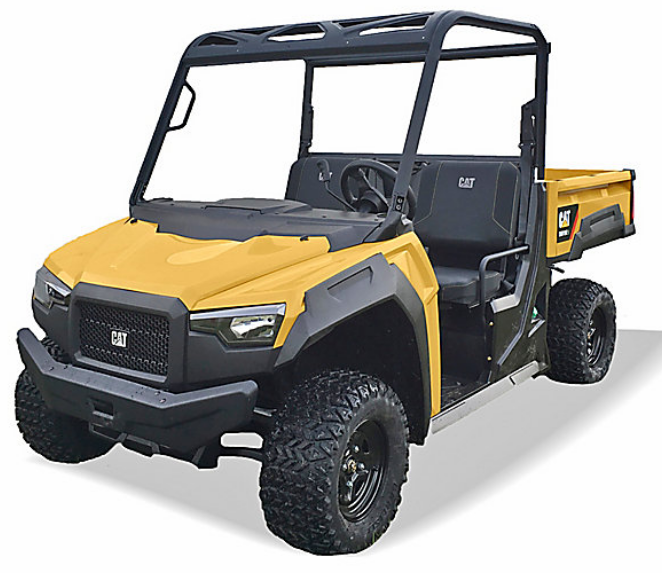 2019 Caterpillar UTV News - Caterpillar is introducing its first-ever Cat® Utility Vehicles – the gasoline-powered Cat CUV82 and 5 seat CUV85 and diesel-powered CUV102D and 5 seat CUV 105D.
The Cat UTVs are the result of a collaboration between Caterpillar and Textron Offroad. 
---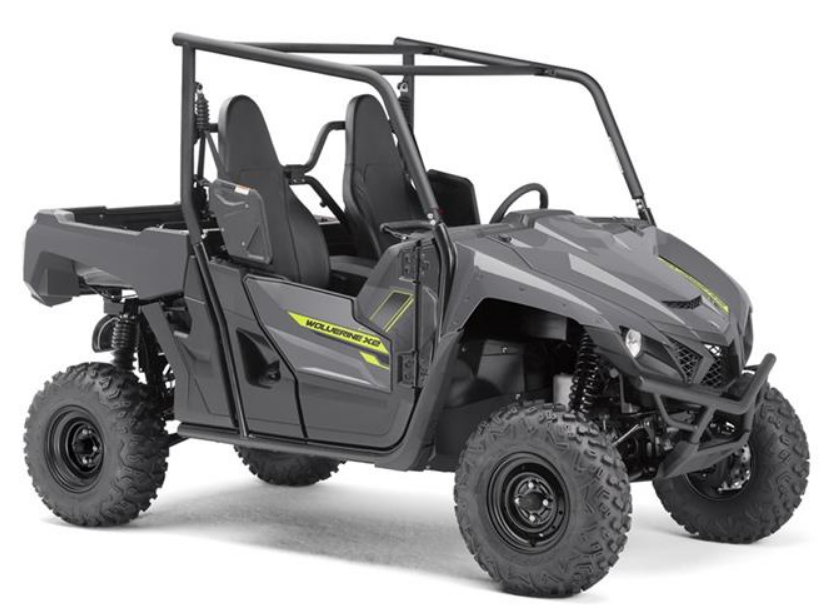 2019 Yamaha Wolverine X2 - Yamaha releasea an all new Wolverine available in June, 2018.
Twin-Cylinder Engine
847cc DOHC, eight-valve, parallel twin-cylinder motor. The engine features a dry-sump design for a more compact layout and offset cylinder block to reduce friction loss, while rubber engine mounts and a geared counterbalancer ensures smooth running from idle to redline.
Ultramatic CVT Transmission
An automatic centrifugal clutch maintains constant belt tension for reduced belt wear and a sprag clutch delivers natural all-wheel engine braking. In the Wolverine X2, a robust clutching system features an oversized belt for durability under aggressive riding, while still maintaining low cruising rpm for smooth, quiet running.
On-Command 4WD
Yamaha's On-Command 4WD system lets you switch between 2WD, limited-slip 4WD and a fully locked differential 4WD. On-Command puts the driver in full control to make the most of available traction in any sort of terrain.
Compact and Nimble Chassis
Designed for maneuverability, with lightweight steering to select the ideal line when tackling obstacles. With an upswept underbody design and wide-arc A-arms, the Wolverine X2 has big approach and departure angles to clear challenging terrain, with plenty of clearance to get in and out of the most remote areas.
Yamaha Chip Controlled Throttle 
The Wolverine X2 engine utilizes a drive-by-wire system that converts the driver's commands into precise throttle control. Throttle response is further improved thanks to a 'high-response' servo motor for ultrafast throttle application.
Electric Power Steering
Yamaha's Electric Power Steering (EPS) provides the best balance of steering assist and positive feedback from the trail, with light steering, speed-sensitive steering response, and minimal fatigue.
Plush Suspension
The Wolverine X2 features well-damped suspension at all four corners, for improved chassis control and handling feel. Built for Yamaha by KYB®, these shocks give the X2 a flexible, balanced ride character, for cargo carrying or trail blasting.
All-Wheel Disc Brakes
Large 207mm vented disc brakes with two-piston calipers on all four wheels.
Maximum Versatility
The Wolverine X2 features an all-new tilting cargo bed. The bed transports up to 600 pounds, with multiple tie-down points to secure cargo or attach accessories. 2,000 pounds of towing capacity. 2-in receiver.
Adventure Pro Ready


The Wolverine X2 comes pre-wired for Yamaha's exclusive Adventure Pro GPS system. This state-of-the-art GPS unit combines a range of functions into a single rugged 7-in full-color display. Search, download, record and share trail routes. With Yamaha's uniquely integrated software, the Adventure Pro system also communicates with the Wolverine's ECU to display vehicle data and warnings. 



---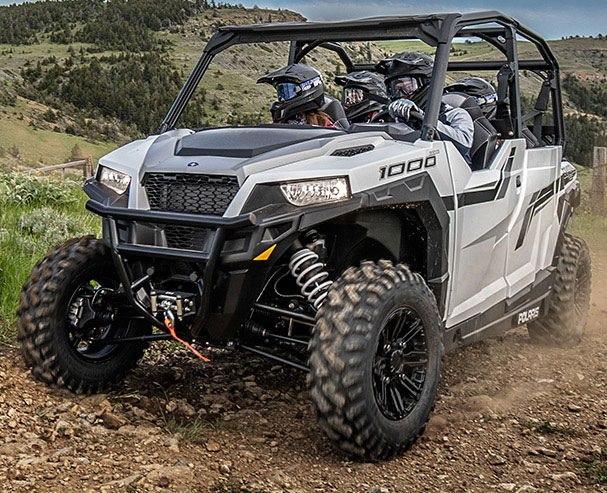 2019 Polaris UTV News - Polaris releases new 2019 Ranger, RZR, and General UTV models.
2019 Ranger - best-selling utility side-by-side 10 years running. Select 2019 RANGER XP 1000 EPS models are available with RIDE COMMAND technology as a factory-installed package.
The seven-inch glove-touch display features built-in navigation and front and rear cameras. The system provides vehicle diagnostics, allows smartphone connectivity and factory-installed in-dash speakers.
A topographical map allows consumers to better navigate trail overlays and drop waypoints to remember key locations such as a campsite or deer stand.
An interactive interface gives every type of rider the freedom to stay connected while hunting, working on their ranch, or trail riding.

RANGER XP 1000 and RANGER CREW XP 1000 include the all-new High Lifter Edition and the 20th Anniversary Limited Edition.
2019 RZR - XP 1000 lineup now offers all-new technology, DYNAMIX active suspension and RIDE COMMAND.
Formerly only available in the XP Turbo lineup, DYNAMIX is the world's only off-road suspension smart enough to continuously adjust the shocks on the fly, giving a more comfortable and high performance ride.

RZR S4 1000 — power increase to 100 horsepower.
2019 General - new colors and graphics for 2019 including bringing the first-ever factory-installed bronze wheels on the popular RIDE COMMAND edition.
---
UTV News - Accessories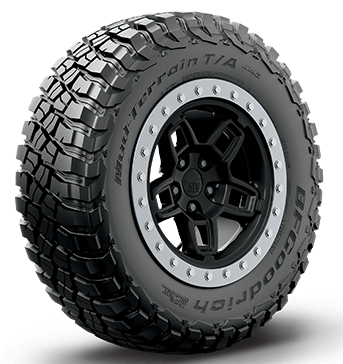 BFGoodrich Mud-Terrain T/A KM3 Tire - now available in popular UTV sizes. Engineered for sport and multipurpose UTVs. Built with steel- belted radial construction, the new UTV offerings balance maximum toughness with minimal weight.
The UTV-specific tread compound is designed to deliver enhanced grip on rock and other slick surfaces. The tire's design allows it to envelop objects at reduced inflation for even more grip when climbing. The sidewall sculpture and notched shoulder design also boost traction capabilities in soft soil and mud.
For off-road only, not DOT approved.
---
UTV News - Recalls and Problems
John Deere recalls Gator XUV590 and XUV590 S4. 
John Deere is recalling about 4,700 Gator utility vehicles due to a crash hazard. 
The powertrain hardware can come loose, causing the throttle to stick. This could result in the operator not being able to stop the vehicle, posing a crash hazard.
Owners should immediately stop using the recalled vehicles and contact an authorized John Deere dealer for a free inspection and repair. John Deere is contacting all known purchasers directly.
John Deere has received two reports of the throttle cable sticking. No injuries have been reported.
The units were sold at John Deere dealers nationwide from September 2017 through August 2018.

Polaris recalls 2018 RZR XP Turbo S - It's been discovered that the ROPS (rollover protection structure) can fracture in a high speed rollover.
Six reported failures with one injury thought to be unrelated to the failure of the ROPS.
Ownrtd should immediately stop using the recalled ROVs and contact a Polaris dealer to schedule a free repair. Polaris is contacting all registered owners directly.

Polaris recalls Ace 150 - 2017-2018 models - Polaris Ranger 150 - 2018
Recall due to crash hazard. The front suspension lower ball joint can separate over time, posing a crash hazard. The number of units affected is about 5,900.
Owners should stop using the recalled models and contact a Polaris dealer to schedule a free repair. Polaris is contacting all registered owners directly.
10 reports of joints separating. No injuries have been reported.

---
---