Can Am ATV Guide.
Although this company was called Bombardier ATV, the name was changed to Can Am ATV. They wisely decided to resurrect the Can-Am name for their line of vehicles with wheels. If you have a name with the street cred of Can-Am motocross bikes, you may as well use it.
And from what I've seen so far, these ATVs will totally live up to that hard earned reputation. What is my favorite feature of these machines from the Great Frozen North? The smokin' hot Rotax engine. If you've been around motorcycles or racing karts, there's no explanation necessary.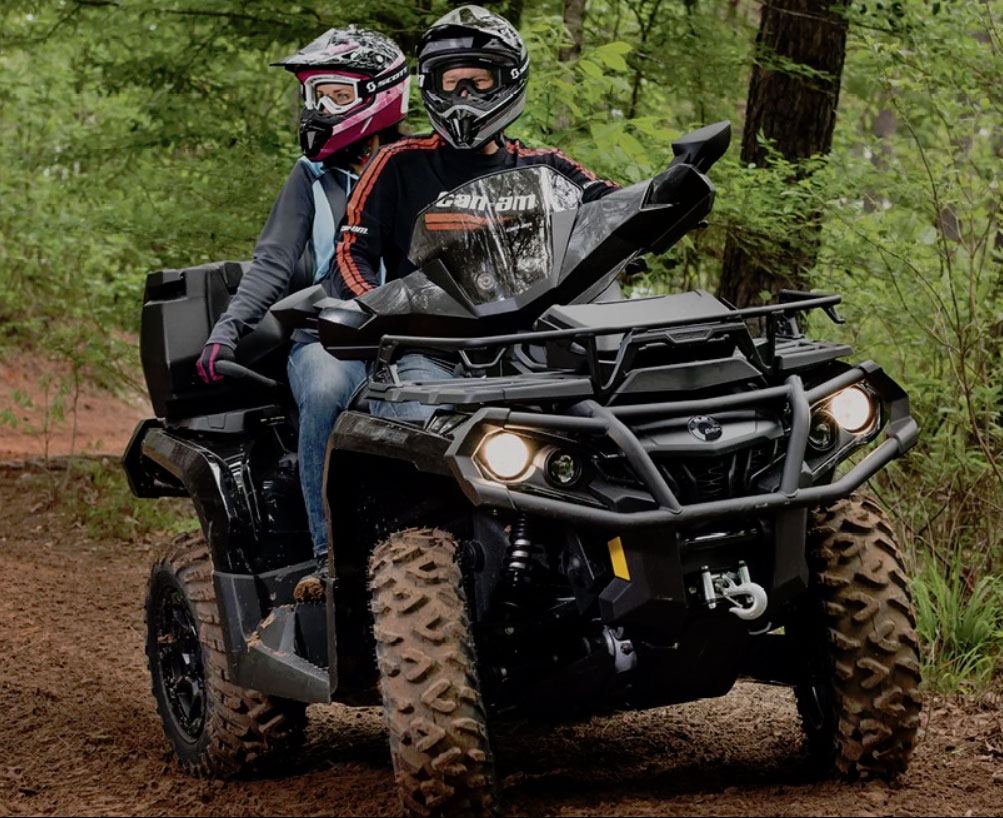 Guide to all the Can Am ATV models.
If not, let's just say these pieces of Austrian moto-jewelry make more power than anything else in their class. Pretty and fast ... what a combo. But the new Can-Am four wheeler line is about more than just motors.
This ambitious Canadian company has come up with some pretty innovative solutions to some common ATV problems. We'll cover those in the guide to the different models available. What do you say we get started? Just click on the model you want to see.
---
DS Sport ATVs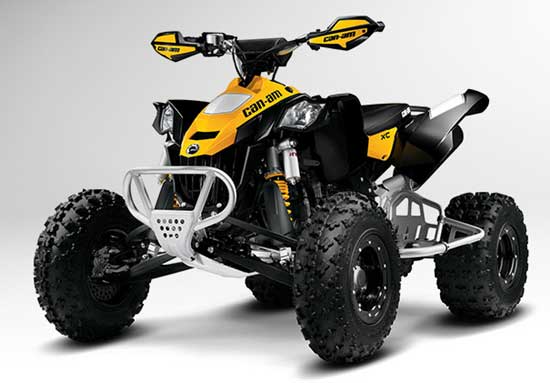 Can Am DS 450X XC.
DS Models - Starting at the bottom with the latest line of kids 4 wheelers and going all the way up with the over the top DS 450X. That's not bad when you can start on a kids atv and stay in the same model line for a professional race winning machine. Let's check 'em out.
---
Outlander Utility ATVs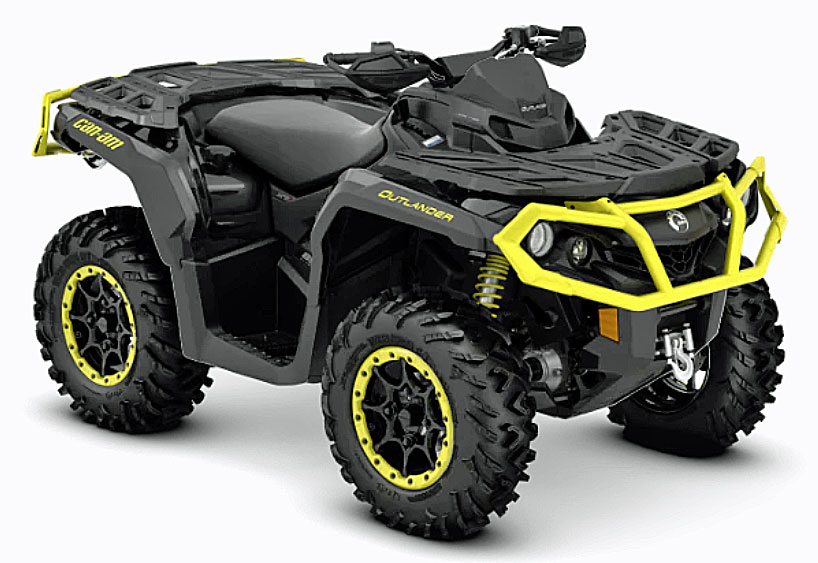 2019 Can Am Outlander XTP
2019 Can Am Outlander 450, Max, and 6x6 Guide - Photos, specs, prices, and key features of all Outlander 450 models.
2019 Can Am Outlander 570 and 570 Max Guide - Specs, prices, features and more of all Outlander 570 models including the X MR.
2019 Can Am Outlander Quick Guide - Cover all full size Outlander Models - 650, 850, and 1000R. Easy to use guide with feature details, prices, photos, and specs.
Outlander Models Quick Preview - With so many new Outlander ATVs, it's hard to keep up with which model comes with what. Check out this quick guide to find out all the differences between each model. Included are updates for the 2013 model year and new Outlander Max and XMR ATVs.
Can Am Outlander Model Guide - This is a more in depth look at all the Outlanders. From the entry level 400 to the all new Outlander Max 1000. Covers all the new significant updates like the new frame, power steering, and more.
Outlander 1000 Review - Full review of this new for 2012 model. Details all the important stuff. Includes updates for the 2013 Outlanders. Learn all about the standard features, and then check out all the option packages that will be available. Complete with photos, video, and specs.
Can Am XMR Review - Even though the XMR is a mud specialist, it is based on the Outlander Max, so we'll include it in this section. Don't miss this complete review of the most ready for the mud ATV on the market. Includes updates for the new 2013 with the now standard big, honkin' 1000 engine!
---
Renegade Sport/Utility ATVs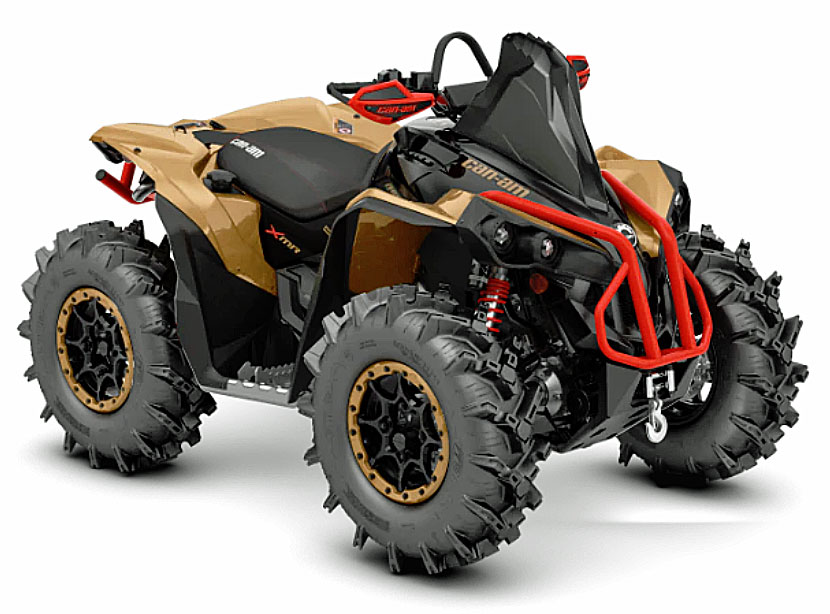 2019 Can Am Renegade 1000R with X MR package.
2019 Can Am Renegade Model Quick Guide - Covers all the models from a 570 Base Renegade to the all out Renegade X XC 1000R. Complete with prices, specs, photos, and more.
Renegade Model Overview - Take all the hi-performance features of the DS and mix in the hi-tech features of the 4x4 Outlander - and out comes the Renegade. There were some big changes with the new models getting the second generation frame and running gear from the Outlanders.
You can new choose from three different engine sizes, including the potent 1000 V-twin. This article covers all the available Can Am ATV Renegade models and option packages for 2013.
If you're looking for the ultimate in a sport ATV with 4 wheel drive, don't miss our reviews and recommendations for all the Can Am ATV Renegade models. From the mild Renegade 500, to the previous champ, the Renegade 800, to the new king of cross country, the Renegade 1000.
Can Am Renegade 1000 Review - Full coverage of the new for 2012 Renegade 1000. Find out what makes this Can Am ATV the fastest 4 wheel drive quad on the planet! The new Renegade XXC cross country racer is also covered. Plenty of photos with detailed descriptions of all the new equipment, plus complete specifications.
---
Can Am ATV - Side by Side
Commander was the first Can-Am Side by Side.
Can Am Side by Side Guide - Coverage of all UTV models. Defender utility, Commander sport recreation, and Maverick sport models. Updated for 2019.
---
Spyder Street Trike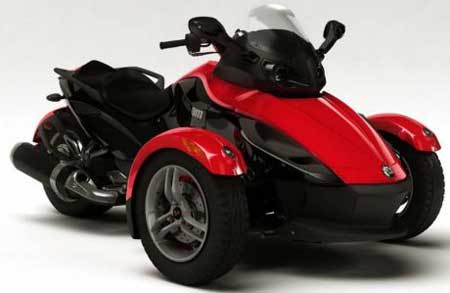 The Spyder is a three wheeler for the street.
Can Am Spyder - The Spyder may not fit the definition of street legal ATV, but it's close. ATV riders will certainly feel at home on this innovative three wheeler. Don't miss our full review complete with photos and videos.
---
Bombardier ATV from Can Am ATV.
---