Polaris Ranger Accessories
Great Deals on Thousands of Polaris Ranger Accessories.
If you're like me, shopping for accessories for your Polaris Ranger almost turns in to a hobby all by itself. Some of that is caused by the fact that there are literally thousands of things to choose from.
But we look at that as a good thing. It just means you can come a lot closer to finding exactly the accessory you need. Also says a lot about the popularity of the Polaris Ranger and RZR models.
Then after we know what our choices are - we want to know where to find the best deals. Over the last few years, it seems that Ebay Motors has moved to the top of that list. The biggest problem with Ebay is their clunky search function.
That's why we have come up with some custom links that will shortcut several steps and land you right where you need to be! Just click on any of the links below to get started. But careful - accessory shopping can be addictive!
Polaris Ranger Accessories -
Links to Best Deals from Ebay Sellers.
Disclosure: Links have discount prices for you and may pay small commission to us. Details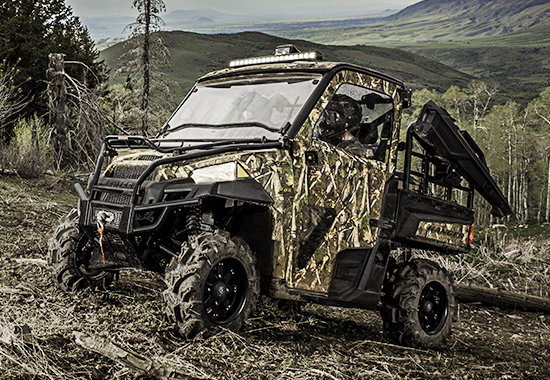 Polaris Ranger with hunting accessories.
Polaris Ranger Accessories and Body Parts - These include all the accessories for your Ranger or RZR that basically bolt on to the exterior. Some of the most popular things with owners are bumpers - brush guards - racks - cab covers, and interior parts like seats and consoles. Hundreds of items listed to browse through.
Polaris Ranger Wheels, Tires, and Related Parts - Tires and wheels are usually the first things that are changed by new Polaris Ranger owners. Not that the stockers are that bad. But they have to be a compromise. Matching the right tires and wheels to the terrain you ride in can improve the performance of your Ranger dramatically.
If you do much mud riding you'll also find lift kits that allow you to run bigger wheel and tire combinations for better clearance and traction. Don't forget that tires designed for mud riding can make a huge difference in performance.
Polaris Ranger Winches - A winch is a necessity if you do any kind of serious riding. You'll find hundreds of 'em listed here. The Rangers need a good heavy duty mount for the winch due to their extra weight. Replacement cables, snatch block pulleys, and hooks can also be found.
Polaris Ranger Brakes and Suspension - Replacement shocks, brake pads, CV boots and joints are some of the maintenance parts listed. This also the place to find suspension upgrades for longer wheel travel. Shock covers for you mud riders. Even deals on wheel bearings and A-arm bushings.
Polaris Ranger Engine Accessories - Everything from air and oil filters - aftermarket fuel controllers - and more, all the way to high performance kits and turbochargers!
Polaris Ranger Transmission and Driveline - This is the place to find deals on drive belts, clutch kits, CV boots, and other transmission parts.
Polaris Ranger Parts and Accessories - This is it - the master list! All the Polaris Ranger accessories lumped into one big pile. If you didn't find what you need at any of the other links - then this is the place to be.
---
Polaris Ranger Accessories
---