Guide for UTV and ATV Winches.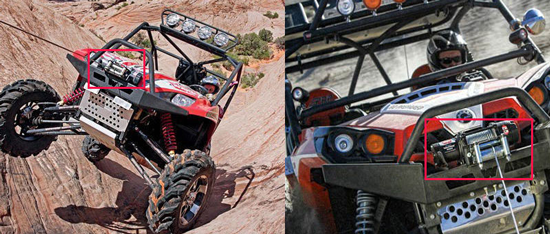 When it comes to UTV and ATV winches, there seem to be an almost unlimited number of choices. Lots of brand names, bunches of different ratings, and prices all over the map. It's easy to go into information overload. The goal of this guide is to drill down to what you need to know about the best winches for UTVs and ATVs.
UTV / ATV Winches - Need To Knows
---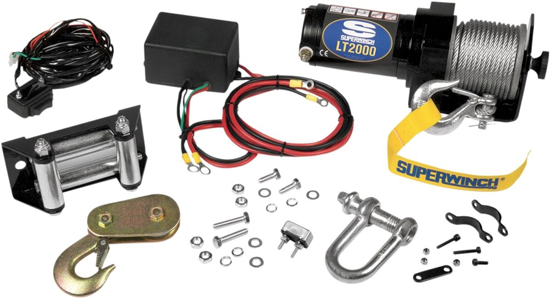 Many ATV winches include extras like hooks, shackles, pulleys, remote controls, etc.
Winch Rating 

Total vehicle weight x 1.5 minimum - the standard rule for winch rating. We like to have some cushion so take total loaded weight x 2. For example a 1000 lb ATV x 2 = 2000 lb rated winch.
Most ATVs will be in the 2000 to 3000 lb range. Most UTVs  fall in the 2500 to 4500 lb. range. Some loaded crew cab UTVs can be well over 2000 lbs. so would need a higher rated winch than 4500 lb.
Reasons for higher rating - mud, steep grade, longer pulls - Thick rutted mud, steep inclines, and long pulls require heavier duty winches. Heat and electrical overloads become a factor on longer or more difficult pulls.  

Use snatch blocks for more pulling power - A snatch block pulley can double the line rating of your winch by using what's known as a double line pull. The downside is it cuts the amount of useful line in half.

50 feet of line would be required for a 25 foot pull. Since you never know if an anchor point will be that close, a 50-100 foot extension line is a good thing to carry.
Amp draw may require bigger alternator and battery - Larger winches need more electrical power. The amp draw under load is the spec to watch. Compare that to the cold cranking amp rating of your battery.
If it's close, then choosing that winch may mean you'll also have to buy a bigger battery. There could be a few cases in which the alternator could be overloaded, but if the battery has enough CCA, it shouldn't be a problem on most ATVs or UTVs.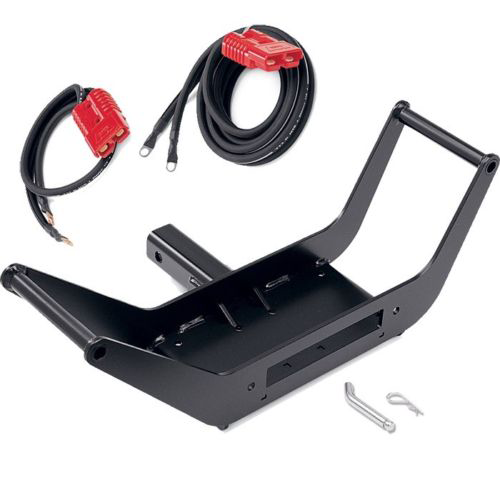 Receiver hitch mounts let you easily remove ATV winches or the option of front or rear mounting if your 4 wheeler has a front receiver hitch.
Winch Features 
Wire or synthetic cable - Wire rope cable has been the favorite for many years. It's simple, strong, reliable, and reasonably inexpensive. Cons are broken strand "stickers", prone to rust, memory kinks that won't come out, and lethal danger if it breaks while under load. 

Synthetic - Great strength for size, reliable, lightweight, safety. Cons are greater cost, subject to abrasion, requires somewhat more maintenance, and can be weakened by heat over 150 degrees.
Cable length - line capacity of the drum. Most common is 50 feet.
Line speed - Rate the line is reeled in under a load. Faster is better, but a slower speed doesn't need to be a deal breaker.
Compact with remote solenoid or larger with built in solenoid - remote solenoids are easier to mount in tight spaces, which is most ATVs and UTVs.
Wireless remote or hard wired controller - the object is to be a safe distance from line. Synthetic line lessens the need for as much distance. Remotes with cords may be more reliable. Wireless offer more convenience and flexibility.
Winch weight and size - Adding weight to relatively lightweight vehicles like ATVs and UTVs can adversely effect handling.
Type of mount - front or rear, receiver hitch or integrated. Determined by how you plan to use your winch. If you just want to operate a plow, a front mount is fine. For heavy trail riding, the flexibility of a front or rear receiver mount, or even a portable winch might be preferable.
Freewheel hub - Ability to "unlock" the clutch so line can  be quickly pulled out by hand. Just consider this feature a must. Trust us.
Portable Winch - Receiver hitch mount so winch can be mounted to a receiver hitch. Other type is completely self contained and normally used inline. - A portable like the Superwinch ToGo is a little more expensive, but really gives you a lot of options for winching out of tough situations.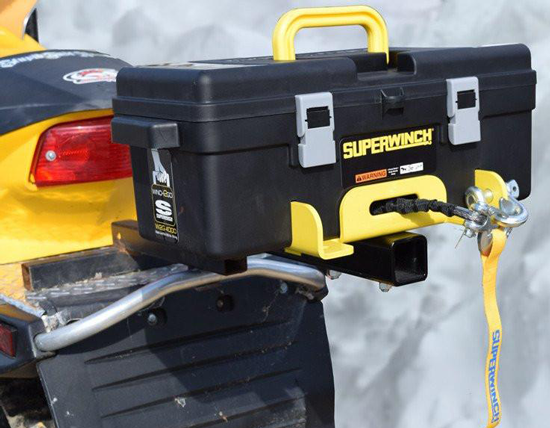 Portable ATV winches offer plenty of towing power in a self contained package.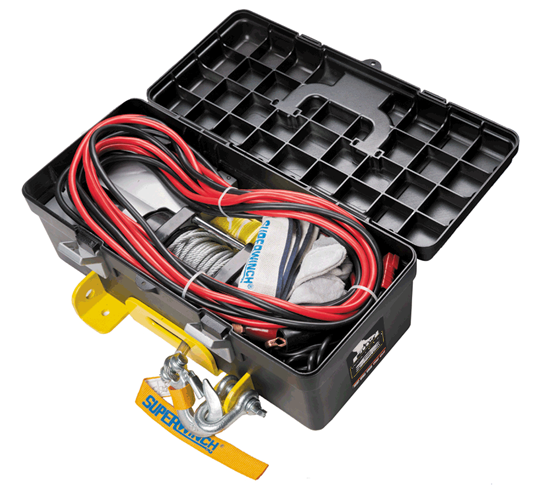 Superwinch ToGo 4000 lb. portable winch.
Winch pricing
More winch than needed wastes money - If you have a sub-1000lb ATV, you don't need a 4500 lb. winch. Why pay for capacity you'll never use?

Premium brand vs. budget - compare parts and service availability, higher quality internal parts, included accessories, and special features. 
Needed winch accessories - snatch block pulley, extension line, tree saver anchor point strap, abrasion sleeve for synthetic line
Check out our Winch Accessories article for more info.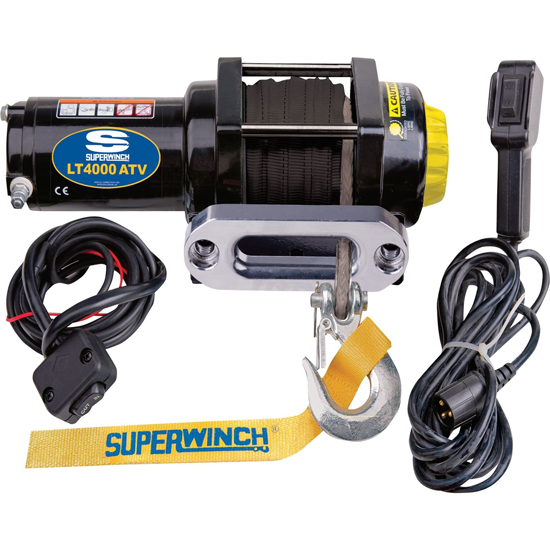 The Superwinch LT series offers very good value for the price.
Best Buys - UTV and ATV Winches
Under $100 - Superwinch LT2000 - Smittybilt XRC 2.0 - Champion Power Equipment 12003 2000 Lb. 

$100-$250 - Superwinch LT3000ATV - Warn Vantage 2000 - Champion Power Equipment 3000-lb. ATV/UTV
Over $250 - Warn Vantage 3000 - Superwinch Terra 45 4500 lb. - Warn ProVantage 4500 - Champion Power Equipment 4500-lb. ATV/UTV
Portable winches - SUPERWINCH Winch 2 Go 4000lb - Keeper
2,000 lbs. Portable 12VDC Winch with Rapid Mount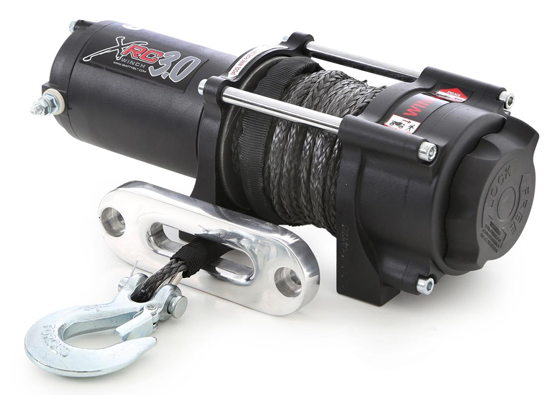 Some winches include extra cost options like synthetic line and aluminum fairleads.
---
Winching Techniques and Safety
Guide to UTV and ATV Winches
---