Snowblower for ATV and UTV Four Wheelers - Best Features.
We have a list of things we like in a snowblower for ATV four wheelers. We'll go through each one of our favorite features in detail.
In the meantime, you might want to take a look at the video below, which demonstrates several of the features we'll be covering.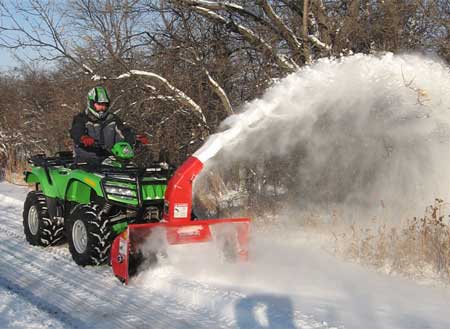 ATV snowblower in action!
Best Features of a Snowblower for ATV or UTV Four Wheelers. 
Full sub-frame that runs from the rear hitch of the ATV, under the four wheeler chassis, to the front mounted snowblower. The considerable weight of the snowblower is spread along the length of the ATV for much better stability and less stress on any one mounting point.


Stabilizing chains that connect to the ATV winch, which can then be used to lift the snow blower. This helps to maintain the stability of the blower when being lifted by the winch. Make like easier on the winch and you.


Large caster wheels or skids to support the weight of the snow thrower. The blowers are fairly heavy, so any extra support is a plus. You really don't want that much weight dangling in front of your ATV with no support.


Saddle or dash mounted controls with ignition, choke, throttle, electric PTO, safety switch, electric chute rotation, and chute deflector. These controls make operating a snowblower so much easier, we consider them a necessity.


Sawtooth auger mounted with ball or roller bearings. The sawtooth blades will get a much better bite in the ice and snow. The upgraded bearings will keep things working smoother and longer.
 
Integrated snowblower wiring system with built-in charging for the ATV battery. The last thing you want when it's time to use your snowblower is dead battery on your ATV.


Snowblower mounted electric start engine. Attempting to hand start a four stroke engine in cold weather can be an exercise in futility. Save yourself the extra hassle and go with the electric starter.


Shear pins to prevent damage to the snow blower if a solid object is struck. Without these, it's much easier to do serious damage to your snowblower for ATV structural components.


Built in intake air warmer to prevent carb freeze up. The warmers will help keep things running is very cold temperatures. You might need one in more moderate temps.


Adjustments to control the amount of weight that the ATV has to support on the front end. If you want the best weight distribution of the snowblower on your ATV, you'll need these load adjusters. Handling will be noticeably better with the right weight distribution.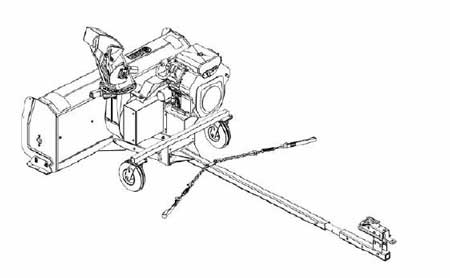 AYV Snowblowers with full sub-frame to rear ATV hitch are best.
Disclosure: Links have discount prices for you and may pay small commission to us. Details

Click the link to see today's best deals from Ebay sellers.
Related Articles:
---
Return to ATV Accessories from Snowblower for ATV.
---