Douglas ATV Wheels
Douglas Spyder ATV Wheel.
We know Douglas ATV wheels have been popular for the last several years. Why is that? Sounded like a reasonable question to us - so we assigned our crack investigative team to find out.
Overnight Success - In Only 20 Years!
Kart racing champion Doug Henline took the phrase, "If you want it done right - do it yourself" to heart. So in 1991 he began manufacturing his own racing wheels for karts. Success followed success, and now some twenty years later, Douglas wheels are among the best in the business.
No matter if you're into racing, mudding, rock crawling, or just trail riding - Douglas ATV wheels has something for you. That's the big advantage of being a relatively small specialty manufacturer. Douglas has the ability to respond to what the market wants - right now!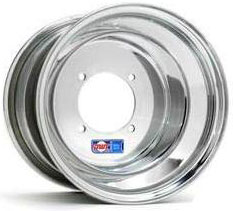 Spun aluminum ATV wheel.
This Sport Blue spun aluminum wheel is a great value for a basic light weight wheel for the average recreational rider.
You don't have to be a hard core racer to appreciate the advantages of Douglas wheels.
Lighter wheels will improve the performance of your ATV in several important areas - acceleration, braking, and handling.
Just like most of us, losing a few pounds is always a good thing!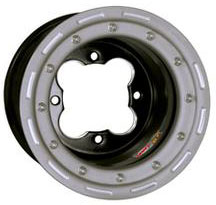 Beadlock wheel.
Douglas Wheels also have the increasingly popular beadlock wheel.
These aren't just for the racers either - mud riders can benefit from the ability to run low air pressure for better traction.
Beadlock wheels let you run very low air pressure without worrying about a bead slipping off and ruining one of those high dollar tires!
It also makes it a lot easier to mount and dismount tires if you happen to do your own like we do.
Stylin' With Douglas ATV Wheels!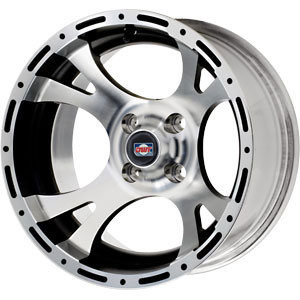 Douglas also makes stylish wheels that don't sacrifice toughness or functionality.
If you think of plain aluminum wheels as the only thing Douglas makes - you couldn't be more wrong! In fact, most of the latest offerings are highly styled custom wheels in larger sizes for UTVs and big bore ATVs.
Unlike some other companies - don't think that Douglas wheels have jumped the shark! Toughness and functionality are priority number one - but hey, if you can look good at the same time - why not?
Douglas ATV Wheels - Best Buys.
Douglas wheels are widely distributed so they're not hard to find. Most local ATV dealers will have them in stock or at least will be able to order them.
We just like to know we're getting the absolute best deal possible (character flaw?). That's why we have learned to check Ebay motors before we buy. Many of the big warehouse companies now have stores on Ebay with good prices due to all the competition among the stores. It really is worth checking out - and we've made it easy for you with the link below.
---
---