ATV Snorkels -
Do You Really Need Them?
ATV Snorkels have become one of the most popular - and possibly misunderstood - of all the ATV aftermarket accessories. This article is all about the purpose of a snorkel, if you really need one, where to get them, and several more need-to-know tips.
Mud ATV riding has exploded in popularity as access to larger riding areas has been restricted. No matter if you want to join a mud racing ATV group, or just have some fun with your buddies at the nearest mud bog. It's a great way to have some ATV mudding fun in a smaller area that's a lot closer to home.
After you try a little "muddin" and want to get "deeper" in - you're going to need some special equipment to keep your ride healthy and your wallet happy. ATV Snorkel Kits will be at the top of that list.
Click the special link below for the best deals currently available. It updates constantly so you will always see the best deals possible.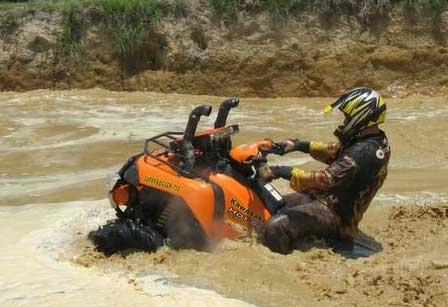 Not sure if you need a snorkel? If you plan on riding like this, yes you do!
What Exactly is a Snorkel for an ATV?
Basically it's a water tight breathing tube for any component on the ATV that needs a supply of fresh air or vents to the atmosphere. Some of the newer four wheelers are coming stock with ATV snorkels for the air box and clutch housing vents. These are OK for shallower water crossings but just won't do for serious ATV mud bogging.
What should be connected to a snorkel on an ATV?
Any opening into the engine, transmission, differential, etc. that could become submerged while riding. Most ATV snorkel kits cover at least the three most critical:
Airbox inlet.
Clutch/belt housing intake.
Clutch/belt housing exhaust.
Other things that may need some attention would be:
Carb vent tubes.
Crankcase breather tube.
Differential vents.
Electrical connections.
That should just about cover it but it would still be a good idea to check with a dealer for your make of ATV to make sure.
Why Do I Need a Snorkel?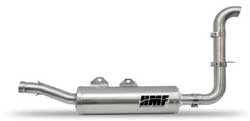 Remember your exhaust may also need a snorkel.
If you ride in water or mud that comes above the stock snorkel openings on your four wheeler - that same water or mud can enter your engine, transmission, diff, etc. - and cause massive and expensive damage!
If it gets in your clutch and belt housing it will cause slippage which will more than likely strand you where you sit. And then cause massive damage to the primary and secondary clutches!
Trust us on this - if you've already bolted on some serious mud ATV tires - you need to be looking at ATV Snorkel Kits before it's too late. Mud riding ATVs is a blast but it does take some special preparation to avoid the dark side.
ATV Snorkels - Pros and Cons.
Pros
Ride in mud and water so deep you won't believe it - or until your ATV floats!
Possible increase in power because of better airflow.
Enjoy ATV mud riding with no worries about damage.
Reduce maintenance and repair expense due to water damage.
Ride places you never could before.
Make new friends and live happily ever after.
Enable you local laundromat owner to retire early.
Cons
Could void the factory warranty.
May interfere with use of front rack.
May have to cut holes in stock fenders, air boxes, etc.
Regular maintenance may be more difficult with snorkels in the way.
Snorkel stacks may snag on vines or limbs.
Rigid ATV snorkel stacks can be damaged in roll overs or could injure the rider.
They can be expensive or a pain to install - depending on whether you pay someone or do it yourself.
What Are the Most Popular ATV Snorkel Kits?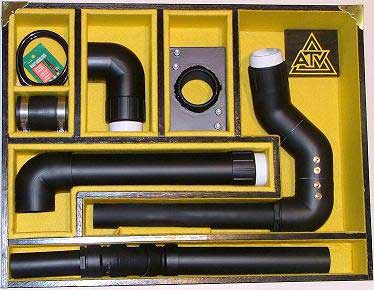 Factory kits make snorkels much easier to install.
Factory manufactured and dealer installed ATV snorkel kits. These are the most factory looking and most expensive kits on the market. They're usually professionally engineered and fabricated to some sort of standard for consistent quality and fit.
Since these kits are made in large numbers, and are being installed by shops everyday, most of the bugs have been worked out. These snorkel kits will cost the most up front but could be the best value by avoiding expensive do-it-yourself mistakes.
Self installed manufactured kits. Several of the Snorkel kit manufacturers also offer their kits in a version for owner installation. Almost identical to the professional kits - the end results will vary depending on your mechanical abilities.
The quality and ease of installation can depend on the experience of the manufacturer and the length of time they've been in operation. Some of these companies come and go pretty quickly so check around first. Check out our ATV Snorkel Kits Guide for a lot more info about this.
Full on Do-It-Yourself kit. For the hard core among you. Engineer the system - source the parts - do the fabrication - trial fit - rinse and repeat. If you have some fabrication experience and like to spend time on projects, it can be done. If you don't have the knowledge and tools I wouldn't recommend it.
Ready to shop? Just click the link below for the best prices on four wheeler snorkel kits.
ATV Snorkels - Conclusion.
If you plan on riding in deep water or mud you absolutely need snorkels. What's the best way to get one on your four wheeler? This is how we break it down.
If you have more money than time or you're not mechanically inclined with plenty of tools and a place to work - have your snorkels installed by a good shop. They can also take care of some additional things like carb and crankcase vents, and maybe an exhaust snorkel.
The manufactured kits are the way to go if you are familiar with tools and just like to do things yourself. Take your time, read the instructions, and be a perfectionist about sealing all the joints. You should be OK. Some manufacturers offer more customer support than others, so that might influence your decision of which kit to buy.
 Hard core DIYers or Honda ATV owners may want to do it all themselves. (Why Honda owners? - because they only need one snorkel for the air box. They don't have belt housings to worry about.) A trip to Lowes will provide almost everything you need and you'll save enough to buy the tools you might not have to complete the job.
---
---