Top Rated ATV Covers.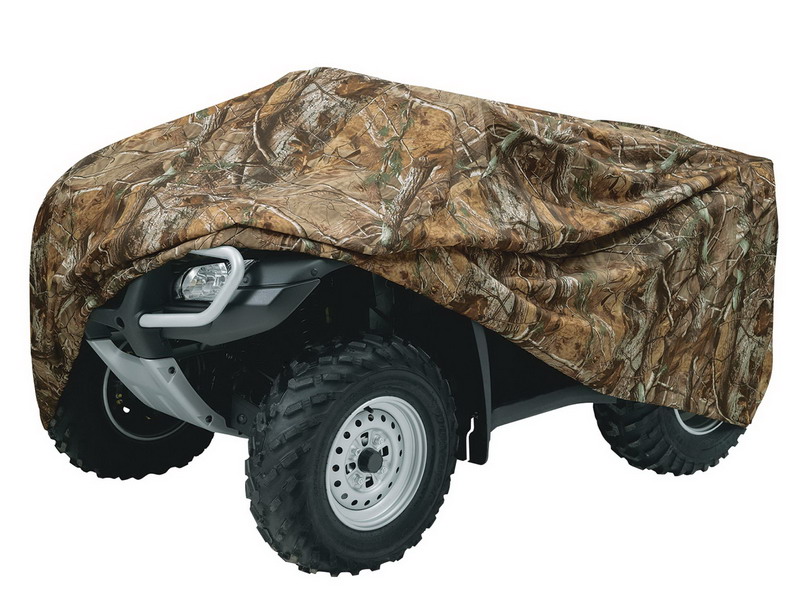 Camo cover for your ATV.
Want maximum protection for your four wheeler? ATV covers can handle it. If you need indoor or outdoor protection, there's an ATV or UTV cover for your needs. Parked storage or trailer towing?You're covered for that too.
Covers come in different materials for almost any need. Waterproof and UV resistant for outdoors, tight fitting and rip proof for towing, vented and breathable for dust and rust protection. And in price ranges to fit just about anybody's budget.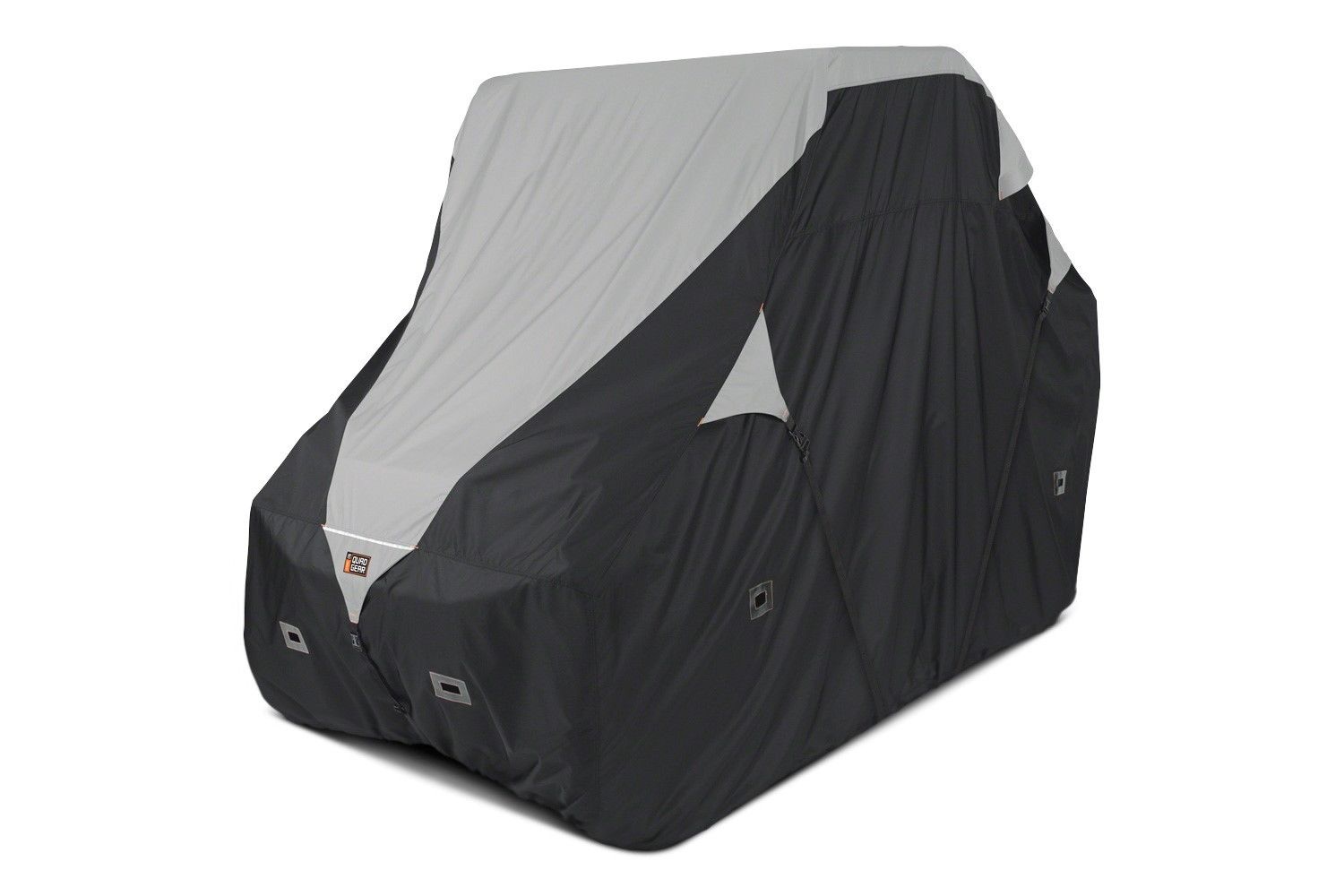 Side by Side Cover
The Right ATV Cover for You.
Covers are separated into two main categories, indoor and outdoor. Although some covers can be used for both, there are some significant differences. Let's take a look.

Indoor
Priorities for indoor covers are dust, scratch, and rust protection. Dust protection comes from a snug fit to prevent dust from billowing up from floor level. Elastic edges and straps around the bottom provides the best fit.
Scratch resistance is best with a softer material like cotton or a microfiber material. Some or the stiffer nylon covers can scratch like sandpaper with extended use and a loose fit. If you choose a nylon cover, just make sure it has a non-scratch inner lining. In a pinch, you could use a cotton or microfiber sheet under the cover.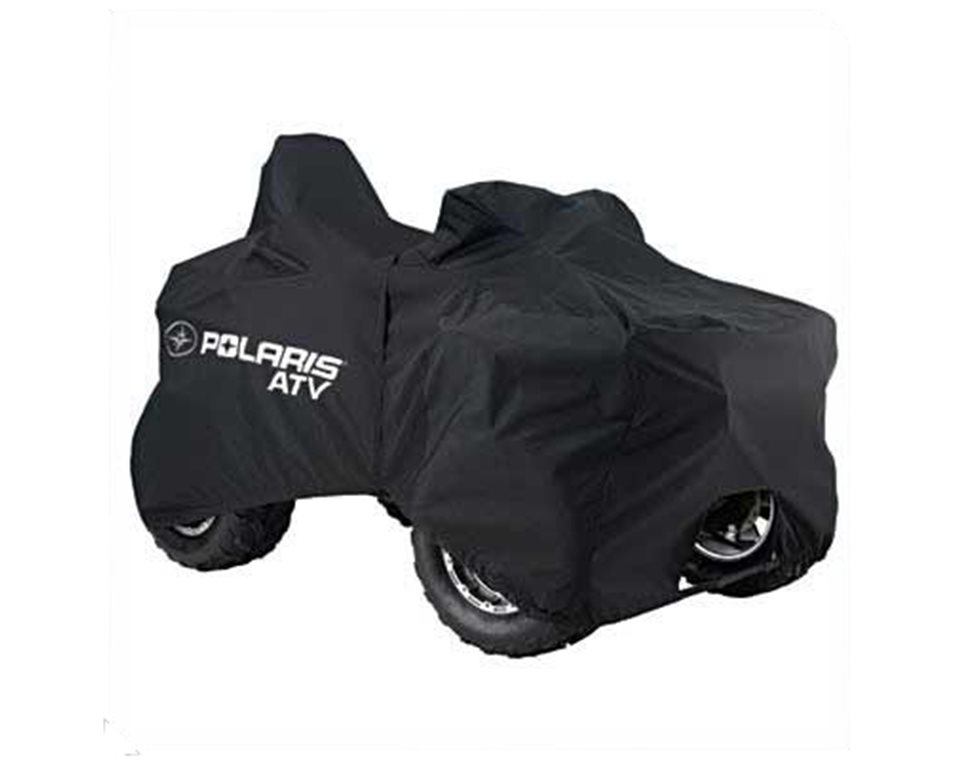 A tight fit is needed for trailer towing.
Outdoor
Outdoor ATV covers need to be waterproof and UV resistant. They tend to be made of heavier nylon or PVC, so scratching can be a concern.
Rust prevention is also a priority for outdoor protection. Breathable covers help, along with good venting.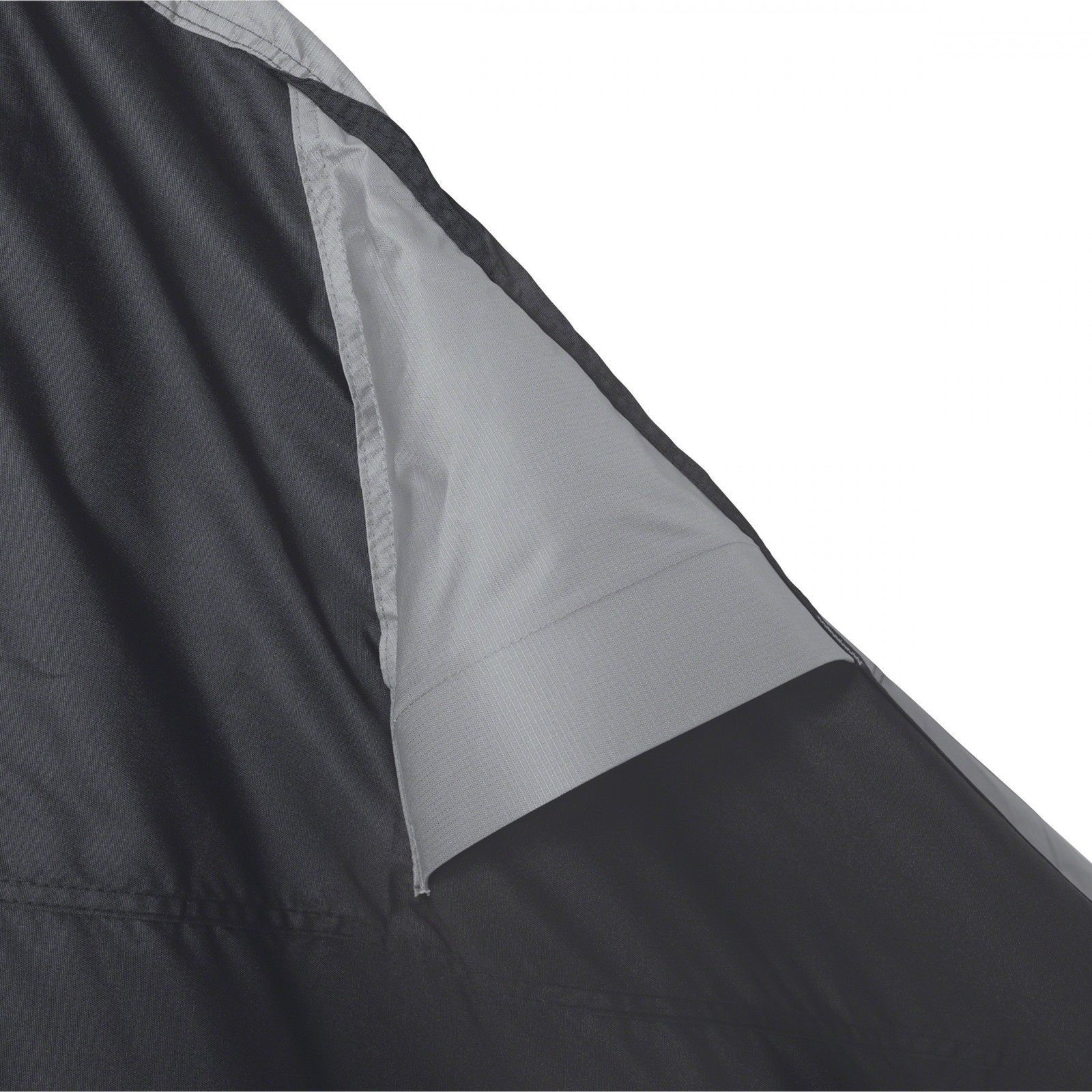 Vents are a great feature.
ATV Covers – Materials for Different Needs.
Indoor
Nylon - Good indoor protection for a reasonable price. If you're worried about scratching, many come with a soft lining. Nylon covers don't usually have very  good UV resistance, so they don't make very good outdoor covers.
 

Cotton - Good basic indoor protection. Soft, non-scratching and flexible surface helps keep dust off. Not as good as nylon in situations where being cut or ripped is a possibility. Also has a tendency to hold moisture in humid environments.

Outdoor
Canvas -  Traditional cover material offers good durability and may be treated to have water resistance.


Microfiber  - A softer material that offers breath-ability and is well suited to tighter form fitting style covers.


PVC - A value priced material that offers good water protection, but isn't very breathable and UV resistance can be limited.
 

Tyvek - A newer material with good UV resistance, water resistance, and breath-ability. Not prone to tearing or ripping, but can be cut fairly easily.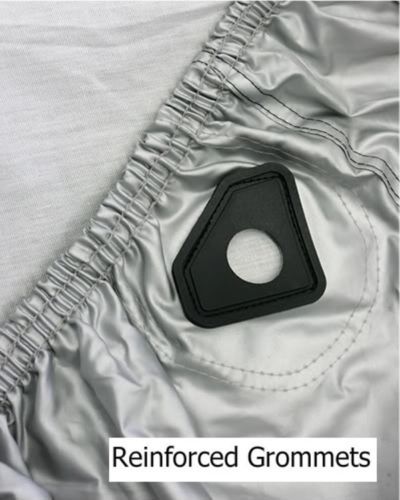 Grommets make it easier to get a tight fit with your cover.
Important Features of ATV Covers.
Elastic edge - Helps to secure the cover around the bottom to keep wind from getting underneath and to prevent dust from blowing in from the bottom.
 
Security straps - Same function as elastic edging but allows the cover to be tightened for an even tighter fit.


Waterproof - Keeps moisture away from the ATV to help resist the formation of rust on metal, and mildew and/or mold on plastic and fabric parts.


Breathable - Allows moisture to escape in areas of high humidity.
 

Venting - The main function of vents is to prevent billowing in windy conditions or when towing. Also fights condensation and rust.


Tight fit - Essential for towing and also good at keeping dust down and preventing insects or other varmints from getting in or on your ATV.
 
UV protection - UV rays can break down the fibers in many materials over a period of time. This will effect the ability of the cover to protect your ATV.


Colors and logos - Not a matter of function, but many folks just like to have a little bit of customization in their ATV covers.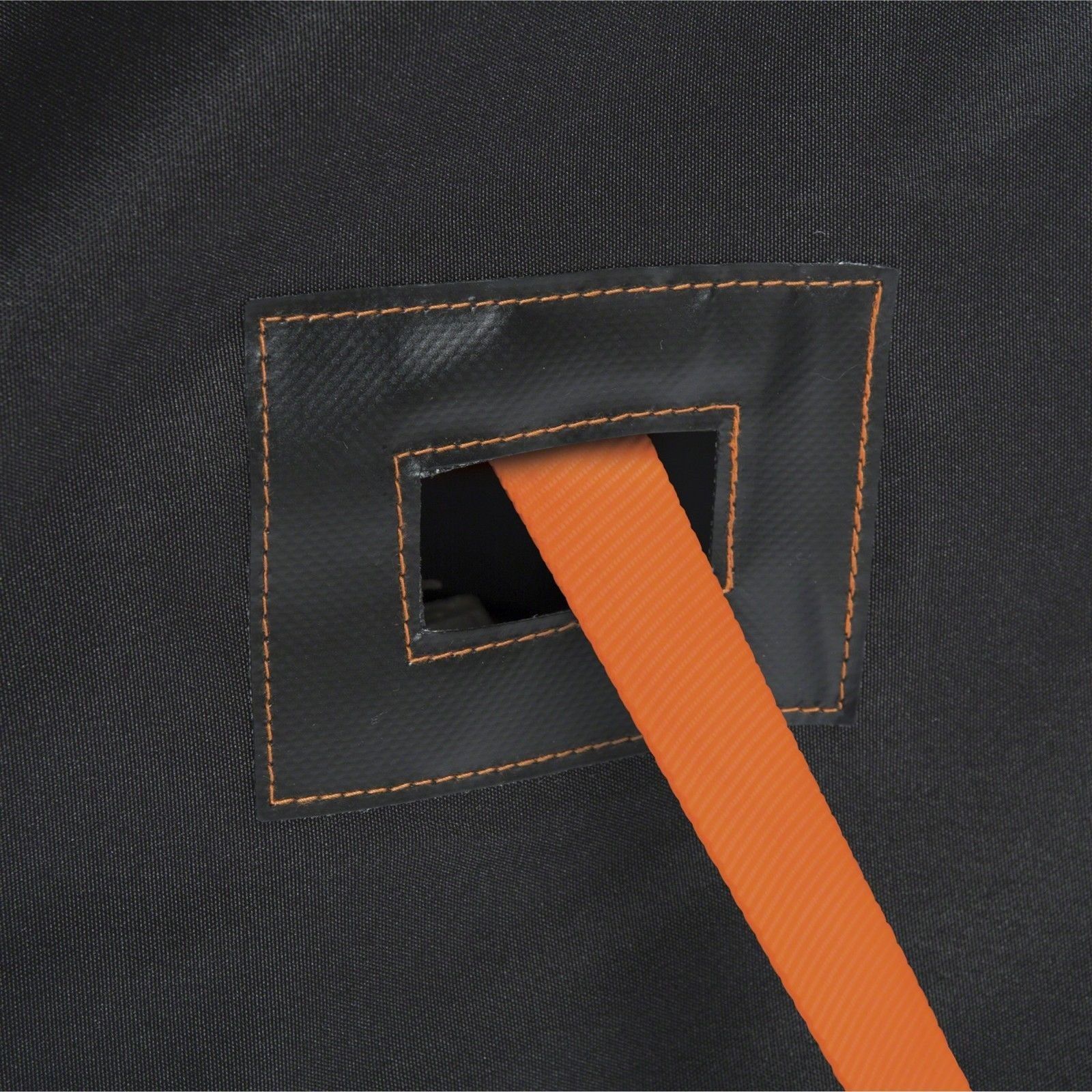 Towing strap access panel makes tie down much easier.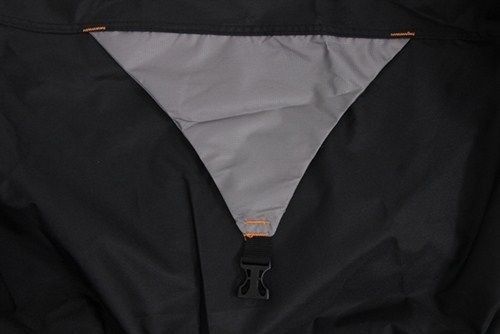 Adjustable fit panels help keep your cover tight.
ATV Covers – Conclusion and Recommendations.
Best covers for needs.
ATV and UTV covers come in so many different styles and materials, it's almost impossible to determine which is "best". All anyone can do is match a cover with what they need it to do. 
That can be as simple as a common sheet or blanket over a garage kept vehicle, to a custom towing cover for a $30,000 Side by Side. We'll give you our preferences.
For reasonably well ventilated and protected areas, almost any cover will do. We like a softer cover to prevent scratching, along with elastic edging to help keep the cover in place and to prevent dust. If humidity is a problem, add breath-ability to the list.

For outdoor use, we like a tougher, water resistant, nylon cover with a soft lining. A tighter fit is important, so security straps are a must. If it's exposed to wind, you'll need some vents to prevent the cover from being blown off. Vents also help keep the ATV dry.If your 4 wheeler is exposed to sunlight, the cover will need to be UV resistant.
Towing will require a form fitting cover with a secure system for attaching the cover to the machine. The tighter the cover, the better.

Best values.
Rather than single out a certain brand name or style of cover, let's look at what features add up to the best value.
First off, let's say that in our experience, the cheapest cover in price will rarely represent the best value. If you buy a cheapo cover that won't do what you need it to, what have you really accomplished?
So that's the first thing, buy enough cover to do what you need it to do. IF you want to save money, just don't buy an ATV cover with features you don't need. There's no point in buying a $300 towing cover if your ATV just sits in a well protected garage.
The other key to a great value is durability. A cover that is well made from quality material will provide several years of protection for your ATV. A cover that only lasts a year or two will just end up costing more over time.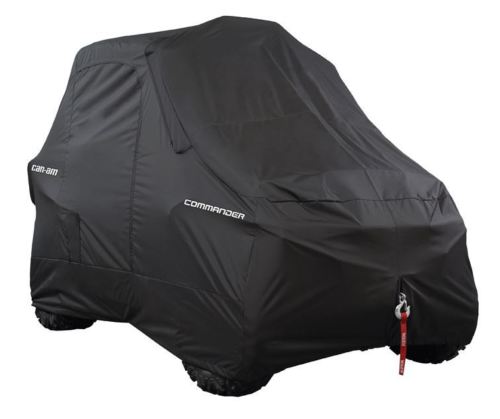 Covers for trailer towing need the tightest fit.
---
The link above will take you to all the latest listings for the day. 
---
ATV Covers
---