ATV Safety - Essential Guides for Safer ATV Riding.
ATV safety - not really one of the most popular topics we cover. And, truthfully, not one of my favorites to write about. But it's something we all need to think about. Don't believe me? OK, let's run through a few points.
"I'm so good I never crash" - Yeah, that's why pro racers wear all that head to toe safety gear - no confidence in their own ability.
"I only ride slow" - One of the top 500 wealthiest men in the US died last winter when he slipped on ice in a parking lot walking to his car. How fast do you think he was going?
"I'm so lucky nothing bad ever happens to me" - Leading psychiatrists recommend you look up the word "delusional" in the dictionary.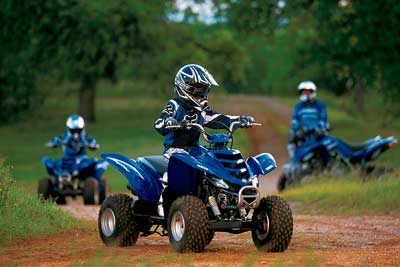 Tips for safer ATV riding.
The point being none of us is immune to the occasional "mishap". The trick is to minimize how many of those we have, and the seriousness of the results. We hope you will take a few minutes to browse through these Safety guides - we promise they're not all doom and gloom!
ATV Safety Articles
Top ATV Camping Tips - Our top tips to get the most from your ATV/UTV camping trips. Advice on how to get started, what you'll need and how to carry it all. Everything you need to know to keep your camping both fun and safe.
Learn How to Reduce Your Risk of Injury in ATV Crashes - Filled with tips on the best ways to avoid crashing in the first place. Then, with a nod to reality, the best ways to minimize or eliminate injuries when you do crash. Lots of tips on the best Four Wheeler safety gear to use and even how to fall off your ATV!

ATV Wrecks ... Exclusive New Report Details the Major Causes - Latest report detailing the main reasons behind 4 wheeler wrecks. More importantly, what to do to keep them from happening to you. Follow these guidelines and dramatically reduce your chance of being involved n a serious ATV crash!

Youth ATV Safety - If you're thinking about getting junior a four wheeler, or you already have, please read this report now! Details about the three things you must do to keep the little ones safe. Recommended riding gear for safety without breaking the bank.

---