Polaris ATV Guide.
This guide to the Polaris ATV model line will get you up to speed on the current ATVs you'll see on Polaris showroom floors. We've included pictures, videos, reviews and specs. Everything you need all in one place.

Polaris ATV Models

ACE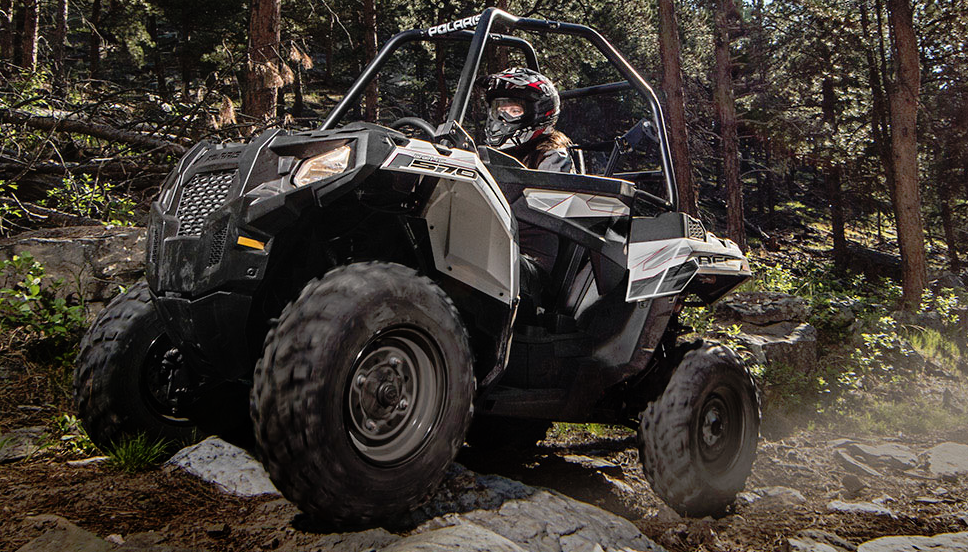 2019 Polaris ACE 570.
Sportsman
2019 Polaris Sportsman 850 Guide - Easy to use guide to all the 78 hp 850 models. Includes Touring and High Lifter Edition.
2019 Polaris Sportsman 570 Guide - Covers all the 570 models including Touring, X2, and the Sportsman 6x6.
Polaris Sportsman XP - 2013 Polaris Sportsman XP Review with coverage of all the new features. Specs and lots of photos.

Polaris Big Boss - Even though the Polaris Big Boss has been around several years, the majority of owners still give it top ratings. And that's what makes it a real "Boss" in my book.
Outlaw
2009 Polaris Outlaw Models - The Polaris Outlaw model line includes a full range of sport ATVs from the 50cc Outlaw youth ATV to the rip snortin', KTM engined, race winning 525 Outlaws.

Polaris Outlaw 450 MXR - This is the race ready Outlaw with the screaming 450cc KTM engine. Learn about all the racer friendly features that come standard on the MXR.

Polaris Outlaw 525S - The Outlaw designed for the dunes. But it can do so much more than that. Find out what else the 525S is good for.

Polaris Outlaw 525IRS - The independent rear suspension model builds on what the original Predator started. Now with premium suspension and a KTM engine. If you like to trail ride with a sport ATV, check the 525IRS out!
Phoenix
Polaris Phoenix - If you're looking for a first ATV and want to keep things simple, this Polaris will do the job.
Youth
Polaris Outlaw 50 - It would sure make our short list for a beginners Youth ATV.

Polaris Outlaw 90 - This youth Outlaw model shares it's looks with the full size models. If you're looking for a solid choice in a larger youth ATV, give this one a look.
Scrambler
Trail Blazer
Trail Boss
Polaris Accessories for ATVs
Polaris Parts for ATVs
---
---
Polaris UTV - Guide to Polaris Ranger and RZR models.