ATV Mud Riding Guide.
Ready to jump into ATV mud riding - the fastest growing category of ATV riding? You won't be alone as ATV riders everywhere are discovering the fun of getting down and dirty in their favorite mud bog.
But riding your ATV in mud takes some special knowledge and preparation before you dive in. That's what this Guide is all about. We'll cover the special mud tires, modifications to your ATV, and mud riding techniques to help you look like an expert the first time out.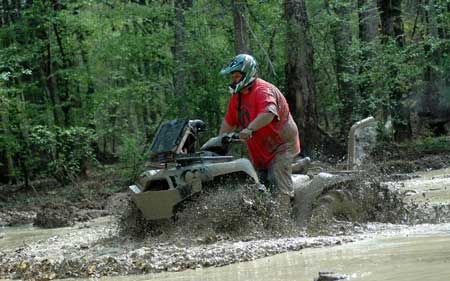 Learn all the secrets, tips and tricks of mud riding!
ATV Mud Riding Secrets!

Our special series of articles listed here, about riding your ATV in the mud, should give you most of what you'll need to know to get started. If you have any questions, just ask them in the comments section at the bottom of the page. We'll do out best to find you an answer.

Secrets of ATV Mudding - Ready to do a little roosting of your own? I'm not saying these tips and tricks will turn you into a mudding hero. But I'm not sayin' they won't! So let's dive in. Practice these riding tips and you'll be the guy everybody wants to follow on your next mud riding adventure!
How to Turn Your ATV into a Mudding 4 Wheeler - Learn how to modify your ATV for mud riding. Mud tires, snorkel kits, and more are discussed in this article.
ATV Mud Tires - Mud ATV riding is the fastest growing segment of the sport. That's why we did a ton of research so we could help you get down and dirty. There may not be a "Best" mud tire but we'll try to help you find the best one for you!
ATV Snorkels - Do you need a snorkel? Read this article and find out. Covers all the ins and outs involved with installing a snorkel on your ATV.
ATV Snorkel Kit Guide - Full of snorkel advice and tips for finding the best snorkel kit for your 4 wheeler. How to find the best deals on popular kits. If you plan on going muddin', be sure to read this first!
These articles should at least give you a good idea of what to expect when you take your ATV into the mud. One last tip, (and maybe the best one), is to find someone with first hand knowledge of your riding area. Talk to them about what to expect in your specific area, places to avoid, best places to ride, etc.
Have fun, be responsible, and let's be careful out there!

---
---