Polaris UTV Guide.
The Polaris UTV model line is a result of the sharp increase in demand for utility type vehicles. But no sooner had the Polaris Industries engineers finished their first project, the Ranger, than customers were demanding a sports model. And that new model, the Polaris RZR is it.
So are these two radically different models the best in their respective classes? That's what we plan to find out. We searched high and low for answers. Talked to owners, read the reviews and tests, surfed the net for more hours than I want to admit, and drove 'em ourselves.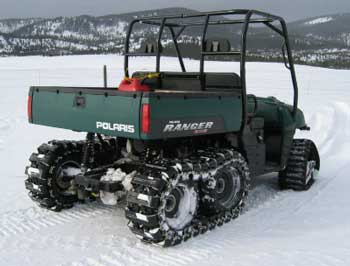 We cover all the Polaris Ranger and UTV models in our Guide.
So after doing more research than an over achieving school girl. I think we have a pretty good idea about what makes these Polaris UTVs tick. Only thing left to do is dissect 'em like a frog in biology class.
Polaris Ranger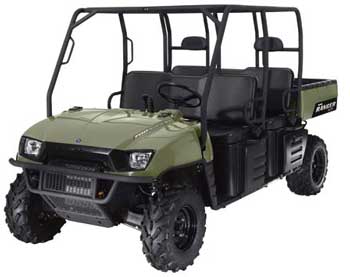 2018 Ranger 150 Youth UTV - A Ranger for the kids! Seating for 2, full roll cage, a functional bed, adjustable seats and steering wheel. Comes with the new Ride Command smart phone app for a new level of parental control.
Guide to Polaris Ranger Models - First up is the Polaris Ranger model. Only problem is there's not just one Ranger model. You have the 500 in both 2 and 4 wheel drive. Then there's the 700 series with the XP, the 6x6, and the Crew. We have a special in depth section on each of these Polaris UTV models.
Polaris Ranger Accessories - One of the best things about the Ranger models is the strong support of the aftermarket industry. There are literally hundreds of different accessories to choose from. Take a look at this Buyer's Guide for tips on what's available and how to get the best deals.
Polaris Ranger Parts - When you're ready for Polaris Ranger parts, this is the place to be. We'll give you the latest rundown on the most popular Ranger parts and accessories. Then tell you where to find the best deals on them.
Ranger RZR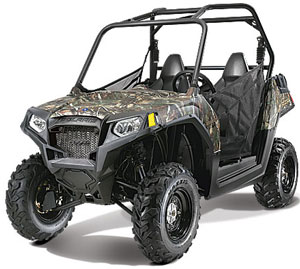 Guide to Polaris Razor Models - Not sure which RZR model is best for you? Then don't miss our overview of every Polaris Razor model from the RZR 170 for kids, the RZR 800 and 570 for 50" trails, the Razor S for more open spaces, RZR 4 for more people hauling, and the XP 900 for the go fast crowd.

Ranger RZR 800 - Technically, the RZR is called a Ranger, but it doesn't really have that much in common with the other Ranger models. It's pretty obvious that the emphasis is heavily on sport, not utility. That's why we have a special report dedicated to the Ranger RZR. The first UTV capable of traveling on 50" restricted trails, this is the best selling of all the Razor models.
Razor S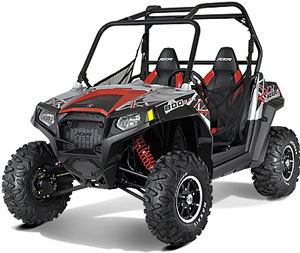 Polaris Razor S - The Ranger RZR S packages the most popular performance upgrades - like more suspension travel and more hp - into a ready to go from the showroom floor factory model. Don't miss our full review that includes the latest updates to the RZR S.
RZR XP 900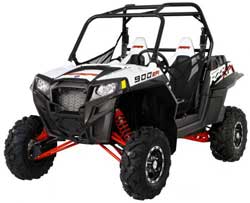 Polaris RZR XP 900 - Our exclusive review of this all new high performance Polaris UTV. More power, more suspension travel, and more ground clearance add up to new levels of performance for the side by side class.
Polaris UTV Conclusion
So we still have the question. Is a Polaris side by side the best in class? Well, you're gonna have to answer this one yourself. That's the fun thing about this UTV deal, it means something different to everybody. What's important to me may not mean squat to you. All I can say is do your homework, drive all of the candidates on your short list, and be honest with yourself about what you really want a UTV to do. Then all you have to worry about is lightin' the fire and smokin' the tires.
---
Polaris ATV - Guide to all the Polaris Four Wheeler Models.
UTV Guide - Guide to all the most popular UTVs.
Polaris UTV and 4 Wheeler Parts - How and Where to find terrific deals on parts.
---