Kenda Bear Claw ATV Tire
The K299 Kenda Bear Claw ATV tire has been a long time favorite as an all terrain four wheeler tire. The lugs are a little short to put it in the serious ATV mud tire class. But if you're looking for an all around trail tire that can get you through most mud holes - this Bear Claw tire is hard to beat.
Sidewall lugs hook up in ruts to keep you going forward - 6-ply rating means they can take a lot of abuse - and the tear resistant rubber compound makes sure they stay around for a while.
If you have an ATV under 400cc but would like to run a bigger tire - maybe some 27s? - the Kenda Bear Claw ATV tire may be your best choice. The 1" lugs on the 27s work pretty well in the mud but don't suck the power that a larger lug tire would. A lot of riders report great results with this combination.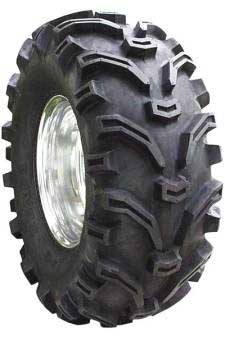 The Kenda Bear Claw all terrain ATV tire.
Disclosure: Links have discount prices for you and may pay small commission to us. Details

When you add it all up - all terrain ability, 6-ply toughness, long wearing, good mud traction, and value pricing - the Kenda Bear Claws may stay on that favorites list for a long time! Sizes range form 22" - 27".
We checked several owner surveys and even some popular forums to see what folks said about the Kenda Bear Claw tires. Most said they were very pleased with the performance and wear. A few that wanted a more aggressive ATV mud tire were disappointed. (That's what the Kenda Executioner is all about).
Everybody said they would recommend the Bear Claw tires as one of the best all around choices. Most agreed they were a great value for the price - especially as long as they last!

Bear Claw EX
Kenda Bear Claw EX ATV Tire
The new EX is out now and is supposed to be an improvement on the K299. Aimed specifically at 4x4 ATVs it claims several improved features:
New front/rear specific tread pattern designed for aggressive riding in mixed terrain.
Ramp edge center knobs for reduced rolling resistance.
Raised ribs in tread open areas for additional casing protection.
High sidewall casing protector to resist punctures.
Bead rim saver.
We couldn't find enough rider feedback on these to draw any conclusions yet.
Kenda Bear Claw ATV Tire - Conclusion
If you're looking for a great all around tire at a value price this Kenda ATV tire is hard to beat. They're a good step up from most stock tires and yet don't ruin any of your ATVs usability by being too specialized.
The Bear Claws work well on most types of terrain, have a smooth ride, predictable handling, and apparently wear like steel! And if you have a small bore 4x4 ATV they're not a bad mud tire. You could probably run the 27 inchers with the bigger lugs without a problem.
Don't confuse the Bear Claw tires with the more narrowly focused "mud tires". They are definitely not in the same league with Outlaws, Vampire EDLs, or Gorilla Silverbacks. (The Kenda Executioner might be worth a look as a budget alternative to the big boys).
The thing that is most impressive to me is the high percentage of owners willing to recommend this tire to their buddies. Even the ones who wanted more mud performance admitted the Kenda Bear Claws were a best buy.
---
Kenda Bear Claw ATV Tires
---