About Us at World of ATVs.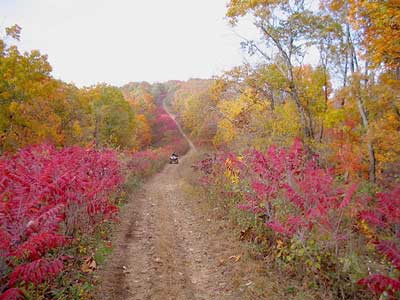 We suppose you'd like to know a little about us or you wouldn't have come to this page. You want to find out if we're legit, or just another worthless web site polluting cyberspace.
First up is me. Geoff Lackey. Editor and Chief Gopher. Age - ancient by youth motocross standards. Background for doing this consists of being stupid enough to try to ride or drive anything that moved during my misspent youth.
Some attempts were more successful than others. Actually managed to have a spotty racing career on both 2 and 4 wheels. Along the way, came to know several racers, mechanics, engineers, and builders.
Related to the first American Motocross World Champion, Brad Lackey. Just to round things out a little, also helped John Koscinski get going with his motorcycle road racing career a little. (250 GP World Champion and World Superbike Champion for those who don't know).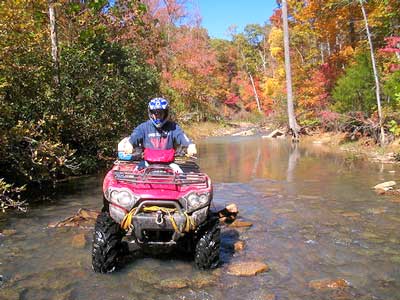 Fell for the old bike racer's saying, "With age comes a cage", and spent some time in the driver's seat of a variety of racing cars. Mostly on dirt, and no, I don't have anything against racing on asphalt. In fact I kind of like seeing where I'm going, not always an option in the dirt.
Spent time twirling wrenches on everything from open wheel and endurance road racing cars to World of Outlaws sprint cars and late models. Turned a few nuts and bolts on about any kind of 2 wheeler that raced.
But back to the original subject - about us - I grew up trail riding in Arkansas on whatever I could get my hands on. And when I was young, there were a lot of trails in Arkansas! So I've kind of come full circle, because trail riding ATVs is what I like to spend time doing now, and we're based in Central Arkansas. Right between the Ozark and Ouachita National Forests.
Access to a lot of the trails and riding areas I used to frequent is gone. Even though Arkansas hasn't lost as much as many areas, it's a trend we all need to work at stopping. Maybe even reversing!
So what does all that have to do with ATVs? Basically it just gives you a broader range of experience to draw from when you're trying to keep up with all the changes and developments in the ATV world. Just as ATVs themselves borrow from both the 2 and 4 wheel parts bins,it helps to know something about both.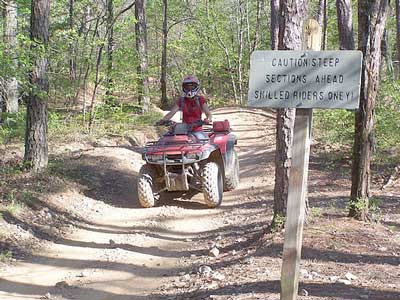 I have been lucky enough to watch the whole thing start in the 70's with the Honda ATC's, progress into the 4 wheeler ATV with Suzuki (still own one of those first Suzuki quads), and then turn into the huge movement it has become today. And no sign of slowing down!
Bottom line is we're not a bunch of computer nerds who threw up a site about ATVs. It's more like some ATV guys who managed to learn enough to get a site up! We're doing our best to bring you the kind of info you want and need with a little of our opinion about things thrown in.
We hope that's all right with you. If you made it this far down the page, you're a bigger person than me - or at least you have better eyesight! But anyway, that's a little about us and how we got here.
Geoff
P.S. - All the pics are trails in Arkansas!
---