An Arctic Cat ATV Manual Can Save You Big Bucks!
Compare the cost of an Arctic Cat ATV manual to the cost of just 1 hour of shop labor. If you only save that 1 hour of shop labor on a repair job, you've already more than paid for the manual!
And that's based on the high dollar factory service manual. We'll tell you about some money saving alternatives too. They don't have quite the detail of the factory manual, but they're good enough to tackle most repair jobs.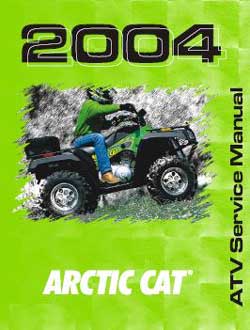 What Are the Choices for an Arctic Cat ATV Manual?
Disclosure: Links have discount prices for you and may pay small commission to us. Details

This is where you'll find the best prices on all kinds of Arctic Cat ATV service and repair manuals. Everything from full factory service manuals to CD copies for almost all of the Arctic Cat ATV models.
Factory Workshop Manual - Definitely the most expensive way to go. But you'll be looking at the same manual the mechanic at the dealership is. What you won't have are all the special tools the factory manual will call for.
The other thing you may notice is this manual assumes you have some expertise and doesn't waste any time explaining basics. But you'll also get much more detailed info about every part and procedure on your Arctic Cat ATV.
Clymer ATV Service Manual - Less expensive than the factory version. Written with the amateur mechanic in mind. Takes you step by step through disassembly and hopefully reassembly of most components. They also give you some tips for work-arounds when you don't have the fancy special factory tools.
Haynes ATV Repair Manual -Written with the Do-it-Yourselfer in mind. Only problem is they may not cover your model. They don't go into as much detail as the full tilt factory manual - but there is more than enough to keep almost any backyard mechanic happy.
If nothing else it can help you decide if a repair is something you want to tackle yourself or if you would be better off to take it to a shop. After all - leaving a whatchamacallit off the transmission doohickey can be expensive! I've used all of these manuals and would have to say the factory manual is the best if you're pretty good with the wrenches and plan on keeping your ATV long enough that it may need some major repairs.
The other manuals are fine for most of us. They actually do a pretty good job of guiding you through most repairs that a home mechanic would normally try.
Now that shop labor these days will take a big bite out of a $100 bill every hour - it won't take long to come out way ahead with an Arctic Cat ATV Manual and a little sweat equity.
Related Articles
---
Arctic Cat ATV Manual
---