Polaris Sportsman XP Guide.
For 2013, the Polaris Sportsman XP 850 HO is the only model in the Sportsman line that still carries the XP designation. Since the 850 is labeled XP (x-treme performance), and HO (hi-output), we get the impression that Polaris is trying to tell us that this is a high performance ATV!
That's probably because when the XP 850 rolled out in 2009, it was the king of the performance big bore ATVs. But in 2013, both Arctic Cat and Can Am now offer 1000cc ATV models.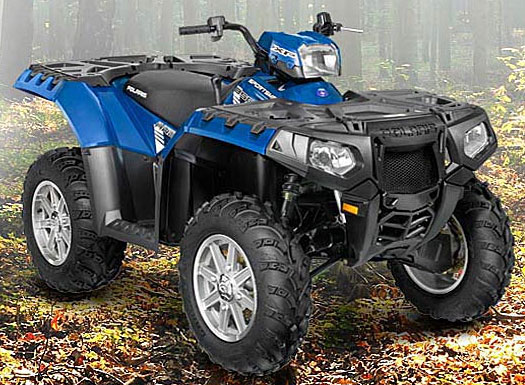 The only Sportsman XP for 2013 is the 850 HO model. This is the EPS.
Polaris proably felt it was too soon for a major update to the Sportsman 850 XP, so they did the next best thing and gave it a performance upgrade to help keep it competitive with the other makes.
Before we get ahead of ourselves, let's back up and take a look at the noteworthy features of the new 850 HO Sportsman model.
Polaris Sportsman XP 850 HO Features
Engine - The vertical twin 850cc engine in the XP has been around since 2009. The HO model was introduced in 2012 and continues for 2013. Horsepower is up to 77 thanks to larger throttle bodies and a revised intake system. That's six hp more than the standard model, and it's enough to feel the difference.
In keeping with modern trends, it sports a SOHC, electonic fuel injection, and liquid cooling. The vibration that tends to be a problem with vertical twins is held to a tolerable level with counterbalncers and rubber engine mounts.
While it many not be the horsepower king of the class any more, it's still a strong running engine with more than enough power for anything you might want to do. This 2013 model did seem a little louder than we remember, so we wouldn't be surprised if the exhaust system got uncorked for a little better flow also.
Power seems to be concentrated in the lower and mid-range parts of the rev range, because it's not a big top end puller. But that fits the intended use of the more utility oriented Polaris Sportsman XP model. Throttle response is good and very controllable execpt at very low speed where the snatchy enagement of the CVT transmission makes things a little tedious.
Compact driveline layout leaves plenty of room for rider and cargo.
Transmission/Driveline - Speaking of snatchy transmissions, Polaris does have a unique driveline system. It does tend to have what we will graciously call a "sudden engagement" that makes low speed maneuvers like hooking up a trailer a little challenging.
This tranny is often criticized for being hard on drvie belts, especially compared to some of the newer systems that utilize an automatic centrifugal clutch. We do like the clutch systems, but if you use the correct high or low range in the Polaris transmission, they work just fine without much trouble.
The Polaris Sportsman XP also uses the familiar Polaris four wheel drive system that features completely automatic engagement based on available traction. You can choose from 2wd (rear only), 4wd, and 4wd with descent control. In the 4wd setting, power still goes to the rear wheels until they lose traction. When that happens, power is sent to both front wheels, providing full all wheel drive for maximum pulling power.
It all happens seamlessly with no additional input needed from the rider. The steering does get a little heavier on the Polaris Sportsman XP models that don't have power steering, but with EPS you would be hard pressed to tell the system has engaged. We really like this Polaris feature and think it makes the most sense for all wheel drive ATVs.
12 inches of ground clearance, plenty of wheel travel, and independent suspension all add up to one of the most comfortable rides among utility ATVs.
Handling/Ride - Rather than bore you with all the specs of the steering, suspension, brakes, etc., let's just talk about how it all works. Because that's all that really matters, right?
Good ride and handling starts with a comfortable riding position and good ergonomics. Fortunately, that's one of the things these Polaris Sportsman XP models do best. The inline longitudinal mounting postions of the engine and transmission leaves lots of room in the floorboard and tank/seat area of the ATV. This is a big four wheeler at almost 800 pounds, but it doesn't feel like it thanks to the roomy rider area.
You're not going to throw it around like a light weight quad, but the slim tank and seat, along with plenty of foot room, can fool you into thinking the 850 XP is much smaller than it really is. It's an easy reach to the controls for most riders, so it's very controllable for such a large machine.
Polaris has developed a reputation over the years for being some of the smoothest riding ATVs around, and this Sportsman 850 XP won't damage that reputation. At low and medium speeds the ride is very smooth. At higher speeds, it starts to feel just a little "floaty", but we think it's a reasonable compromise. The Sportsman's strenth isn't high speeds over rough trails.
The EPS (electric power steering) contributes to that lack of feel at higher speed as it seems to have a bit too much boost to deliver good feedback at those speeds. That may by due in part to what Polaris calls their "anti-kickback steering". This places the outer ball joints further inside the wheel to get the steering axis closer to the wheel centerline. The idea is to reduce steering effort, and kickback through the bars when the wheels are suddenly deflected.
This kind of arrangement was called "low scrub" steering in the auto racing world which was part of my background. It reduces the load on steering and suspension bushings, and should reduce tire wear. The main downside is a lack of steering feel, especially with power steering, and we think that may be most of the problem with the Polaris Sportsman XP.
Low scrub steering and longer a-arms reduce kickback through the handlebars.
We would rate the cornering ability of the XP HO as very good for an ATV that weighs almost 800 pounds. The inside rear wheel does seem to stay planted and the machine stays pretty flat without enough lean in corners to worry about. With 12 inches of ground clearance and a relatively short wheelbase, we were pleasantly surprised at how well the Sportsman handled turns.
Braking won't pull the goggles off your face, but like many utility ATVs comes with a two front and single rear disc arrangement. The front lever controls all four wheels and the foot lever works the rears only. Brakes seem more than adequate for the intended speed range of the Sportsman XP.
More Polaris Sportsman XP Features
There are a few more miscellaneous features that deserve a mention. They didn't fall neatly into any of the other categories, so we'll cover them in this section.
Racks and Towing Capacity - The composite front and rear racks are easy to remove and have the now familiar Polaris "Lock and Ride" mounting system for the large number of factory accessories available for the Sportsman XP model. The front rack can hold 120 lbs., while the rear rack can handle 240 lbs.
These racks also feature a full 100 tie-down points for even the most dedicated pack rats.
Tow rating is 1,500 lbs. with the standard 1.25" receiver hitch.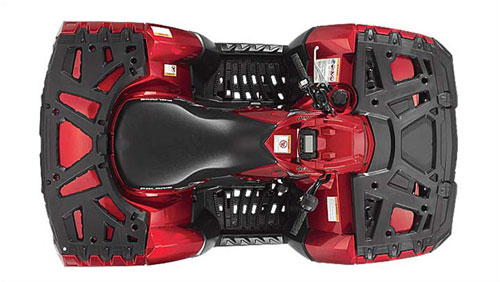 Composite front and rear racks hold 360 pounds and have 100 tie down points.
Digital Instrument Cluster - The digital single pod LCD panel keeps up with an amazing amount of info. Included are:
Speedometer
Tachometer
Odometer
Two trip meters
Hour meter
Clock
Service Indicator
Diagnostic Indicator
Gear Indicator
AWD Indicator
Fuel gauge
Temp
Battery
Lights
DC Outlet
Active Descent Control (ADC) - Since ATVs with CVT type transmissions don't have any engine braking, Polaris provides this system designed to simulate some. You have to be going under 15 mph to engage it, and it only works on the rear wheels. You can definitely feel it, but it depends on the type of riding you do as to how much you would really use it. There have been several reports of it malfunctioning in the Polaris Sportsman XP 850 HO, so be sure to check that out with your dealer.
Three Headlights - The standard fixed headlights work well, but we find the third light, which is center mounted and turns with the handlebars to be very useful. There's nothing like being able to shine some light as you turn to help you avoid any surprises!
Lots of Lubrication Points - We bet the grease fitting supplier has a big grin after seeing all the ones on the 2013 Polaris Sportsman XP. Some of them are hard to get to, but we would much rather have them than not.
Radiator and Winch Mounting - The radiator was raised for better cooling in muddy conditions. The winch was lowered for better leverage and stability. The front lower part of the frame was shortened and angled for better ground clearance when approaching obstacles.
High mounted radiator keeps debris out, three headlights show the way.
2013 Polaris Sportsman XP 850 HO - Models
2013 Polaris Sportsman XP 850 HO - Models
The Sportsman XP comes in three versions for 2013. Base, EPS, and LE.
Base - $8,799. Comes with all the standard features but has steel wheels and no power steering. Colors are green and red. For $200 more, a Camo version can be had.
EPS - $9,999. You get the obvious electric power steering, plus aluminum wheels with upgraded 489 II tires, and a 5 layer metallic paint job claimed to be nine times more scratch resistant than the standard plastic. Color choices are blue and red.
LE Camo model comes with extended rear rack, gun scabbard, and winch.
LE - $10,599 in Stealth Black and $10,999 in Pursuit Camo. The black LE includes everything on the EPS and adds painted suspension and springs, a front storage box, custom seat, and a 2,500 lb. winch.
The camo model gets camo wrapped body and wheels, rear work lights, rear rack extender, hand warmer grips, a gun scabbard, and the winch.
Polaris Sportsman XP 850 HO - Conclusion
Interviews with owners show most of them to be enthusiastic about the Polaris Sportsman XP 850 HO. The power, handling, suspension, comfort, and healthy towing capacity were all mentioned as favorites. Trail riders especially liked the extra ground clearance at 12 inches.
So where does the Sportsman XP fit in the big bore utility ATV class? We would put it near the top for comfort and utility, and better than average for handling and performance.
Nitpicks? Yeah, a few. The abrupt engagement of the transmission at low speed is iritating, more mud and water gets to the rider than it should, the power steering ia a little light at higher speeds, and we keep hearing complaints about the descent control.
Overall, if you're shopping for a 4wd big bore utility ATV, we recommend giving the Sportsman XP HO serious consideration.
---
---