Polaris ATV Accessories.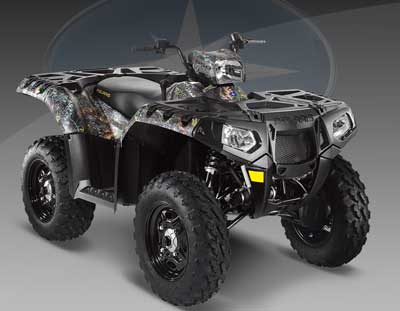 Best Buys on Popular ATV Accessories.
There is no shortage of Polaris ATV accessories on the market. In fact, the real problem is sorting through all of them to find what you need. And then doing all the price checking to find the best deal.
That's exactly why we went ahead and did the research for you. To give you a leg up on finding the most popular Polaris ATV accessories at the best prices.
We read thousands of owner surveys to find out about the accessories they liked to add to their Polaris ATVs. What we found out is that's almost a hobby all by itself! But when you see many different owners adding the same accessories, it quickly tells you which ones are the most popular.
Polaris ATV Accessories Guide.
All the accessories below are listed by their popularity with Polaris ATV owners. Click on any of the custom links to see listings of the best deals. Lately, we have been finding the best deals at Ebay Motors and we've always had good luck with them.
Just stay with sellers that have good feedback ratings and make sure to read the descriptions carefully so you're sure you have the right part. If you don't like using the auctions - there are plenty of accessories for sale through the "Buy it Now" program. That's usually what we use for new parts.
Disclosure: Links have discount prices for you and may pay small commission to us. Details

Wheels and Tires - A lot of owners want to change wheels and/or tires before they even get home with their new Polaris ATV. Some just for looks and others for the better performance of tires more suited for the type of riding they do.
Also included at the above link are wheel and tire accessories like spacers, custom valve stems, flat fix kits, wheel bearings and more.
Polaris ATV Winches - These are handy for all kinds of chores and really are a necessity if you tend to get off the beaten path. When you get your 600 pound ATV stuck - you'll know why! We strongly recommend you not leave home without one.
Don't forget the winch mounts, cables, hooks, and other winch related items you can find in this section.
Bumpers and Racks - Everybody has things they like to carry with them - and who hasn't had the urge to run into something? Accessory bumpers and racks let you do just that.
Hunters will need gun racks and other outdoor types will probably want front and rear racks with extra carrying capacity. You can find all that in this section.
Skid Plates and Guards - If you ride in rocky areas or where there is a lot of undergrowth, then skid plates and brush guards are something you're going to need.
Polaris ATV Windshields - There's nothing like riding on a cold morning to learn all you never wanted to know about the wind chill factor! When you make this discovery you will be shopping for a windshield.
All Polaris ATV Accessories - If you don't find what you're looking for at any of the other links - this one is our special custom link for all the accessories available at Ebay Motors for Polaris ATVs.
---
---