Polaris Outlaw 450 MXR -
Updated Review.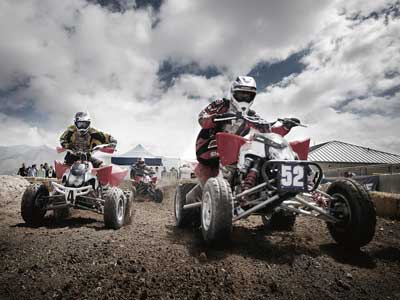 2010 was the last year for the Outlaw 450 MXR.
The Polaris Outlaw 450 MXR is the thoroughbred racer of the Outlaw line up. It had several updates for the 2009/2010 model years, then was dropped beginning with the 2011 model year. As of 2013, Polaris doesn't offer any racing oriented sport ATVs.
There may still be some left over Outlaw MXRs new in the crate, so for that reason, we'll detail all the changes for the last model offered.
New Stuff:
Lighter weight because that's always a good thing. 6 pounds to be exact.
Revised bodywork so moving around on the quad is easier.
Lower seat height and shorter rear shock for a lower center of gravity and more stable handling.
Modified steering rod pivots to reduce "bump steer" and scrub radius for more stability, less  kick back at the bars, and reduced steering effort.
Standard 8mm bolt heads on all the bodywork and the elimination of 47 other fasteners for quicker and easier maintenance chores.
Aluminum heel pockets for lighter weight and easier movement.
Hydraulic clutch for easier, more consistent shifting.


Aluminum front bumper for lighter weight and a cleaner look.
Good Stuff:
Good power from the bottom to the top. Quick off the line for good starts.
Suspension works well enough stock with plenty of adjustability. Fox Podium shocks with reservoirs on the front will do the job.
Brakes work well enough to race without mods.
Maxxis Razr tires are good enough to start with.
Overall, a balanced package with all the basics you need to go racing.
Bad Stuff:
May be a tad small for taller riders.
Some premature front wheel bearing failures have been reported.


A few miscellaneous reliability issues but nothing consistent enough to call a real problem.

Restrictive and cramped air box.
Truthfully, talking to actual owners, very few had anything negative to say about the Polaris Outlaw 450. And that says a lot!
What do owners say?
"I love my Outlaw. It is quick, easy to handle and has tons of low end torque. It is great."
"I have to say this is one of the first machines I have ever owned that lived up to the hype. I have done everything from trail ride to race arena cross with mine and have never been disappointed. It is extremely nimble on the open trails and is very predictable in the air. Home run in my book."  
"The power is always there and I was able to come out of the hole every time with the guys that are cammed and punched out. It jumps great and is very forgiving when you overshoot or come up short."  
"I have never ridden a faster off-the-line quad ever. This thing rips. The top end leaves a little to be desired but it is a great all around machine. I had only one problem with it. The day after I brought it home it lost a retainer holding one of the starter gears on. It took the dealer about 4-5 days to get it fixed. It is the longest 4-5 day wait that I have had in a while. Since then I have had zero problems."
Conclusion:
Looks like the Polaris Outlaw 450 for 2009 builds on last year's model with some changes and tweaks that racers requested. Owners that we interviewed seemed pretty happy with the basic package.
Any racing ATV will need to be tuned and honed to fit an individual rider's needs. The thing you really look for is if all the parts are there in the first place.
In this case, it looks like they are. We believe an average racer could take the Outlaw 450, and with some adjustment to fit their riding style, be competitive.
2009/2010 Polaris Outlaw 450 MXR
Specifications - Polaris Outlaw 450 MXR
MODEL YEAR
2009
MODEL
Outlaw™ 450 MXR
M.S.R.P. *
$7,399.00
ENGINE
4-stroke KTM racing
DISPLACEMENT
448 cc
CARBURETION
Keihin 39 mm FCR
COOLING
Liquid
STARTER
Electric
CLUTCH
Hydraulic manual
TRANSMISSION
5-speed with reverse
FINAL DRIVE
520 O-ring chain
DRIVE SYSTEM
4x4
SUSPENSION
Front: Dual A-arm; 10 in. (25.4 cm) travel
Rear: Mono-shock swingarm; 11 in. (28 cm) travel
BRAKES
Front: Dual hyraulic disc with dual piston calipers
Rear: Hydraulic disc
TIRES
Front: Maxxis RAZR MX; 20 x 6-10
Rear: Maxxis RAZR MX; 18 x 10-9
LENGTH
71.5 in. (181.6 cm)
WIDTH
47 in. (119.4 cm)
HEIGHT
43.7 in. (111 cm)
WHEELBASE
50.5 in. (128.3 cm)
SEAT HEIGHT
30.7 in. (78 cm)
GROUND CLEARANCE
5 in. (12.7 cm)
DRY WEIGHT
359 lbs. (162.8 kg)
FUEL CAPACITY
3 gal. (11.4 l)
Related Articles:
Polaris Outlaw 525 IRS - The Polaris Outlaw 525IRS is an evolution of the sport ATV that pioneered independent rear suspension - the Predator. Now with a hot rod KTM engine and first class suspension, Polaris threw some new tricks at the 2009 model.
Polaris Outlaw 525 S - The S stands for "sand" - but this ATV will work in the woods or on the track too.
Polaris 4 Wheeler Parts - Where to Find the Best Deals on Polaris Outlaw 450 Parts.
---
---