2019 Can Am Outlander
Quick Guide

650 - 850 - 1000R
The 2019 Can Am Outlander Quick Guide gives you an easy to use source of info for all full size Outlander models. Complete with descriptions of new features, photos, prices, specs, and more.
2019 Can Am Outlander Models
All 2019 Can Am Outlander full size models get a revised front and rear suspension with a 2 inch wider track width.
The front gets arched lower control arms for better clearance and a new front anti-sway bar for better stability. The rear features an updated torsional trailing arm suspension. 
New shocks and springs at both ends, along with improved anti-dive and anti-squat suspension geometry, improve ride and handling.
All 1000R models get a power boost to 91hp.
---
Outlander Base Model  
650 - $8,399
850 - $8,999
Rotax V-twin engine options
650 - 62 hp, Rotax 649.6 cc V-twin
850 - 78 hp, Rotax 854 cc V-twin
Surrounding Spar Technology (SST) G2 frame with Geometric Contact Control

Visco-Lok auto-locking front differential

230-W lighting from headlights
High-strength, multifunction racks with LinQ quick-attach accessory system
5.7-gal (21.4 L) water-resistant rear compartment
RF Digitally Encoded Security System (D.E.S.S.)
Multifunction digital gauge
---
Outlander DPS  
650 - $9,299
850 - $9,899
1000R - $11,699


Rotax V-twin engine options:
650 - 62 hp, Rotax 649.6 cc V-twin, liquid cooled
850 - 78 hp, Rotax 854 cc V-twin, liquid cooled
1000R - 91 hp, Rotax 976 cc V-twin, liquid cooled 
Intelligent Throttle Control (iTC) Sport - Standard - Work settings. 
Tri-Mode Dynamic Power Steering (DPS) 
14-in. cast-aluminum wheels with ITP Terracross 26 inch tires 
625-W magneto
---
2019 Can Am Outlander XT  
650 - $10,349
850 - $10,949
1000R - $12,749
Rotax V-twin engine options 
650 - 62 hp, Rotax 649.6 cc V-twin, liquid cooled
850 - 78 hp, Rotax 854 cc V-twin, liquid cooled
1000R - 91 hp, Rotax 976 cc V-twin, liquid cooled
Intelligent Throttle Control (iTC) Sport - Standard - Work settings. 
3,000-lb WARN winch with roller fairlead
Heavy-duty front and rear bumpers
Handlebar wind deflectors
Painted plastics for premium look
---
Outlander North Edition -
650 - $10,299
850 - $10,899
Rotax V-twin engine options
650 - 62 hp, Rotax 649.6 cc V-twin
850 - 78 hp, Rotax 854 cc V-twin
Windshield
Heated grips and visor outlet
Mudguards
---
Outlander Mossy Oak Hunting Edition
1000R - $13,649
Exclusive Mossy Oak Break-Up Country camouflage
1000R 91 hp, Rotax 976 cc V-twin, liquid cooled
12-in. cast-aluminum wheels
26-in. Carlisle ACT HD 6-ply tires
Heavy-duty front and rear bumpers
Heated grips and throttle
A-arms & TTI HMWPE protectors
Kolpin 6.0 Impact Gun Boot
Wind deflectors
Front, central & footwell aluminum skid plates 
---
Outlander XT-P  
850 - $12,649
1000R - $14,449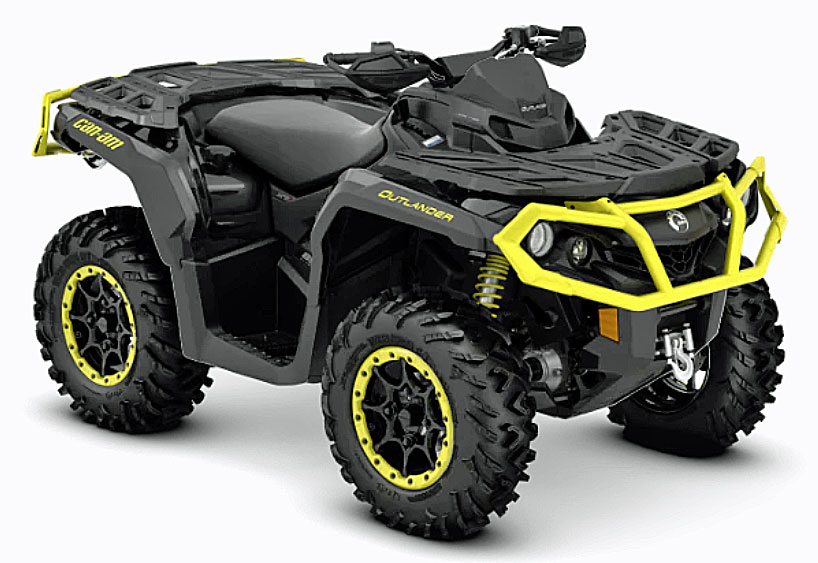 Rotax V-twin engine options:
850 - 78 hp, Rotax 854 cc V-twin
1000R - 91 hp, Rotax 976 cc V-twin
Front and rear FOX 1.5 PODIUM QS3 shocks

Tri-Mode Dynamic Power Steering (DPS)

3,000-lb (1,361 kg) WARN winch with roller fairlead
14-in. cast-aluminum beadlock wheels
26-in. ITP Terracross radial tires
Painted plastics for premium look
Heavy-duty front and rear bumpers
Aluminum taper-profile handlebar with wind deflectors and square pad
625-W magneto
High-strength, multifunction racks with LinQ quick-attach accessory system
5.7-gal (21.4 L) water-resistant rear compartment
Multifunction Analog / Digital gauge
---
2019 Can Am Outlander X XC - $14,599
1000R - 91 hp, Rotax 976 cc V-twin
Intelligent Throttle Control (iTC) with riding modes
Front and rear FOX PODIUM† 1.5 RC2 shocks
14-in. cast-aluminum beadlock wheels
26-in. ITP Terracross radial tires
Sport bumper with aluminum pre-runner
Tri-Mode Dynamic Power Steering (DPS)
Front, center & footwell aluminum skid plates
HMWPE A-arms protectors
Aluminum taper-profile handlebar with wind deflectors and square pad
625-W magneto
High-strength, multifunction racks with LinQ quick-attach accessory system
5.7-gal (21.4 L) water-resistant rear compartment
Multifunction Analog / Digital gauge
X package coloration
Separate front & rear brake controls
---
2019 Can Am Outlander X MR - $10,299
650 - 62 hp, Rotax 649.6 cc V-twin
28-in. ITP Mega Mayhem tires
12-in. cast-aluminum wheels
Tri-Mode Dynamic Power Steering (DPS)
Visco-Lok QE auto-locking front differential
Relocated radiator
Heavy-duty front bumper
Mud-riding footrests
625-W magneto

X-package coloration, graphics and seat cover
---
Outlander X MR 850 - $11,799
850 - 78 hp, Rotax 854 cc V-twin
30-in. ITP Cryptid tires
14-in. cast-aluminum wheels
Tri-Mode Dynamic Power Steering (DPS)
Front and rear FOX PODIUM 1.5 shocks
Visco-Lok QE auto-locking front differential
Relocated radiator
3,000-lb (1,361 kg) WARN winch with roller fairlead
Heavy-duty front bumper
Mud-riding footrests
625-W magneto

X-package coloration, graphics and seat cover
---
2019 Can Am Outlander X MR 1000R - $14,299
1000R -  91 hp, Rotax 976 cc V-twin
Intelligent Throttle Control (iTC) with riding modes
Front and rear FOX PODIUM 1.5 QS3 shocks
30-in. ITP Cryptid tires
14-in. cast-aluminum wheels
Tri-Mode Dynamic Power Steering (DPS)
Relocated radiator
3,000-lb (1,361 kg) WARN winch with roller fairlead
Heavy-duty front and rear bumpers
Aluminum taper-profile handlebar with wind deflectors and square pad
Mud-riding footrests
59-in. wheelbase
Multifunction Analog / Digital gauge
X-package coloration, graphics and seat cover
2019 Outlander X MR 1000R Specs
Related Articles:
2019 Can Am Renegade Quick Guide
2012 Can Am Outlander 1000 Review
2012 Outlander X MR Review -The original mudding ATV
---
2019 Can Am Outlander Quick Guide
---