2019 Can Am Renegade
Quick Guide.

1000 - 850 - 570
The 2019 Can Am Renegade model line got some significant updates. Common to all models is a 2 inch wider track width, along with arched front control arms and revised torsional trailing arm rear suspension.
Revised shocks and springs, and a new front anti-sway bar improve ride and handling. New anti-dive front and anti-squat rear suspension geometry improve stability.
The Renegade 1000R models get upgraded to 91 horsepower. They also get iTC electronic throttle control with three mode settings. Sport, Standard, and Work for more precise control in different conditions.
2019 Can Am Renegade Models
---
Renegade Base Model -
570 - $8,349  
850 - $10,199  
1000R - $11,249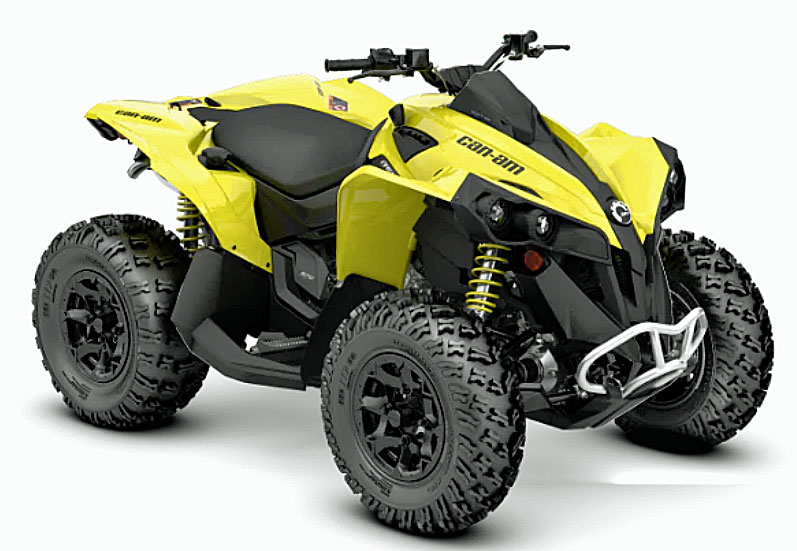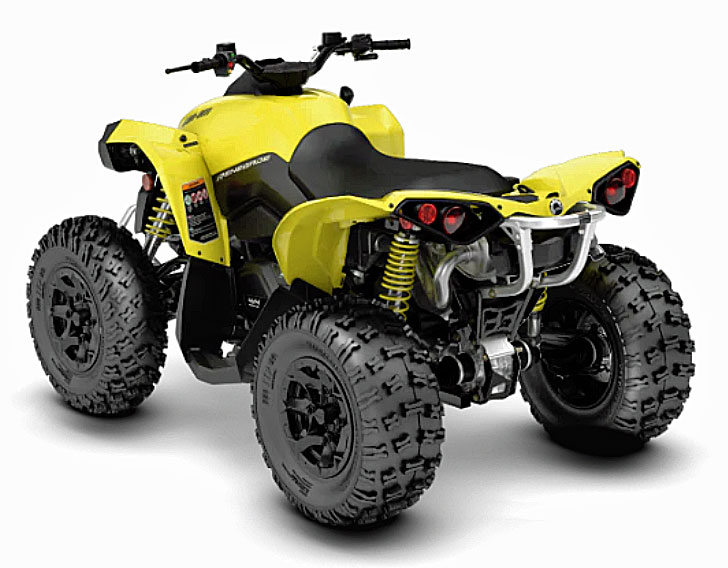 Rotax V-twin engine options
(48 hp, Rotax 570 - 78 hp, Rotax 850 - 91 hp, Rotax 1000R)
New arched double A-arm front suspension with front sway bar
Continuously Variable Transmission (CVT)with engine braking
12-in. cast-aluminum wheels
25-in. ITP Holeshot  ATR tires
Surrounding Spar Technology (SST) G2 frame with Geometric Contact Control
Torsional Trailing arm Independent (TTI) rear suspension
Visco-Lok auto-locking front differential
Multifunction digital gauge
Separate front and rear brake controls
RF Digitally Encoded Security System (D.E.S.S.)
---
Renegade X XC
850 - $12,699
1000R - $13,749
Rotax V-twin engine options -
(850 - 78 hp, Rotax 854 cc V-twin)
(1000R - 91 hp, Rotax 976 cc V-twin)
Front and rear FOX PODIUM 1.5 RC2 shocks
New arched double A-arm front suspension with front sway bar
Continuously Variable Transmission (CVT) with engine braking
Tri-Mode Dynamic Power Steering (DPS)
12-in. cast-aluminum beadlock wheels
25-in. ITP Holeshot ATR tires
Front & central skid plate
Aluminum taper-profile handlebar with wind deflectors and square pad
Surrounding Spar Technology (SST) G2 frame with Geometric Contact Control
Torsional Trailing arm Independent (TTI) rear suspension
Visco-Lok QE auto-locking front differential
Multifunction digital gauge
X-package coloration, graphics and seat cover
---
Renegade X MR 570 - $10,899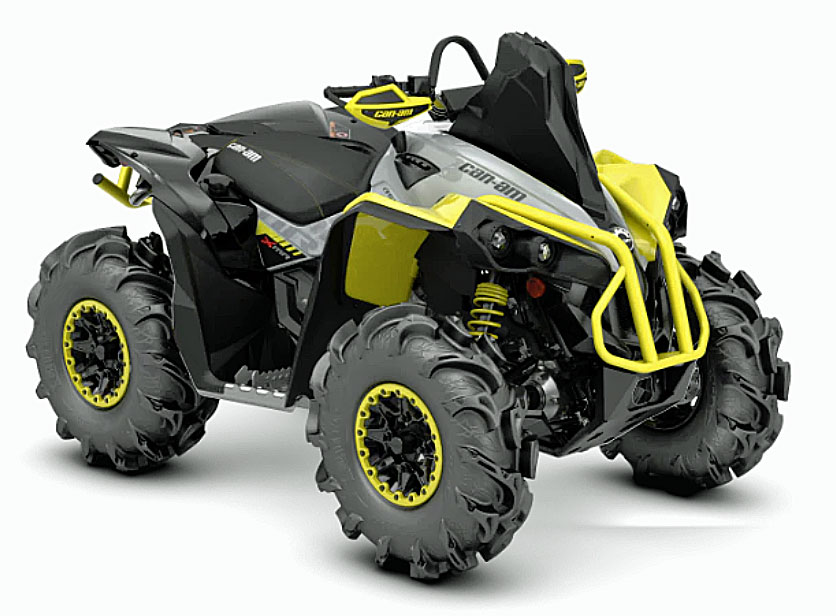 Renegade X MR 570
HIGHLIGHTS
Rotax snorkeled V-Twin engine with relocated CVT intake and outlet
28-in. ITP Mega Mayhem tires
12-in. cast-aluminum beadlock wheels
Front and rear FOX PODIUM 1.5 shocks
Tri-Mode Dynamic Power Steering (DPS)
Front & central aluminum skid plates
Torsional Trailing arm Independent (TTI) rear suspension
Heavy-duty front and rear bumpers
Aluminum taper-profile handlebar with grab handle, wind deflectors, and square pad
Continuously Variable Transmission (CVT) with engine braking
Mudguards
Multifunction digital gauge
X-package coloration, graphics and seat cover
---
Renegade X MR 1000R - $15,149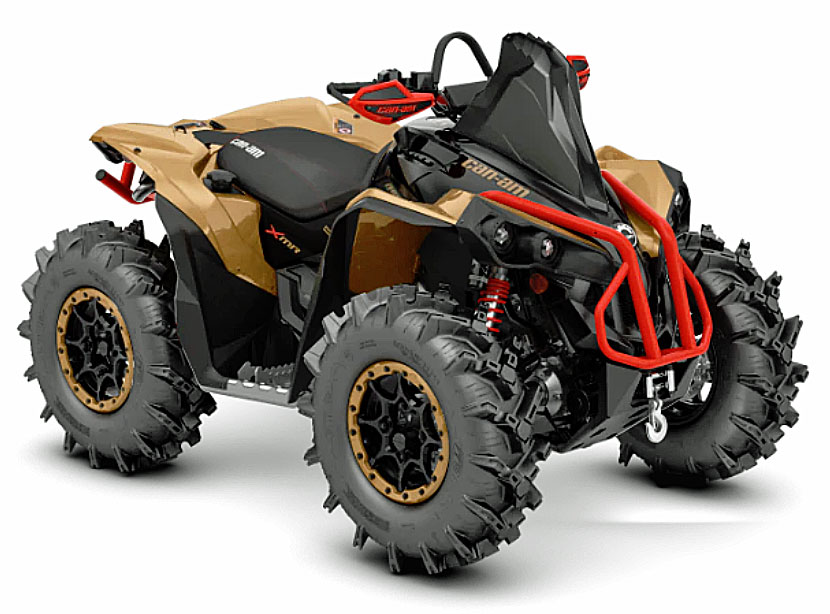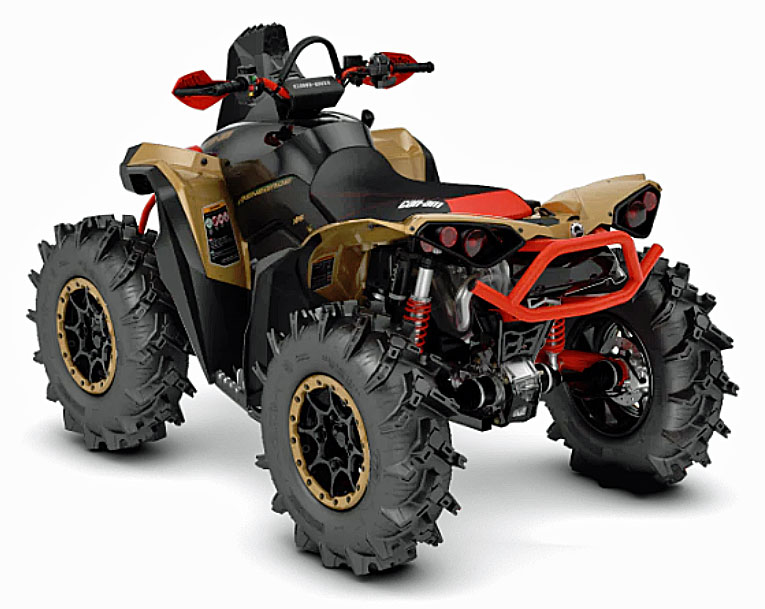 Rotax snorkeled V-Twin engine with relocated CVT intake and outlet
Intelligent Throttle Control (iTC) with riding modes
Front and rear FOX PODIUM 1.5 QS3 shocks
30-in. ITP Cryptid tires
14-in. cast-aluminum beadlock wheels
3,000-lb (1,361 kg) WARN winch with roller fairlead
Front & central aluminum skid plate
Heavy-duty front and rear bumpers
Continuously Variable Transmission (CVT) with Extra Low L-Gear
Aluminum taper-profile handlebar with grab handle, wind deflectors ans square pad
Tri-Mode Dynamic Power Steering (DPS)
Torsional Trailing arm Independent (TTI) rear suspension
Mudguards
Multifunction digital gauge
Painted plastics for premium look
X-package coloration, graphics and seat cover
2019 Can Am Renegade X MR 1000R Specs
---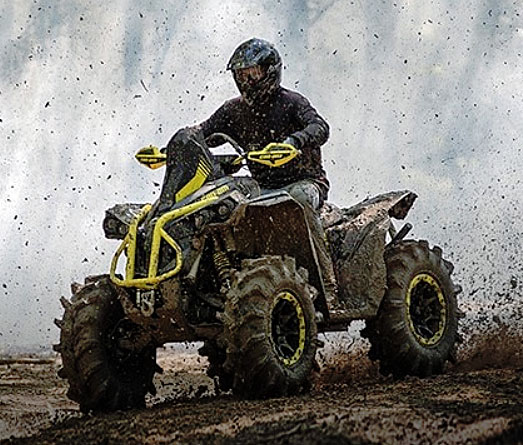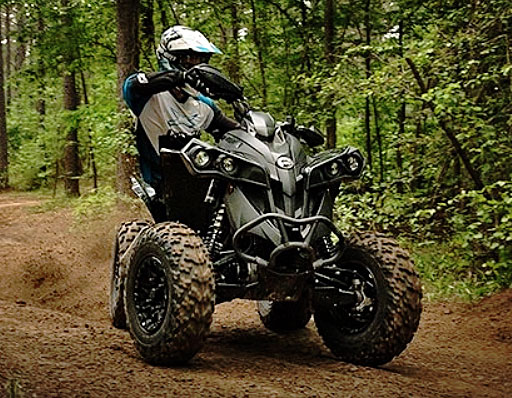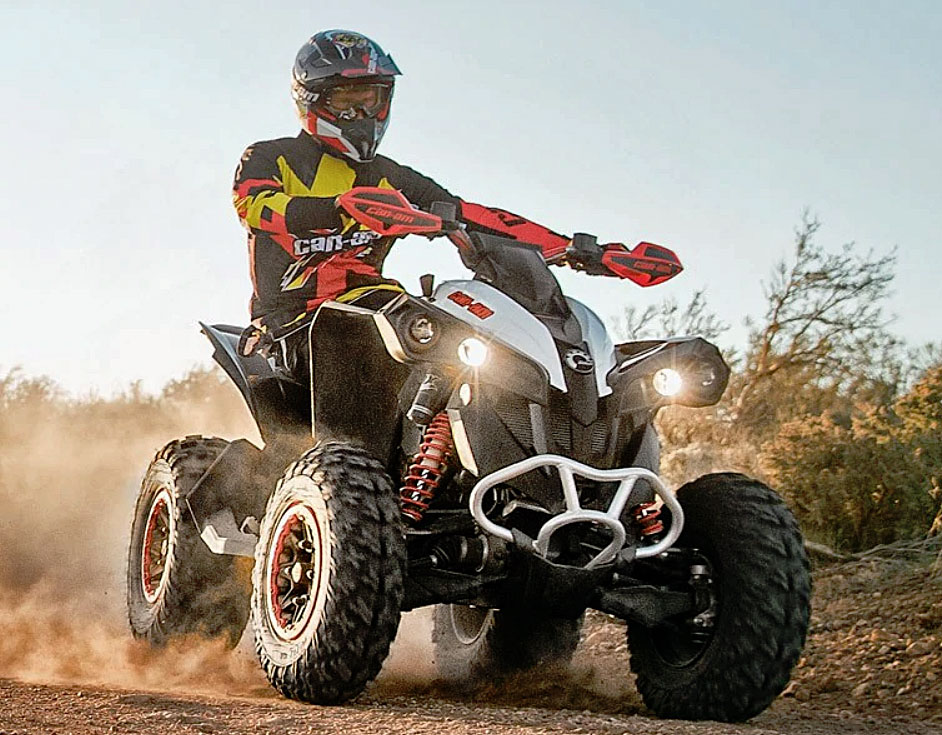 ---
2019 Can Am Renegade Quick Guide
---