Can Am Renegade 1000 Review.
The Can Am Renegade 1000 models are new for 2012. As you have probably already guessed, the Renegade also gets the biggest Rotax V-twin, just like the Outlander. We'll cover the standard model, as well as the all new Renegade XXC intended for cross country racing.
Renegade 1000 - What's New?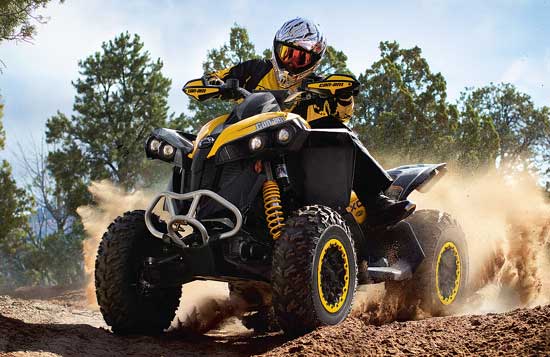 The Renegade 1000X XC cross country racing 4x4 ATV.
Engine - If you're going to put 82 horsepower of Rotax V-twin engine in the Can Am Outlander, it only makes sense to include one in the actual 4 wheel drive performance ATV, the Renegade. And we think it's a much better fit with the high performance oriented Renegade chassis, suspension, and brakes.
Back to the engine - it's the same fuel injected, liquid cooled V-twin found in the Can Am Commander 1000. Electric start fires it up easily. and with several hundred less pounds to push around, it pulls the Can Am Renegade 1000 strongly and smoothly.
With larger more powerful engines, heat becomes an issue. Can Am addresses that with a radiator that has nearly twice the cooling capacity of last years Renegade 800R.
The other thing you expect is less fuel mileage with a bigger engine. This Can Am ATV has you covered again. A new fuel tank has 25% more fuel capacity than the older model. It holds a total of a little less than 5.5 gallons, insuring you'll be ready for a break long before the Renegade 1000 needs one.
Chassis - Like the Outlander 1000, the Can Am Renegade 1000 also gets the all new frame. The new frame is claimed to be stronger and simpler than the one it replaces. It does allow relocating the battery and critical electrical components under the seat for better protection and easier access.
Can Am was also able to relocate a redesigned air box higher in the chassis. The new air box filters more effectively, is more maintenance friendly, and has a higher intake opening for better performance in mud and water.
Control arm mounts were changed at the front to provide more resistance to dive under braking. Rear mountings also got reworked to improve forward bite under acceleration.
Unlike the Outlander, the Can Am Renegade 1000 does not get the standard skid plate or trailer hitch. But you do get full floorboards with kick up serrated aluminum foot pegs for better grip when the going gets sloppy.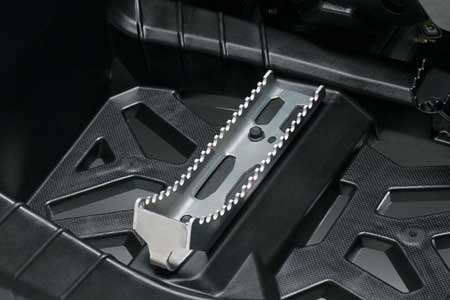 The Renegade gets grippy serrated aluminum foot pegs with full floorboards.
Suspension - The front gets the previously mentioned revised double control arms that help reduce not only braking dive, but kick back through the steering. Travel is 9 inches controlled by Fox Racing Shox.
The rear sports some substantial looking swing arm type control arms that Can Am calls TTI (torsional trailing arms). A removable anti-sway bar and two more Fox Shox control the 9.3 inches of wheel movement.
This system favors straight ahead traction over ultimate cornering speed. Since there is no camber gain with TTI, the tires tend to roll over more during cornering than the more conventional double a-arm systems. Traction should be better in a straight line since the tire tread stays flatter on the ground with no scrub during wheel travel.
Brakes - The Can Am Renegade 1000 sticks with it's higher performance mission with four wheel discs compared to the Outlander 1000's three. The Renegade also gets the extra brake lever at the right handlebar like the Outlander 1000 should have.
All four discs measure 214 mm and all four caliper are twin piston. Pads are interchangeable for easier maintenance. With less weight and more discs, braking is considerably better on the Renegade 1000 than the big Outlander.
Drive train - Nothing really new here, just the standard Can Am CVT transmission with an automatic locking front differential. It has hi/lo dual range and selectable 2 or 4 wheel drive. Can Am's proprietary engine braking system is included.
Wheels / Tires - Cast aluminum 12 inch wheels are standard and come with ITP Holeshot radial tires mounted. These are a good all around tire and should last long enough that you don't have to worry about replacing them before you get home with your new Renegade.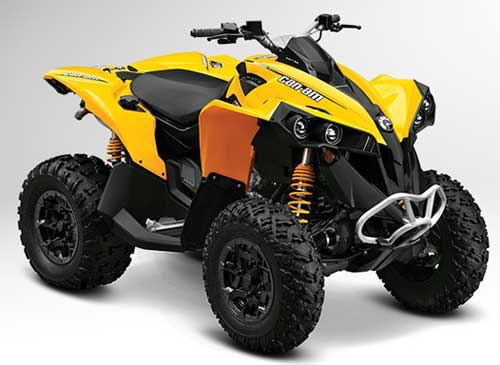 Can Am Renegade 1000 - Standard model.
Can Am Renegade 1000X XC
The XC package makes the Renegade 1000 an even more serious ATV in several different ways. First and most noticeable is the extra $2,500! But since this is intended to be the cross country racing model, we all know that speed costs money, so how fast do you want to go?
So what is included for that kind of money? Actually, enough that the price for the extras looks like a good deal. Here's the list.
Electric power steering - The RenegadeX XC gets the newly refined and improved power steering unit. This one now has three different settings where the old one had only two. Everyone should be able to find a setting they can live with no matter the kind of riding you do.
On a 4x4 sport utility that's as big and fast as the Can Am Renegade 1000, the power steering is great to have. It not only reduces rider fatigue, but can help you maintain control when the going gets fast and furious.
Bead lock wheels - Heavier duty bead lock wheels help keep the tires in place during extreme riding conditions. It's also makes it possible to run lower air pressure for improved traction in some situations.
Skid plate - Not just some cheesy plastic thing either, but a full coverage, heavy duty aluminum for real skid plate!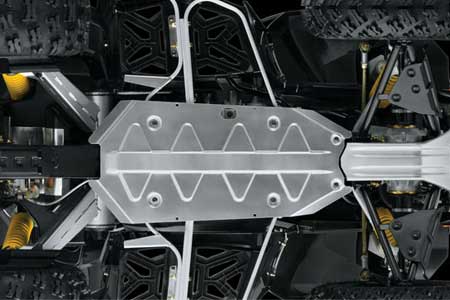 Renegade 1000X XC full coverage aluminum skid plate.
Shock upgrade - Fox Podium X racing shocks with piggyback reservoirs will help keep things under control at the higher speeds anticipated for the Renegade 1000. Compression and rebound are both adjustable, along with spring pre-load to adjust ride height.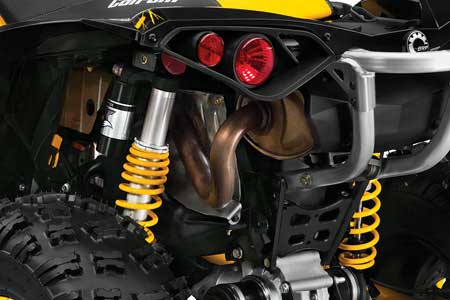 Fox Podium shocks with piggyback reservoirs are standard on the XXC.
Handlebar upgrade - A tapered aluminum handlebar with integrated hand protectors and a protective center pad help keep you protected when the riding gets knarly.
Quick Lock front differential - This is a modification to the standard front diff that engages 4 wheel drive much more quickly. Engaging 4 wheel drive would normally make the steering a lot harder, but that's not a problem with the power steering on the Can Am Renegade 1000X XC.
Extra capacity magneto - A larger 650 watt magneto keeps the electric power steering going and let's you add other accessories like more lights for night racing.
Special graphics - Just in case you forget what you're riding, there are special decals and seat cover for the XXC.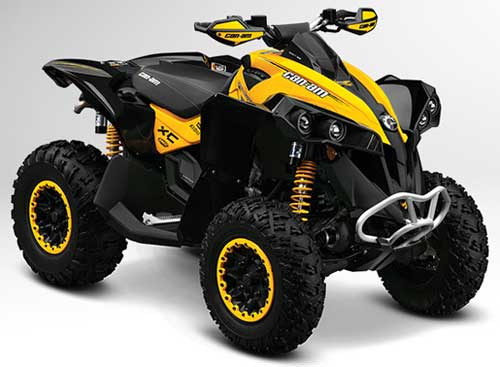 Can-Am Renegade 1000X XC with bead lock wheels and handlebar protectors.
Can Am Renegade 1000 - Conclusion
The big Renegade is for folks that want a sport ATV that's capable of going places a 2 wheel drive sport ATV can't. There's no hint of utility with this ATV, so it doesn't have the practical side like the Outlander.
Oddly enough though, we think the Renegade 1000 is a better fit for the big Rotax engine than the Outlander. The performance is so over the top on both these ATVs, the better suspension and brakes of the Renegade make it more usable.
With no racks to get in the way, and tighter bodywork, the Renegade is more controllable. It's not that the Renegade is hard to ride, bit it's not an ATV for the inexperienced. Things happen very fast on this 4 wheel drive sport quad, both good and bad. That's when that extra bit of control will be appreciated.
For that reason, we really recommend springing for the XXC package. You'll probably end up adding most of the stuff that comes standard on the XC anyway, and spending more than the asking price to do it.
We know it's a lot more money, but if you're going to buy this kind of ATV, our motto is "Go big or go home".
Related Articles:
---
---