BRP Can Am Spyder Roadster -
Street Legal ATV?
"Follow No One"- The Can Am Spyder Roadster makes it crystal clear that the folks at Can-Am really live their corporate motto. Yeah, I know this isn't the first three wheel vehicle on the market. But there has never been anything like this before.
No matter if you like the Can-Am Spyder or not, let's all agree to give the team that created it our respect. In today's overly legislated, overly litigated, overly restricted world, it's a rare thing to see something this bold and innovative from a multi-national corporation.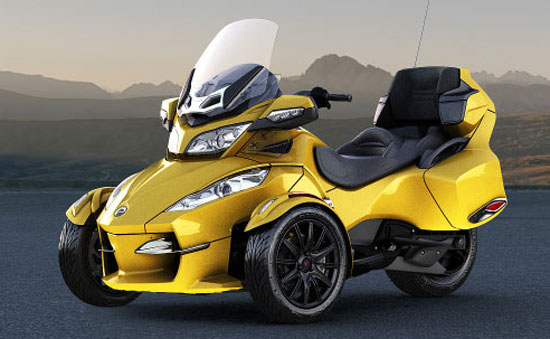 Spyder RT-S is like a two seater ATV for the street.
So is it a street legal ATV? By almost any standard I can think of - Yes it is! At first glance you would think that ATV riders were the target group, but the marketing suits at Can-Am say no. Still, ATV riders will feel more at home on the Can-Am Spyder than any other bunch of motor heads.
Check out the video below to see how the Spyder impressed an experienced ATV rider.
About the same size and weight, and with a similar riding position to most current big bore ATVs. Four wheeler riders will feel a lot more familiar on this machine than either bikers or car guys. It's just that the view in front is down the road instead of down the trail!
How is it different? Well, the front wheels are spaced a good bit wider apart then a typical 4 wheeler. There is no handbrake, and it has a twist throttle. A rider with ATV experience will get used to those differences quickly. From there on, it's all pretty much an ATV. With one more exception.
A lot of computer technology compared to the average quad. You have your stability control to keep the inside front wheel from lifting, traction control to keep the single rear wheel from stepping out too far, and ABS to control wheel locking under braking.
It seems a lot of nervous Bombardier lawyers are trying hard to save you from yourself. Or the Can Am Spyder was designed to attract people that would be more comfortable with the driving aids normally found in cars.
What is it like to ride? Fun! Want more details? OK, the steering takes a little getting used to. Turning two sizable contact patches hooked to asphalt takes some effort, even with the power assisted steering. More so at higher speeds than around town, and that's probably a good thing. Sudden, massive changes of direction at speed aren't recommended.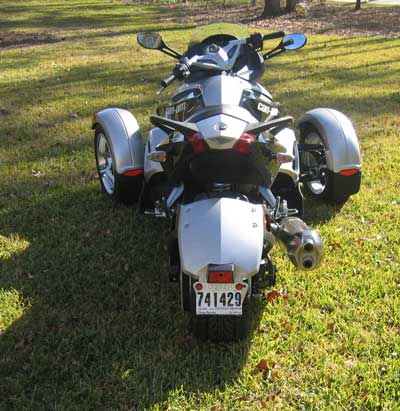 ATV riders should be right at home on the Spyder.
Acceleration, if not jaw dropping, is certainly sporty. 0 to 60 times are claimed to be in the mid 4 second range. Plenty quick by automotive standards, but a little sluggish for the sportbike crowd. I have never liked 0 to anything times because they just don't apply to the real world.
Midrange punch in the 40 to 80 mph range is what gets used most of the time. Freeway entrance ramps and two lane road passing fall right in to that category. And the Can Am Spyder packs a wallop! It's a hoot to roll into corners at a brisk sport touring pace - then ride the wave of mid-range power out.
When it's time to stop - make sure your helmet is strapped on tight. Unless you've recently driven a Formula 1 car, I doubt braking like this is something you will have experienced. All is not perfect though. The reach to the foot operated brake pedal was awkward and if you're leaning into corners it's even worse. That's why I think an optional hand brake would be nice.
Cornering may take the most getting used to by ATV riders. You just don't get the kind of lateral g-force in the dirt that you'll feel on the Can Am Spyder. The good thing is you'll know how to handle it. Basic cornering techniques are the same as with a four wheeler. Lean in the direction of the corner. You just to have lean a little harder!
Why should I care? There are actually several reasons if you're one of the many ATV riders that have dreamed of being able to legally ride on the street. Even if you're not keen to own a Can Am Spyder, this may be the machine that opens the door to street legality for ATVs.
With over 30,000 Spyders on the road already, that's a good start to introducing the general public to the sight of alternative vehicles on the street. Like straddle mounted, handlebar controlled vehicles. See where we're going with this? In the government's eyes an ATV and a Can Am Spyder may look a lot alike.
There has never been a bigger demand for energy efficient, small foot print alternative vehicles than now. Most governments seem more willing, or at least less reluctant, to consider alternatives to traditional transportation.
Is the Can Am Spyder the most significant vehicle in decades? Could be. I remember when Honda introduced a funny looking little trike in the early 1970's. The concept proved to be right, if not the execution. After some ups and downs and a lot of development, look what the ATV has become today.
The Spyder 3-wheeler is an interesting alternative to 2 and 4 wheel transportation.
The ATV drew millions of people to off roading that would never have jumped on a dirt bike or bought a large 4WD vehicle. The Spyder could do the same for street legal alternative vehicles.
If the Can Am Spyder isn't your idea of a street legal ATV, that's OK. But let's support the concept and at least cheer Bombardier on for taking that first step. Because this could be huge for all of us!
---
---