Guide to Can-Am ATV DS Models.
Our Can-Am ATV DS model guide covers all the latest DS models. From the youth ATV models all the way to the race ready DS 450X line.
DS 70 / 90 - First up in the Can-Am ATV DS line are the DS 70 and 90 youth ATVs. The DS 70 is intended to be a beginning kids four wheeler, while the 90 is aimed at older, and/or more experienced riders.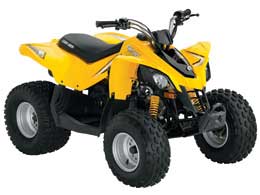 DS 90 Youth ATV Model
With a 4-stroke air cooled engine, electric start, CVT transmission with reverse, and a throttle limiter, Can-Am is trying to make these two kids ATVs as user friendly as possible.
Styled to look like the big boy Can-Am ATV DS models, and with long travel suspension, full floorboards, and day time running lights, they sure won't be mistaken for a toys.
Are they perfect? Not for everybody. There have been some complaints about the 70 being slow. So it probably isn't the best choice if junior is an aspiring racer. But if you're the one that has to chase the kid down before he finds trouble, you may be glad it doesn't go any faster.
There have also been reports about some reliability issues on early models. As always, make sure you discuss this with the dealer before you take one home. You want to know where you stand before something goes wrong.
DS 90X - Do you want the double throw down, every option they make, loaded to the max model? Then the Can-Am ATV DS 90X is for you! In special sinister black paint, you'll get upgraded suspension and disc brakes. Front bumper, nerf bars, and racing style pegs are part of the package too.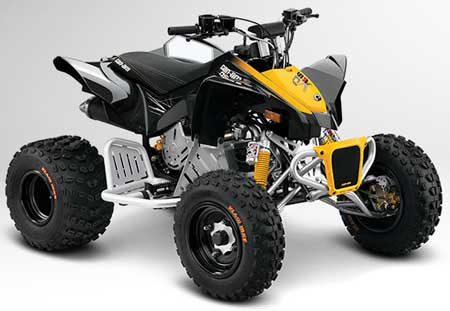 DS 90X Sport/Racing Kid's ATV
DS 250 - Continues as the full size entry level model in the Can-Am ATV DS line up. Targeted at the recreation end of things, but with a good dose of sport, the DS 250 has features you don't normally see in an entry level machine.
Like what? How about a liquid cooled 4-stroke engine, long travel adjustable suspension on both ends, CVT tranny, hydraulic disc brakes front and rear, and twin headlights.
Yeah, I've heard some snivelin' about not enough power and too much weight. And no, it's not a race bike. What it is ... is a good, solid recreation atv with class leading handling and brakes. That's what really makes for a great entry level 4 wheeler for most folks.
DS 250
DS 450 - The Can-Am ATV DS 450 is now offered in three versions. The base model DS 450 and two more specialized models, the race ready 450X MX for motocross, and the 450X XC for cross country racing.
All three models share the same Rotax engine, transmission, frame, and brakes. They also share a focus on staying as light as possible. The similarity ends there for the most part. Each model gets different spec suspension, control arms, wheels, and tires depending on its' intended use.
If it's that light, will it stay bolted together? In this case, I believe it will. Aerospace technology has been used to achieve the lightest aluminum frame in the class with no welding. Cracking of aluminum frames has long been their Achilles heel. Shouldn't be an issue with the DS 450 models. With that problem solved, light weight everywhere else is a good thing.
Does it work or is it hype? Yeah, it works, but there is a little hype about the power. It does have class leading horsepower ... but horsepower doesn't always mean power everywhere. Torque is what actually accelerates you. Horsepower is torque x rpm.
That's why I've never been a big fan of horsepower numbers. I would much rather know what the torque is through the rpm range. A big ultimate horsepower number really doesn't tell you much. It can mean a lot of sacrifices were made in other parts of the power band.
Sporting big intake valves and a big throttle body, it's pretty obvious the goal here was top end horsepower. In the real world, some riders have complained about the 450 being a little soft on the bottom end, especially out of slow corners. But they also felt the big mid-range hit and top end power made it a livable compromise.
Racers will be happy, but if you're a regular sport rider who likes tight trails, a change to lower gearing might be in your future.
The base model Can-Am ATV DS 450 offers good value for the price. It's not a race ready ATV, but will perform nicely as a a play bike or a tight woods trail ride. Actually, the DS 450 would probably be OK as an entry level cross country racer for areas with tight and narrow trails. For more serious racers, the two specialty models would be worth the extra money.
DS 450
DS 450X MX - The motocross package adds $1,400 to the price of the standard DS 450. We think with all the extras included, you are getting a good value for the extra dollars. See the list below and see what you think.
2 inch wider front suspension with forged aluminum control arms.
Adjustable camber and caster front suspension.
Upgraded aluminum piggyback shocks at the front and rear.
10.7 inches of wheel travel front and rear.
Adjustable width hollow rear axle.
ITP Quadcross tires at front and rear.
ITP black aluminum wheels with beadlocks on the rear.
1 inch longer heavy duty steering stem with anti-vibration mounting.
Aluminum tapered handle bars.
Aluminum nerf bars with netted heel guards.
Aluminum front bumper.
Special seat cover and graphics.
This is really a pretty solid package. It might not have every single thing you'll need to win, but it will get you pretty close. There's enough adjustability with the suspension and track width to allow you to dial the 450X MX in to almost any track.
DS 450X MX Motocrosser
DS 450X XC - The cross country package will add $1,200 to the price of the base model. Once again, we don't think you could mod a standard model for anywhere near the same money. Check out the extras below.
Special aluminum control arms with adjustable shims for caster.
Upgraded shocks with 9.6 inches of travel at the front and 10.5 inches rear.
Hollow rear axle with adjustable width from 46 to 50 inches.
1 inch longer steering stem with extra strength and anti-vibration mount.
ITP Holeshot GNCC 6 ply tires front and rear.
ITP black aluminum wheels with bead locks front and rear.
Full length aluminum skid plate for chassis and swingarm.
Aluminum nerf bars with removable heel guards.
Tapered aluminum handlebars with brush guards for hands.
Aluminum front bumper with number plate.
Special XC seat cover and graphics.
We can't really think of much else a cross country racing ATV would need. Dial it in to your personal taste and the Can-Am ATV DS 450XC should be a very competitive ride off the showroom floor!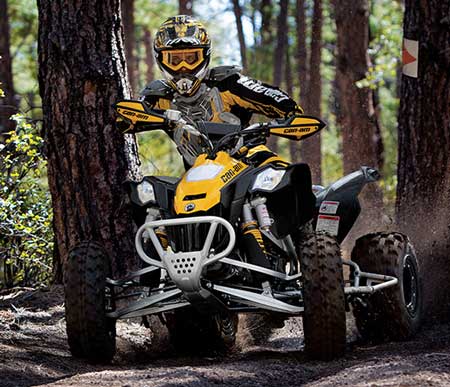 DS 450X XC Cross Country Racer
Related Articles:
---
---