Honda Recon ATV Review.
The two Honda Recon ATV models offered for 2013 remain the 2wd Recon with manual shift, and the ES model with a handlebar mounted electric button shifter. Other than some relatively minor updates, the Honda Recon has been unchanged for more than ten years.
When you've been one of the class leaders for that entire time, there's really not much of a reason to change anything. The Recon is easily a buyer's favorite in this class of "entry level" 2 wheel drive utility ATVs with engines under 250cc.
You can choose between two Honda Recon ATV models. Manual or electric shift.
Honda Recon ATV Features
The utility styled Recon is a pretty basic ATV. As such, it doesn't have a long list of exciting features, but there are a few worth mentioning. Also remember that many times, that simplicity that some complain about, is the key to long term reliability. Anyway, here's a few things we thought you should know about.
Engine - Just a simple, air cooled OHV single with a simple carb. Displacing 229cc, it's in the ballpark for this class. It may not have great power, but it has decent power in the right place for an ATV like this. Electric starting keeps things convenient.
The feature that is worth some extra attention on this Honda Recon ATV is the longitudinal engine mounting position. The engine is turned so that the crankshaft and driveshaft are aligned in the same direction.
That eliminates the power loss normally found with conventional engine mounting since there is no need for an extra set of gears to transfer power from the engine to the shaft drive. End result - more power to the rear wheels and quicker throttle response.
The other big plus, is more room for the rider's feet and legs. That's why even though the Honda Recon is no larger than other ATVs in this class, it offers more room for the rider because the tank and front of the seat can be much narrower.
The Recon offers plenty of room for the rider while being relatively small.
Transmission/Driveline - Honda doesn't do belt drive CVT systems, so the Recon gets a simple, tried and proven 5 speed transmission with reverse. The standard model comes with a regular left side mounted foot shifter. For about $200 more, the ES model has the electric button shifter mounted on the left handlebar. You do lose the foot shifter with the ES though.
We can't say that one is better than the other. It's a matter of what kind of riding you do and your personal preference. Generally, if you ride in a lot of mud, rough terrain, or in areas that tend to kick up a lot of debris around the floorboards, you will probably be better off with the ES model. But, you may sacrifice some ultimate reliability due to some potential problems with the electrics as the miles roll by.
Whichever tranny you choose, it will send the power back via a bullet proof shaft drive system to a stone simple solid rear axle. Simple, reliable, almost maintenance free for years of no hassles riding.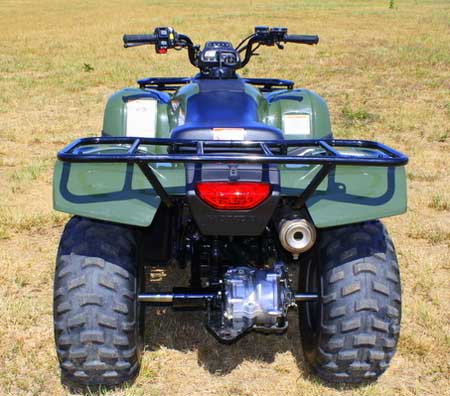 Recon solid rear axle, shaft drive, and a sealed drum brake are solid and reliable
Suspension and Brakes - That solid rear axle is carried by a swingarm type rear suspension with a single shock. A cable operated rear drum brake finishes off the rear.
Front suspension is by double a-arms and coil-over style shocks. Brakes are hydraulic sealed drums. We prefer disc brakes but these will do the job.
Wheel travel at both ends is about 5 inches. One downer that we noticed is no pre-load adjusters on any of the shock units. The springs are a little on the stiff side to compensate for it. It's not a deal breaker, but is mildly irritating.
Honda Recon ATV Conclusion
honda-recon-atv-red
We feel that the Honda Recon is a good choice for several types of riders. Beginners will find it very user friendly and unintimidating.
There may be a little bit of a learning curve when it comes to learning how to shift the 5 speed transmission, but an automatic clutch makes that a quick process with either the manual or electric shifter.
Most beginning riders really shouldn't be tackling challenging terrain, so the 2 wheel drive works fine for the type of riding most new riders will be doing.
Plus, it keeps learning to ride an ATV much simpler without having to learn how to engage a four wheel drive system.
Honda says the Recon is also popular with smaller riders, especially females. The lighter weight is easier to maneuver and the steering is much lighter without four wheel drive. The smaller size of the Recon gives riders more confidence in situations that could seem a little dicey with a larger and heavier ATV.
But the Honda Recon ATV models may actually be the most popular with owners that just want a solid, reliable, utility style ATV for a little work and a little play. A value priced ATV that's ready to ride with a minimum of maintenance. And one that will continue to be ready to go for years to come.
Standard steel tube racks front and rear make carrying a load easy when it's time to work. The Recon does a more than respectable job of pushing or pulling. And when you're through with the chores, the Honda Recon ATV is a fun play riding machine.
It will accommodate a large variety of riders sizes comfortably, yet it's smaller overall size is great for tight trail riding. Good low end power and light weight allow the little Recon to stay with larger and more powerful ATVs in a lot of different trail riding situations. More aggressive tires on the rear even turn it into a competent mudder within reason.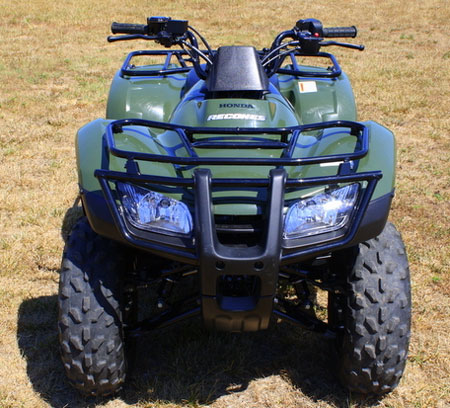 Over ten years of development and updated styling help keep the Honda Recon an owner's favorite. It's still one of the best entry level ATV choices.
The most powerful recommendation comes from those that already own a Honda Recon ATV. In the owner surveys we reviewed, the Recon was consistently one of the most highly rated ATVs of any model. For over ten years. We think that says it all.
Related Articles:
---
---