Honda Rancher ATV Guide.
The 2013 Honda Rancher ATV model line up includes eight different models that all share the Rancher name. Since everything from a base 2 wheel drive model to the top of the line AT model with 4 wheel drive and independent front and rear suspension are included, things can get confusing in a hurry.
That's exactly why we thought it was time for a guide to sort out the differences between all the Rancher models. You'll find a detailed break down of each model with all its' features, strengths and weaknesses. We'll even give you our recommendation for the best use of each model. If you've ever wondered which Rancher is the best one for you, this should help you answer that question.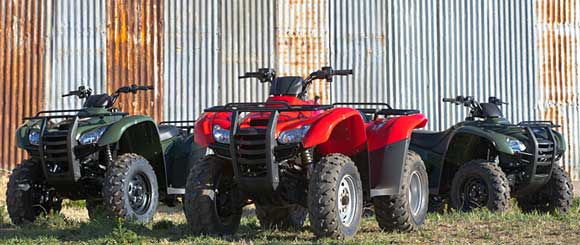 The Honda Rancher ATV models include 2wd, 4wd, and 4wd with IRS.
We'll start with a few features that all the Ranchers have in common.
Honda Rancher ATV - Features
420 engine - The single cylinder four stroke engine with fuel injection is common to all Honda Rancher ATV models. Like most of the competetion, liquid cooling is used, which does increase the maintenance required. It's a good tradeoff for the increase in durability and reliability, and the extra maintenance is not really a big deal.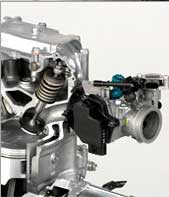 Rancher 420 engine with OHV and fuel injection.
Where Honda does part ways with the other manufacturers is going without overhead cams. The Honda Rancher ATVs use what some consider to be old fashioned overhead valve heads. Why? It's a simpler system that reduces the size and weight of the engine. Less to go wrong and less to maintain.
The Ranchers aren't intended to be high performance ATVs so we don't see that much of a downside to this approach. The 420 engine makes decent power with good low end response, just where a utility ATV needs it.
Another unique feature of the Honda Rancher ATV is the longitudinal mounting of the engine. Along with the compact size of the engine, this style of mounting provides more room for the rider. It also reduces the power loss of the drivetrain, since the drivshafts are in line with the crankshaft of the engine and the output shaft of the transmission. Overall handling is enhanced due to a lower center of gravity.
Optional handlebar mounted electric shifting - Even though there are two types of transmission offered in the Rancher, both offer electric push button shifting from the left handlbar mount.
Automatic clutch - Once again, both transmission types have automatic clutches. They work differently, but for the rider, not much difference would be noticed. The major difference is that on the Honda Rancher AT model, shifting can be left in automatic mode. All other Rancher models require shifting manually by foot shifter or the electric handlebar shift.
No CVT belt - We haven't made any secret about not liking CVT belt type drivelines. We know many people don't have a problem with them, but we just have never liked the way they feel. Not to mention the extra maintenance required and the tendency to slip when they get wet.
We feel at least a little vindcated about that point of view when Honda says that one of the main reasons they don't use a CVT belt is due to customer feedback. Turns out one of the top reasons people list for buying a Honda is the fact they don't use the CVT belt transmission. So there!
Other features -
Stainless steel exhaust system
Front and rear racks
Digital instrument cluster
Shaft drive
Integrated storage compartment behind taillight
Easy maintenance access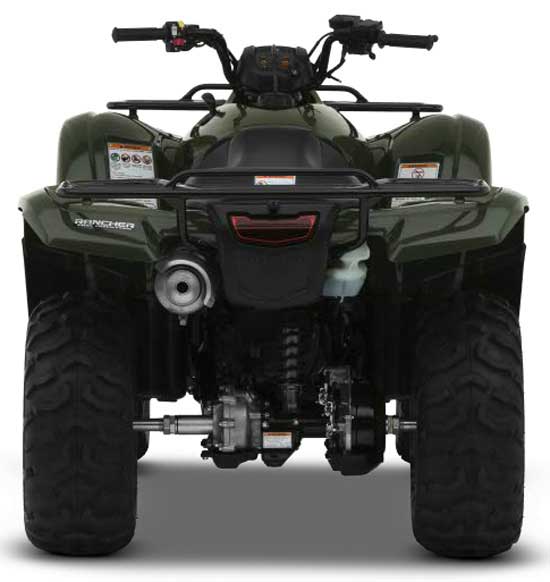 Honda Rancher solid rear axle with single shock rear suspension is used on both 2 and 4 wheel drive models. Shaft final drive and cable operated brake are common to both.
Honda Rancher ATV - 2 Wheel Drive Models.
FourTrax Rancher - This is the base or entry level model. It's also one of the best selling Honda ATVs of all time. Just think of it as the anvil of ATVs. Owners love the simplicity, reliability, and easy maintenance of this ATV.
Since it only has a solid axle with two wheel drive, we would call it a light utility ATV. But that's all a lot folks want or need. The lack of weight and complexity also makes it the fastest of the Honda Rancher ATV models. We've seen a bone stock Rancher do an honest 55 mph.
Everything is pretty straightforward with a double a-arm front suspension and a swingarm rear suspension with a single shock. Wheel travel is little over 6 inches at both ends. Ground clearnce is a modest 6.5 inches. Each front wheel gets a disc brake and the rear has a sealed drum on the solid axle.
Nothing fancy, but perfectly adequate for this model's intended use. A user friendly ATV for the masses. It can do plenty of kinds of utility work, but still be entertaining to play ride and won't be out of place in moderate trail riding.
There's a good reason these are top sellers. They offer good value for the price, they're easy to ride and maintain, and they last long enough to be considered family heirlooms.
Rancher ES - The ES stands for electric shift, and just like it says, adds a push button electric shfiter to the left handlebar. If you value ultimate reliability, we will say that there are several reports of these malfuntioning as the ATV gets older. But if you would rather shift with your thumb than your foot, it may be worth that little bit of risk.
Honda Rancher ATV - 4x4 Models.
FourTrax Rancher 4x4 - Add a torque sensing limited slip front differential to a standard Rancher, and you'll have the base model 4 wheel drive Rancher. An easy to reach lever at the left of the gas tank engages 4wd at anything under 20mph.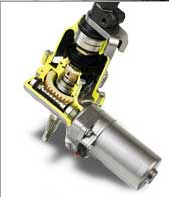 Power steering is optional on Rancher 4x4 models.
4x4 ES - This models build on the base 4x4 with a handlebar mounted electric shifter. There's nothing wrong with the foot shifter that comes standard, so this option is more personal preference than anything. Folks with bike experience seem to like the foot shift, while those without that experience may prefer the hand shifter. We have heard of some problems with the electric shiftesr as they age, so if you want ultimate reliability, that could be a factor for you.
4x4 EPS - You'll get the excellent Honda speed and torque sensing electric power steering unit with the EPS option.
It will cost you an extra $700 which may hurt when you write the check, but you'll pat yourself on the back for years every time you ride.
4x4 ES EPS - You've probably guessed already that this one has both the electric shifter and the power steering options.
Honda Rancher ATV - AT Models with IRS.
FourTrax Rancher AT - This one has a slew of unique features. Take a Rancher 4x4 ES and add a fully automatic 5 speed transmission that can also be shifted manually with standard electric shifting.
Next, trade the solid axle swingarm rear suspension for a fully independent rear suspension with a driveshat mounted single rear disc brake, and you have the Rancher AT.
Wheel travel remains the same as other Ranchers, but you'll gain about 2.5 inches of ground clearance. Ride and handling are greatly improved on rougher terrain like most sport utility riders enjoy.
Rancher AT EPS - The only option for the Rancher AT is the electric power steering which we highly recommend for your riding pleasure. This is the model that brings it all together with every top option to be the ultimate Honda Rancher ATV model.
At a list price of $7,799 it may seem a little pricey. But what other sport utility has liquid cooling, fuel injection, independent four wheel suspension, and an automatic 5 speed transmission with electric shifting? And if you don't like belt drive CVT transmissions, there really is no other choice in that price range.
Related Articles:
---
---