Review of New Honda Foreman.
The Honda Foreman ATV received a major update for 2012, and continues as a 2013 model virtually unchanged. It's still a user friendly utility ATV with very few frills. Just a solid, reliable, easy to maintain, hard working 4 wheel drive ATV.
Honda ATVs in general, and the Foreman in particular, have a reputation in some circles of falling behind compared to current utility ATVs from other manufacturers. We think it's more a matter of Honda maintaining their focus on the utility capabilities of the Foreman, rather than trying to turn them into sport/utility ATVs.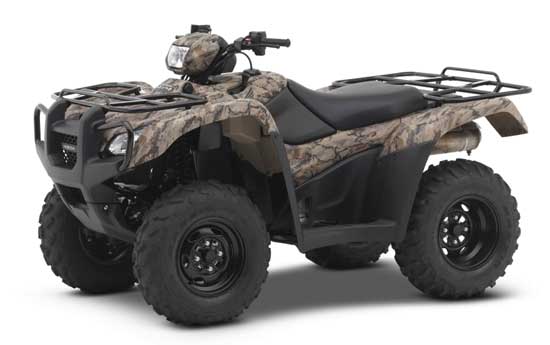 2013 Honda Foreman in Camo.
You can watch the video below to catch up with all the major changes made to the Honda Foreman for the 2012 model year. We'll get in to the details down below.
Honda Foreman ATV - Features
We've always viewed the Foreman as a Rancher plus a little. It's a little larger, has a little more power, a little more wheel travel, and a little more ground clearance. If you fell like the Rancher is too small for you, then the Foreman may very will be a good fit.
While the Rancher has several different configurations, the Honda Foreman keeps things simpler. The only options are a choice of electric shifting and power steering. A solid rear axle and 4 wheel drive with a torque sensing front differential are standard. Those are the highlights, so let's get into the details now.
Engine - Like other Foreman specs, the engine is the same as the Rancher plus a little more. In this case, a bigger bore stretches the displacement to 475cc. You get the same liquid cooling, fuel injection, longitudinal mounting position, and OHV head.
The engine has a very similar feel to the Rancher, but the bigger bore just gives it a little more power throughout the rev range. Since the Honda Foreman ATVs aren't designed to be sport utility type machines, the power isn't really impressive, but is adequate for most types of riding you would do with this kind of ATV.
Driveline - Honda ATVs set themselves apart form all other major ATV manufacturers by having they only line of ATVs without belt drive CVT transmissions. In the Foreman, you get a 5 speed manual tranny with reverse. If you don't like shifting with your foot, there's an electric handlebar shift option. An automatic clutch is used either way which keeps things simple.
Not so simple is the process to put the Foreman ATV in reverse. This is really out of character for Honda, and we can't believe as many complaints as we've heard about this, that it hasn't been changed.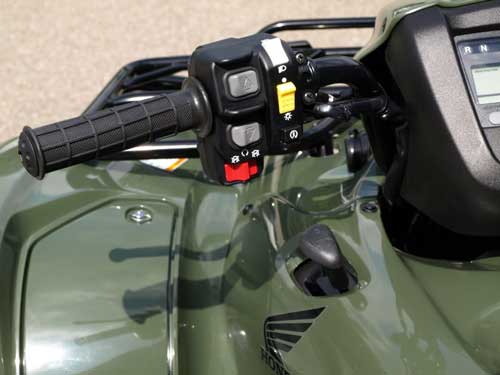 Electric shifter buttons are on the left handlebar and the lever to select 2 or 4 wheel drive is just below.
Unlike the reverse procedure, the selection of 2 or 4 wheel drive couldn't be simpler with a two position lever on the left side of the tank. An automatic locking differential continues the easy to ride philosophy of Honda ATVs. We know some folks complain about not having a manual lock for the diff, but in reality, it works just fine in most situations.
Shaft drive at both front and rear are simple and require little to no maintenance. That's really the theme of the Honda Foreman driveline - easy to use and simple to maintain. It may not be the most exotic, but it's close to bulletproof, and not likely to strand you in the great outdoors.
An automatic locking front diff is used, and true to Honda form there is no manual 4 wheel drive lock. The truth is, it works pretty well in most situations and keeps things simpler for the rider.
Suspension and brakes - Front suspension on the Foreman is a conventional double a-arm with pre-load adjustable shocks. Wheel travel is just over 6.5 inches.
Rear suspension is by a solid axle on a swingarm with a pre-load adjustable single shock and spring. Wheel travel at the rear is almost 7 inches.
We keep repeating this, but once again, the suspension on the Honda Rancher is more than adequate for its' intended use. Which is heavily oriented towards work and casual trail riding. It's not a cutting edge sport utility ATV.
Along that same line, the Honda Foreman carries dual disc brakes up front combined with a sealed mechanical drum at the rear. The front discs are larger than the ones on the Rancher, so braking is strong and predictable. Not a big fan of the rear drum brake, mostly because of the cables it takes to activate it and the way they clutter up the rear axle.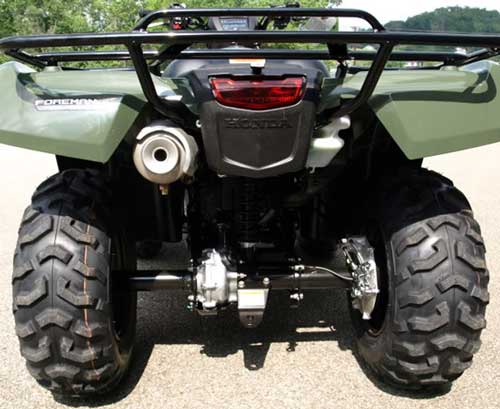 Foreman rear view shows solid rear axle with single shock and cable actuated drum brake. A hidden storage compartment hides behind the taillight assembly that folds down.
Electric Shift - Honda offers an ES version of the Foreman with a handlebar mounted electric shifter in place of the standard foot shifter. We have heard of some problems with these as they age or if your riding involves a lot of water.
On the other hand, if you ride very rough terrain that bounces you around, you may prefer the hand shifter so you won't have to worry about keeping your foot ready to shift all the time.
Power Steering - The EPS option can be had on either the manual or electric shift versions of the Foreman and we have to admit we really liked it. It isn't that it reduces the steering effort that much (although it does). It's more about reducing the kick back through the bars when the front wheels are deflected suddenly be an obstacle like a rock.
If you carry heavy loads on the front rack, or ride rough terrain, the power steering really makes things much easier. It also keeps things under control when the front diff locks the front wheels for 4 wheel drive. Instead of the handlebars suddenly pulling in a direction you weren't expecting, everything stays smooth and predictable.
Honda Foreman ATV - Conclusion
What you get with the Foreman is a straight up utility ATV. We think it would be a good choice for someone that needs a little more room and power than a Rancher offers. It is definitely a work first ATV, but is perfectly capable of moderate trail riding.
We were tempted to call it a no frills ATV, but that really isn't true. It's that Honda picks and chooses where to go hi-tech. It seems that Honda has focused on technology that improves the riding experience but stayed away from some that increases maintenance and complexity.
Power steering, electric shifting, and fuel injection are all advanced ATV technologies, but they also make the Foreman easier and more fun to ride. At the same time, there is very little if any increase in maintenance. Liquid cooling improves reliability and engine life with just a little more maintenance.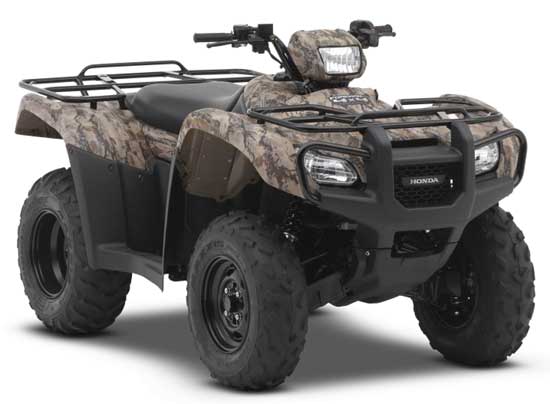 The Foreman is ready to work with triple headlights, front and rear racks, big front bumper with integrated light guards, full skid plate, and axle guards.
The Honda Foreman does come with a 5 speed tranny, unlike the belt drive CVT automatics that most other brands use. That does require a little more input from the rider, but Honda's research has shown that many of their customers also have experience riding motorcycles, so shifting gears is more natural for them. And a belt can't slip or break if you don't have one!
Since the Foreman does have an automatic clutch, it makes it much easier to ride for those that don't have experience with a manual transmission.
Actually, easy to ride and user friendly are great descriptions of the Honda Foreman. It starts easily in any temperature, has excellent throttle response, controllable power, secure handling, and a comfortable ride in almost any situation. It has a knack for making work seem easier and play time seem like more fun.
At the same time, you won't dread doing what little maintenance is required and Honda has a well earned reputation for durability and reliability. As long as you don't expect it to keep up with faster sport utility models, The Foreman should do everything most ATV owners want in a day to day mid size utility ATV.
Related Articles:
---
---