Mudding Four Wheelers.
As mudding four wheelers go, most ATVs will do a decent job with the right mud tire mounted. The best mud 4 wheeler would be a 4x4 atv. Any quad with a torquey engine and good forward bite will make it through most mud bogs without too much trouble though. Rider skill has more to do with mud riding than all the ATV accessories you can bolt on.
How to Turn Your ATV or UTV into a Mud 4 Wheeler.
Serious ATV mudding requires snorkels, relocated radiators, and big mud tires.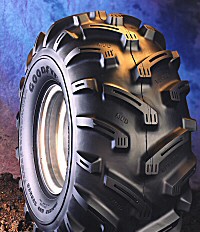 Deep lug ATV mud tire.
This is a good example of a mud tire. Notice the directional tread pattern and the space between the lugs. The tire you choose depends a lot on the kind of mud you'll be riding in.
The thicker it is, the more tread depth and space between lugs you'll need. The mud will have a better chance to "sling off". That's what the tire guys call self cleaning.
A larger diameter tire can also help by limiting the amount of tire spin.
The downside of that is that larger tires can sap the power of a smaller displacement ATV. Just something to remember if you decide to opt for bigger rubber.
ATV Snorkels.
A snorkel kit will be a good idea if you plan on riding in deeper mud or water. They basically prevent flooding your air box with muddy water if you go deep.
If you've ever sucked water in an engine, you know why this is a good idea. If you haven't - well, just hope you never do.
Installing a snorkel is also a good idea for the CVT vent to prevent water from entering the belt cover and causing problems with belt slippage.
An exhaust snorkel is another one you'll have to think about if you plan on getting some really deep water. If your engine dies while your exhaust tip is underwater, that's called "really bad news" in the ATV business.
UTV/ATV Winches.

If you're going to be mudding four wheelers, you need a winch. One that has enough power to pull your stuck butt out of whatever bog you got yourself into. This is an example of one of the many atv winch kits on the market.
Many of the newer ATV winches are available with the braided rope style lead instead of the conventional steel cable. The rope is lighter, safer to use, and just as strong as the steel.
Plus, you'll never have to worry about the little steel splinters from an unraveling cable stabbing you under the fingernails like some sort of Chinese bamboo torture.
Handlebar grips for Mudding Four Wheelers.
If you're going to be in thick, slimy mud, you want to be able to maintain a good grip on the handlebars. There's nothing worse than losing control just as you're trying to miss that submerged alligator.
We like the grips with a deep waffle pattern because they just seem to work better. Make sure you put 'em on with a good grip glue - They won't work very well if they don't stay on the bars.
Cleated foot pegs.
Pretty much the same deal as the grips. Only for your feet. It's pretty hard to stay in control of your mudding four wheelers if your feet are flyin' around like a C list celebrity auditioning for Dancing with the Stars.
A lot of quarters for the car wash.
This is probably the most important part of mudding four wheelers. After all, you don't want your neighbors to think you're some sort of Neanderthal who goes out destroying the environment all weekend - Do You?
Related links:
ATV Mudding Tips and Tricks - Learn how to get muddy the right way!
ATV Snorkels - Get all the facts about ATV Snorkels - What are they, how do they work, and do you really need them?
---
---