The Secrets of ATV Mudding.
When it comes to ATV mudding, do you find yourself being the entertainment for your riding buddies? A few of 'em make a good income bettin' on how far you'll make it before you get stuck? They make you hit the mud last, then leave you for dead when you bog down?
Ready to turn the muddy 4 wheelers table and do a little roosting of your own? I'm not saying these tips and tricks will turn you into an ATV mudding hero. But I'm not sayin' they won't! So let's dive in.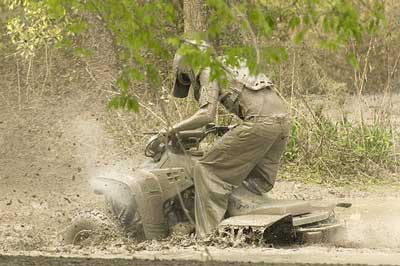 How to get muddy the right way.
Click here to ask a question or share a tip about ATV mudding.
ATV Mudding Tips and Tricks.
Before You Hit the Mud
Make sure your airbox is sealed - Check all the joints from the intake on the engine to the top of the airbox to make sure nothing can get in. The airbox should have a lid on top and no holes in it.


Run an aftermarket air filter or cover - If you do a lot of wet riding, one of these products that are designed specifically for it, can be a good option.


Run an O-ring chain - They quickly pay for themselves by outlasting stock chains by a bunch. If you do much ATV mudding, you'll need it.


Use marine grade grease - Bearings and pivot points will last a lot longer with this water resistant grease.


Spray all the ATV surfaces with a lubricant like WD-40 - Well, not the seat! This is an old dirt track tip that will keep the mud from sticking and make it a ton easier to get off at the car wash.


Use electrolyte grease and silicone - Put the grease on all electrical connections (especially inside the spark plug boot). Pay attention to handlebar switches or any places that are more exposed to splashing water and mud.

Once you have that done, seal any openings where wires run with the silicone. I also like to put a dab on electrical connectors on things like the ignition box. It peels off easy enough and will protect the connectors.


Install one way check valves in vent tubes - Crankcase and differential vent hoses can suck water in. The check valve still allows them to breathe, but won't let water in.


Keep the radiator clean - Use tape or modify the body to help keep mud out of the radiator. A clogged radiator will cause the engine to overheat in short order. And that will put a quick end to your ATV mudding.


Run snorkels - You can install intake and exhaust snorkels when you get really serious. That's a little over the top for what we're doing, but I just thought I should mention it.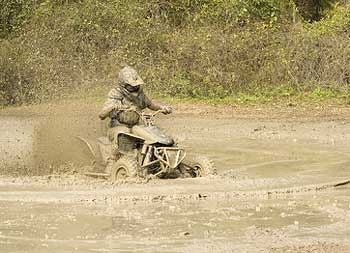 Make sure your ATV is ready for the mud before you dive in!
When You're in the Mud
Scope out the area - Watch other riders to see what line they take. Aim for the one that works the best.


Stay loose - You're riding on an unstable surface, so you have to be ready for the quad to move around. If you're tense or have a death grip on the bars, it just makes it worse.


Enter the mud hole at a "just right" speed - Easier said than done. Not so fast that you lose control or get tossed over the bars. Not so slow that you lose momentum and bog down. Once again, watch the other riders to see what works best.


Try to maintain a steady speed - Slow and steady gets it done in most mud. The goal is to keep the tires hooked up and maintaining forward momentum. If you're erratic with the throttle, it can cause the tires to lose traction and spin.


Don't over control the ATV - If it falls in ruts or slips in a different direction, keep the steering loose and don't fight it. Try to keep momentum up and ride it out.


When you lose traction - Try to stand up and shift your weight back and forth and left and right. Wiggle the bars back and forth. Still try to keep a fairly steady throttle. You're trying to find some traction anywhere you can.


When you're stuck - If you lose momentum and stall, stop. Don't make it worse by jerking the throttle wide open. You'll just bury it that much deeper.

If it's not too deep, get some buddies to help you lift the rear out and try it again. If it is deep, then it's time to get out the tow strap or fire up that new winch you just bolted on.


Go where they're not - If you come across a bog that has already trapped several riders, look for another way around. Take your time and scout out your new route to make sure it doesn't have any surprises. Laugh deliriously as you ride by those stuck suckers!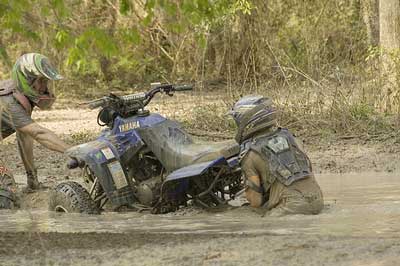 These guys didn't read this article. Don't let this happen to you!
Practice these tips and tricks and you'll be the guy everybody wants to follow on your next ATV mudding adventure!
Related Articles:
What Other Visitors Have Said
Click below to see stories from other visitors to this page...

---
---