Yamaha UTV Model Guide - All About the Rhino 450 and 700.
The Yamaha UTV models haven't had any earth shaking changes from 2008 to 2012. The two basic models - the Rhino 700 and Rhino 450 from 2008 have been trimmed to two versions of the 700 for 2012.
We'll still cover the nifty little Rhino 450 in this guide. A lot of folks think it was a mistake for Yamaha to drop the 450, and judging from our impressions, we would agree. But for whatever reason, the only Rhino offerings for 2012 are the standard 700 FI and a Sport Edition of the same model.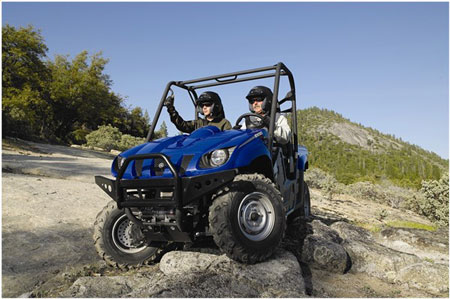 The Yamaha Rhino was the first sport and recreation UTV.
Let's get started with a video test of a 2011 Rhino SE. There were no significant changes to the 2012 Rhino, so everything in this review would still apply.
Yamaha UTV - Rhino Models
There have been five ways to have your Yamaha UTV side by sides since 2009. Four variations of the 700 plus the 450 model. Like we said earlier, Rhino models for 2012 are limited to two versions of the 700. Since many dealers still have older models in stock, we'll start with the least expensive 450 and go up from there.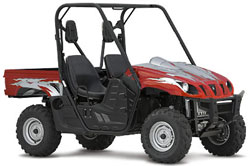 Yamaha Rhino 450
Rhino 450 - Shown with one of the five new Rhino custom paint body kits. Pricey, but look how much you saved by going with the 450!
For $2,200 you lose 265cc - fuel injection - and 93 pounds. Everything else about the 450 is the same as Big Brother 700.
You would think that owners of the Rhino 450 would complain about the lack of power from the smaller engine. But, we found exactly the opposite. Most of them agreed there was more power on hand than they expected. A lot of them bragged they had no trouble keeping up with buddies driving bigger engined Yamaha UTVs.
Almost all the owners we surveyed felt they got a great value with the Rhino 450. In most cases it exceeded their expectations and made for some very satisfied customers with an extra $2,200 in their pockets!




Spice up your Rhino with one of these custom paint body kits.
Rhino 700 Standard - This evolution of the side by side that changed the rules in the UTV class has turned into what we call a "Tweener". It's between sport and utility. And that's probably how most folks use them. A little work through the week and some fun on the weekend.
But it's getting harder to keep both camps satisfied and rumors of a new, more powerful model are circulating. I think the UTV segment is large enough now that most manufacturers will have to follow the trend started by Polaris. More model choices with a narrower focus on sport or utility.
In the mean time, we're seeing some super deals on older model Rhino 700s. With a ton of aftermarket parts available for the Rhino - you can use the money you saved to transform your Yamaha UTV into anything you want!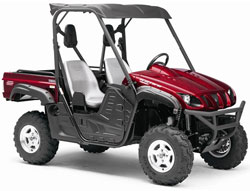 Rhino Special Edition
Rhino Special Edition -
This Rhino comes with cast aluminum wheels, silver seats, suntop and special graphics.
These go out the door for a MSRP of $11,699.
If you don't like red it also comes in black metallic.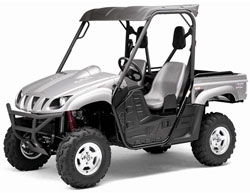 Rhino Sport
Rhino Sport -
Rhino 700 FI Sport Edition comes with adjustable piggyback shocks, cast aluminum wheels, and the suntop.
This package will set you back a cool $12,699 for the silver or $12,799 for Red Midnight Armor.
If you plan on going fast in rough terrain, the piggyback shocks aren't a bad deal for the extra grand. The ultimate stock Yamaha UTV.
The Ducks Unlimited Edition gets Realtree® AP HD® Camo, over fenders and sun top. A Yamaha UTV in stealth mode! This option cost $11,949 and is strictly cosmetic with no performance goodies. Being able to sneak up on those dastardly ducks? Priceless!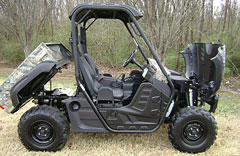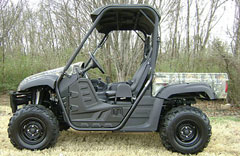 Yamaha Rhino Ducks Unlimited Edition
Yamaha Rhino Features That We Care About.
amaha Rhino Features That We Care About.
Four-wheel disc brakes that work well, and a full size parking brake just like your car.
Great Yamaha CVT transmission with dual-range (Hi/Lo) drive and reverse. This transmission just feels "right". Good response and a reputation for reliability.
Three-position In/Out 4WD feature lets you switch between 2WD, limited-slip 4WD and fully locked differential 4WD - all with the simple push of a button. (Well - not that simple) you have to flip a lever to lock in the 4wd.
Five-way preload-adjustable shocks. Makes it easy to maintain proper ride height depending on the weight of the load.
Electronic fuel injection has better performance in nearly all conditions and elevations, along with improved cold starts.
Sealed drive case keeps out water and debris, and a hand-operated side cover drain lets out what little gets in.
Rack-and-pinion steering features a fully sealed steering column and double U-jointed steering linkage for smooth operation and class-leading turning radius - even in 4WD.
Low-maintenance front shaft drive features gear case and electronic servo-activated 2WD/4WD/Diff Lock. Direct rear shaft drive eliminates the U-joint for greater durability.
Heavy-duty CV joint guards protect against rock and debris damage.
Standard center-mounted, heavy-duty 2-inch receiver-style hitch can tow over 1,200 pounds.
Stamped steel dump bed is rated to haul 400 pounds of gear, with a latch that opens from either side.
Digital instrument panel has multifunction LCD display with speedometer, odometer, dual tripmeters, hour meter, 4WD status, transmission position, clock and fuel gauge.
Large 7.9-gallon fuel tank.
Underhood tool-free air filter is way easier to service.
Noise reduction - New exhaust mounts, engine mounts and counter balancer. Intake is now under hood, and engine area is more sealed off.
Yamaha UTV Conclusion
So what do we really think about these Yamaha UTV models? Since Yamaha has been making these UTVs longer than anyone else. (In the great state of Georgia, USA by the way!) They have learned what works and it shows.
Nothing really stands out on the spec sheet, but the Rhinos just get it done better than they look on paper. The little 450 is really an overachiever.  The overall driveability just makes it easier to get where you want to go. There's no substitute for years of refinement and Yamaha has taken advantage of that.
Reliability in tough conditions is better than most other UTVs. From the steering feel, the throttle response, the no-slop driveline, the strong brakes, and the absorbent suspension - all systems work harmoniously to make the Rhino more than the sum of its parts.
Perfect? No - any UTV that tries to straddle the fence between sport and utility has to compromise somewhere. But our only real complaint is the locked rear diff. It just makes slow, tight going more tedious than we like.
More of a wish than a complaint is more adjustability to fit more body types and sizes. Tilt steering and more seat adjustment would really be nice! We think it's still a good choice as a multi-use sport/recreation/utility machine.
Pick one up for some of the bargain prices we've seen and a Yamaha UTV is tough to beat.
Yamaha UTV specifications for 700 and 450 Rhino models.
Related Articles:
---
---