2015 Yamaha Viking VI Review.
First impression of the new Yamaha Viking VI? Big. Seating six people in a side by side UTV takes up a lot of space! Like more than my mid-size, 4-door family car. Not a little more. At a wheelbase of 115.6 inches, that would be over 10 inches more.
According to Yamaha, all this size is a response to the market demands for a utility side by side with a seating capacity of more than three. Since utility features are of more concern for these potential customers, there's little pretense of sporting use for the Viking VI. Speaking of features, let's take a look at what the new super size Viking has to offer.
The Yamaha Viking VI is the first six passenger UTV from a major manufacturer.
Yamaha Viking VI - What's the Same - What's Not.
The Same
Even though this is the first six passenger UTV, it shares most of its' mechanical parts with the standard Viking. Sure, there are a few tweaks to the engine management software and CVT ratios. Clutches get a heavier duty upgrade, too. Those changes are more about compensating for the extra weight of the six seater than anything new.
The engine/trans/driveline unit from the standard Viking is nearly unchanged.
Yamaha is using the strategy of offering a new model, based on an existing mechanical platform, to appeal to a different market segment. New models can be introduced faster, and with less expense this way. Customers can benefit from lower prices and more reliable mechanical systems.
The Different
The Viking VI may share it's platform with the standard Viking, but it has a completely different look and feel. With over 31 inches added between the front seats and bed, that's not surprising.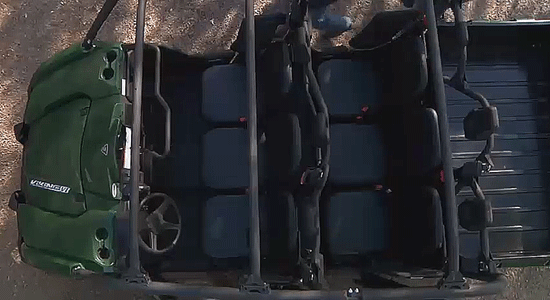 Six seats and a huge wheelbase are the most obvious differences.
But don't be fooled into thinking this was a simple stretch job. The center part of the frame was reworked considerably with extra bracing to accommodate the extra length without sacrificing strength or stiffness. Suspension control arms also get extra bracing due to the increased weight.
Heavy duty shocks and springs, along with a unique tire design, are among the more noticeable differences of the new Yamaha Viking VI. Roll over protection is new and unique to the Viking VI, with three main hoops to accommodate the extra length.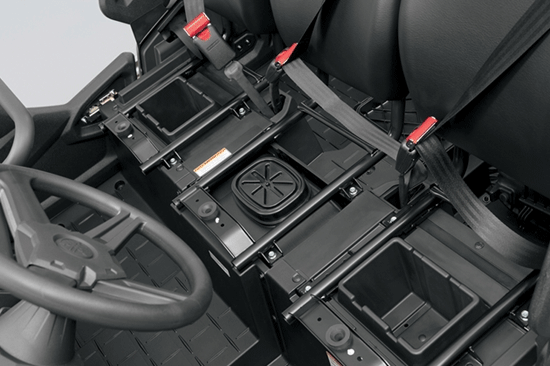 The Yamaha Viking VI has several under seat storage areas.
The utility focused Viking VI has plenty of comfort and convenience features. There's under seat storage below all three front seats, with a sealed compartment under the center seat.
Easy under seat access for air filter.
An adjustable driver's seat is standard, but oddly, an adjustable steering wheel is not available.
Access to the large air filter is also beneath the front seats, and it couldn't be much easier to remove.
Other noteworthy comfort features include flat floor areas for better foot and leg room, passenger grab bars both front and rear, and plenty of cup holders for all six riders.
The Viking VI has enough width than even with three seats, there is more than enough hip and elbow room for full size adults.
Part of comfort is safety, and the big Viking seems to be solid in that regard. Front and rear doors with secure latches, shoulder/seat belt combos for all six occupants, and shoulder area bolsters for the outer passengers, all serve to keep everyone safe and secure.
Interior comfort is improved with more elbow room, flat floor, multiple cup holders, and a wide passenger grab bar.
Viking VI - What is it Good For?
Now that we know more about Yamaha's intended use for its' newest and largest UTV, the question is how well does it actually do those things? And the biggest question, would you part ways with your hard earned cash for one? Let's see if we can get some answers.
Best Uses
The most unique feature of the Viking VI is also one of its' best uses. The ability to carry six passengers to a work site, camp site, hunting/fishing area, etc. How important that is to you, and how often you have that need, will have a lot to do with the appeal of a UTV this large.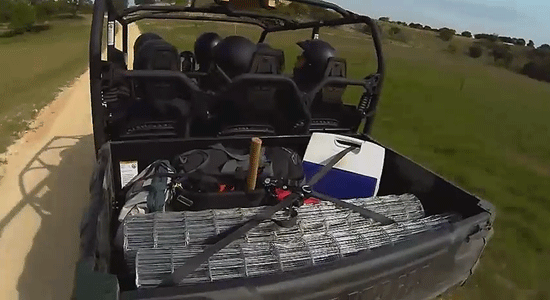 The Yamaha Viking VI can carry several friends and their stuff!
You won't have to worry about less cargo space, like some competing brands that sacrifice bed size for passenger space. Yamaha retained the full size Viking bed on this new model.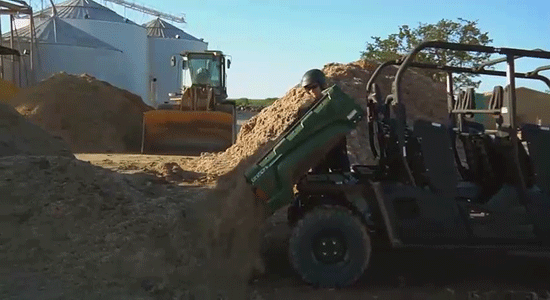 Dump bed of the Yamaha Viking VI improves versatility.
The dump feature of the bed is still intact, so add that to the list of things the Viking VI can do. We will warn you, that if you plan on maxing out the passenger and cargo capacity at the same time, don't plan on setting any performance records or climbing anything more than moderate inclines.
The Viking VI has upgraded shocks, and heavy duty control arms.
That doesn't mean that the Viking VI isn't tough enough for most jobs, far from it. The heavy duty upgrades to frame and suspension should provide solid reliability, along with the full length steel skid plate.
Full coverage axle and CV protection should help keep things spinning along nicely, too.
The Viking VI even gets a special tire that's supposed to be better at handling the anticipated heavier loads of the up sized Viking.
So, the Viking VI is best when you need to carry more than three people, don't want to sacrifice cargo capacity, but don't plan on needing to use the UTV fully loaded at anything more than slow speed and mild conditions.
Not So Good
You just can't get around the lack of power in a vehicle with this size and weight. Offering multiple vehicles based on the same platform may be a good business decision by Yamaha. Unfortunately, good business decisions don't always lead to the best possible vehicle.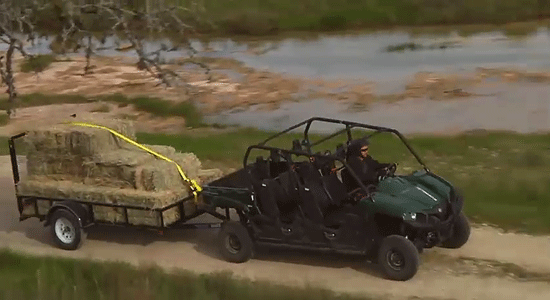 Heavy loads can strain the Viking VI power train.
The lack of power is frustrating because it causes the Viking VI to fall just short in fulfilling much of the potential for a UTV of this size.
Speaking of size brings us to another not so small problem. If you need to operate in tight quarters or rough terrain, the extra long wheelbase presents some "challenges". The ability to pass over obstacles is reduced with the longer wheelbase, and the larger turning radius and locked rear diff make tight turns difficult.
Yamaha Viking VI - Conclusion.
At first glance, the big Yamaha looks impressive on the spec sheet. Seating for six, 6oo pound dump bed, and a 1,500 pound towing capacity.
In reality, it ends up being more of an either/or proposition. When you take a 1,600 pound UTV, add about 1,200 pounds of passenger weight, another 600 pounds of cargo in the bed, and then hook up a 1,500 pound trailer - can you really expect a 700 cc single cylinder engine to handle all that?
If you do, we predict you'll be disappointed. We look at the Viking VI as more of a multi-use machine. It will do an admirable job of carrying six passengers, OR 600 pounds in the dump bed, OR towing 1,500 pounds. Just not ALL at the same time.
If you can live with those limitations, the base price of $12,799 is a great value for a UTV than can do all the Viking VI can. Avoid overloading, and the reliability of the Yamaha drive train will be an added plus.
Really, after looking at that price again, this may be one of the best do-it-all UTV deals out there. The Yamaha Viking VI certainly deserves consideration!
---
---