The Best Used ATV for Sale?
Find Out Which Used ATVs are Best in Class.

Folks looking for a good used ATV for sale are always asking which one is the best in a certain category. We thought it was about time to answer that question.
Thousands of owner surveys were researched, forums were consulted, tests and reviews were read, and dealers were questioned. After all that, we believe we have a great list of winners.
So here they are - the best for each four wheeler class.
Winners of the Best Used ATV for Sale Awards
Youth ATV
Honda TRX 90 - A major update in 2006 models added electric starting (highly recommended!). Good power and performance with Honda reliability. Great choice in a used ATV for sale.
Yamaha Raptor 80 - Reputation for toughness. Simple and easy to maintain means more time riding and less time working on it.
Beginner Sport ATV
Honda TRX 250EX - starting in 2006 it came with the Honda Sport Clutch to prevent stalling, making it even easier for beginners to ride. That puts it right at the top of our best used ATV for sale list.
This sporty Honda ATV was very highly rated by it's owners. One of the highest of all ATVs! When the folks that actually paid for them say that, what else do you really need to know?
An air cooled engine, manual transmission, shaft drive, and easy to use clutch keep things simple. You will spend a lot more time riding than working on this 4 wheeler. That's why this used Honda ATV is great for beginners.
Suzuki Quad Sport LT-Z 250 - This was a close one, with the Honda just edging ahead with a slightly broader appeal. As a used ATV for sale - still a lot of bang for the buck.
Owner's loved the Suzuki for it's simplicity and ease of use. You can't find a better choice for a new or small rider than this Suzuki ATV.
The Z250 is somewhat unique in that it offers the tougher utility ATV running gear of the Ozark 250, but the styling of a sport quad.
Air cooled engine, 5 speed manual transmission, automatic clutch, and shaft drive add up to easy maintenance. Exactly what you want with used ATVs for sale.
Beginner Utility ATV
Honda Recon 250 - Proof that less can be more. A simple air cooled engine and easy maintenance with shaft drive and sealed brakes, make this a great starter ATV for a new rider.
The Recon offers light weight, smaller size, usable low speed power, and agile trail handling. All that makes it easier to ride for the beginner. The famed Honda reliability was mentioned by many owners in the survey.
Basic maintenance keeps it running for years with very little trouble. Combine all that with a bargain level price - and you have our top choice for the best used ATV for sale in this class
Suzuki Ozark 250 - The Ozark is a little more sport oriented than the Recon, but it's still easy to maintain with basic simplicity, and offers solid reliability for the newbie.
Simple functionality is the theme again with an air cooled engine, manual shift transmission with an automatic clutch, and shaft drive. Everything you need for trail riding and most chores, without the hi-tech electronics or other gimmicks.
With good performance and reliability, the Ozark owner's rate it very highly. That's exactly why it makes the list for anyone looking for a solid value.
Small 4x4 ATV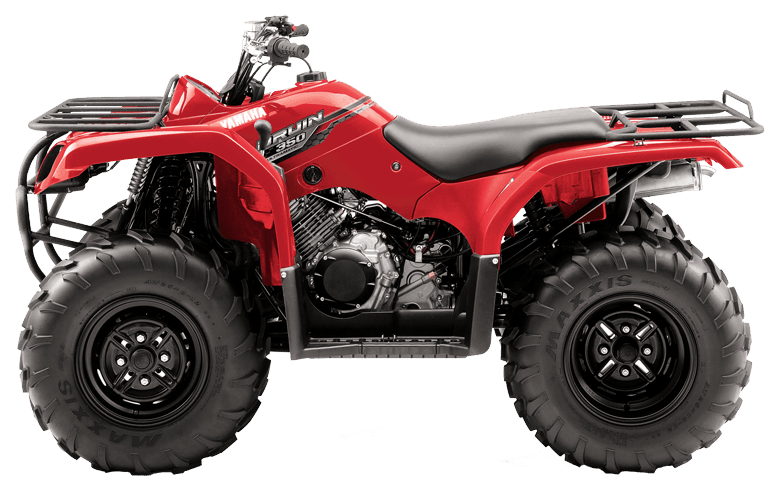 Yamaha Bruin wins the small 4x4 class.
Yamaha Bruin 350 4x4 - The Bruin may be smaller in size but not in it's ability to do everything most ATV riders would ever want.
Actually, the Yamaha is big enough for most adults while still small enough not to be intimidating. The engine has good power with a strong mid-range. Suspension and handling are good.
The 4x4 Bruin has the good Yamaha CVT transmission with on demand front differential lock. This is one of the best working drive lines in the real world on any used 4 wheelers out there.
Chances are if you're looking at 4x4 ATVs, you want to know how the utility side of things stacks up. Well, the Bruin comes with front and rear racks, along with a 2 inch receiver type hitch. So it will handle most chores, and when you're through working, it makes a great play and trail ATV with great response and maneuverability.
Reliability ratings were excellent so there's not much to worry about. A best buy used ATV for sale if you like Yamahas.
Honda Rancher 4x4 TRX 350 - The Rancher came in several versions, but as a used ATV for sale, we think the manual shift (TRX 350 FM) is the best bet.
The slick Honda automatic transmission with the electric shifting is fine, but they are prone to some problems and are breathtakingly expensive to fix. That's a chance we don't recommend you take.
The 5 speed Rancher 350 is a better choice as a used ATV. Performance is really better without the power loss from the automatic tranny. Since we're control freaks - we like to shift ourselves anyway!
You still get the ultra reliable Honda engine and the good 4x4 driveline. Suspension and handling are stable and predictable at any sane speed. But if you're into high performance riding - well, this ain't it.
What it is though - is one of the most popular models Honda has built, with thousands being sold. Which means it should be easy to find a good used one.
Mid-Size 4x4 ATV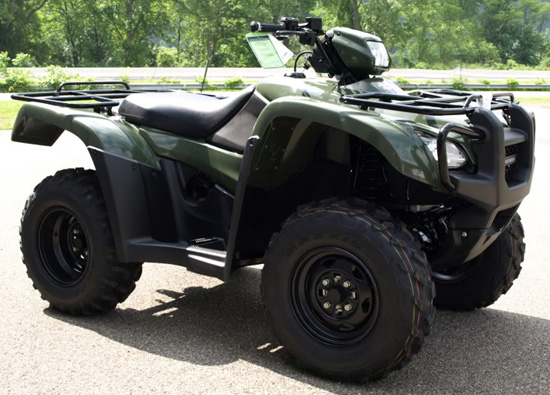 Honda wins the mid size class.
Honda Foreman TRX 450 FE - When it comes to a good used ATV for sale - simpler is better. That's exactly why we chose the Honda Foreman with 5 speed transmission as our mid-size winner.
The air cooled engine continues the theme of simplicity and the well proved Honda 4x4 drive system is pretty bullet proof too. Don't feel deprived though - the electric shifting tranny is entertaining and less prone to problems than the automatics.
Power and handling are good but with the emphasis on utility. But don't think the Foreman can't get it done on the trails either. There's not any terrain it can't handle - just don't expect to go fast doing it.
Hondas are popular in wet areas since they don't use a belt system. The extra torque of the bigger engine can turn the larger tires used in muddy terrain, which makes the Foreman a good choice for mud riding.
The big Foreman may not be a technology leader - but it will probably still be running long after all of them are forgotten. Remember - simple is the way to go when it comes to buying used ATVs. The Honda Foreman, as a used ATV for sale, is a best buy.
Polaris Sportsman 500 HO - The Sportsman is the big tank of an ATV in this class - it's also a big favorite. It reflects traditional American attributes as the biggest and heaviest used ATV for sale in the mid-size class.
Owners liked the plush ride, extra storage capacity, and wide array of accessories available. And like a fat guy that can dance - the Polaris is deceivingly agile on the trail with good handling, brakes, and steering.
The Sportsman 500 HO is by far the highest rated of any used Polaris ATV model in owner surveys. We gave the Honda the nod in this class because there were fewer reported problems that required repairs.
If you need a larger ATV and prefer a softer ride, the Sportsman 500 is a great choice. Reliability was reported as very good overall, but look to do more maintenance than on a Honda.
Large 4x4 ATV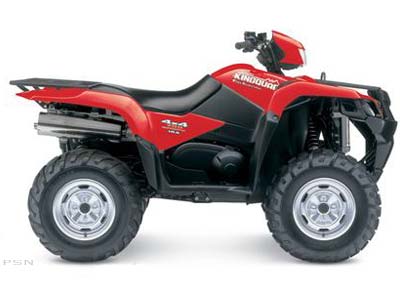 The King Quad is king of the big bores.
Suzuki King Quad 700 - The big King Quad received more owner survey responses than any other Suzuki used ATV for sale. Not surprising to anyone that has ridden one - they were overwhelmingly positive.
The big Suzuki has a lot of power with a liquid cooled and fuel injected single cylinder engine. At the same time it's easy to ride and not intimidating to new riders. We think that's one reason for the broad appeal of this model. The King Quad 700 can handle just about any utility chore you can dream up, and then keep up with most sporty quads on the trails.
Handling, suspension, and brakes work well enough for all but the lunatic fringe. With decent tires there aren't many places you can't go. As used ATVs, these are a little trickier because of all the sophisticated technology.
Reliability ratings were very good so if you put the effort into finding a good used one, you should be fine. But one that has not been well maintained could be trouble.
Yamaha Grizzly 660/700 - This one was close and there is not much difference between these two as far as a good used ATV for sale goes. The Yamaha just didn't have as many owner responses and they rated the Grizzly 660 a tad lower than the King Quad.
Like most big bore 4x4 ATVs, the Grizzly has more than enough power to do anything most of us would ever want. The Yamaha has good enough handling, suspension, and brakes to keep things entertaining.
The older Grizzlies have carburetors so they may be a little more finicky about starting than the Suzuki. But carbs are easier and cheaper to repair if you do have problems.
The only other problem mentioned frequently were various axle problems so make sure to check that on any Grizzly you're considering.
Overall reliability was good other than those areas and riding style and maintenance may have more to do with the axle problem than any fundamental deficiency. You really can't go wrong with either of these 4x4 ATVs.
Sport ATV
Honda TRX 400 - The highest rated and most popular sport quad Honda makes. They have been around for several years, but we like the models from 2005 and up since they came with reverse gear. One of the best used quads for sale you can get.
The Honda 400 keeps things simple with a bullet proof air cooled engine, manual clutch and 5 speed transmission. Electric start, front and rear disc brakes, and chain drive top the list of features.
It's not a racer (wouldn't be bad at cross country though) but it is a great all around sport, trail, and play quad. Easy to ride with a wide power band, good handling, and good brakes. Not as intimidating as the 450 class race quads.
The Honda TRX models are a great choice for people with dirt bike experience. The overall riding experience is much more similar to dirt bikes than a utility style ATV. A lot of these were sold so keep looking until you find one in really good shape.
Suzuki Quad Sport Z400 - Runs a close second to the Honda ATV. A liquid cooled engine and lighter weight make it a little racier, but it's still rider friendly enough for most folks.
Earlier models (2003-2004) seemed to suffer more problems so a later model Z400 may be the best bet. The water cooled engine will require more maintenance than the Honda, but it's not really that bad.
The Z400 is more highly tuned than the Honda. The extra performance may cause reliability to suffer some compared to the Honda. They're both great quads for play and trail riding.
You could probably take the Quad Sport racing for a little fun. It could possibly be competitive in some of the cross country classes. Not so much for motocross.
Most used ones have been ridden hard, so it may take a little time to find one you like. Some cracking around the swingarm and frame is fairly common, so be sure to look for that. The Quad Sport is a great all around used ATV for sale for sport riders.
Racing ATVs
Yamaha YFZ 450 - We're not gonna lie - buying any used racing ATV is risky business. But if that's what you're determined to do we think the Yamaha is the best bet for a racing used ATV for sale.
It can be fairly competitive at both motocross and cross country out of the box. That was the main reason it got the nod over the Suzuki. Find one with upgraded rear suspension and you shouldn't have to spend much more.
If you don't want to race but want a sport quad with more performance, the YFZ 450 is a great all around play bike too. This again gave it a slight edge over the Suzook.
Suzuki Quad Racer R450 - If this came down to just the best motocross racer - the Suzuki would win. And that narrower focus is why we thought the Yamaha was a better choice overall as a used ATV for sale.
That's not to say it wasn't close. The Quad Racer is a terrific sport quad, especially for the price. The width and low center of gravity that make it a great motocrosser limit it's abilities on tight trails and cross country races.
But if you like to play in wide open spaces or wider trails - you can't go wrong with the Suzuki. Come to think of it - you can't really go wrong with either one of these!
More top used quads are listed in this article.
---
---