Best Used Quads for Sale -
Top Used Sport and Utility Quads.
Checking out used quads for sale? Not sure which ones are a good deal or even if they were any good to start with? That's why we did a survey to find out which used four wheelers would be favored as best buys.
This isn't an all inclusive list so if you don't see your favorite here it doesn't mean that it's not just as good an ATV. But if you limit your search for quads to the ones on the list - you can be assured that an awful lot of folks felt like they would be the best choice for a used four wheeler.
Best Used Quads for Sale - Sport Quad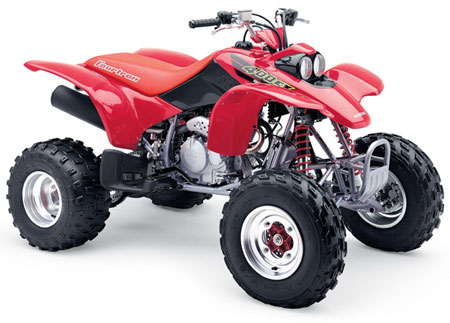 Honda Sportrax 400 EX.
Honda Sportrax 400 EX - Models from 2005 and up have reverse if that's important to you. The TRX 400EX has been one of the best all around sport quads for years. Being user friendly for a wide range of riders has kept the Honda at the top of the list.
It's not a racer (wouldn't be bad at cross country though) but it is a great all around sport, trail, and play quad. Easy to ride with a wide power band, good handling, and good brakes. Not as intimidating as the 450 class race quads. We like it for three main reasons.
1. Simple - The air cooled 4 stroke engine, manual tranny and clutch, electric start, and chain drive add up to an easy quad to both ride and maintain.
2. Light - At around 400 pounds it's not a featherweight racing quad, but that is relatively light for a sport quad with this much toughness. Parts aren't trimmed to save weight for racing so they can be beefier for better reliability. That's a good thing in used quads for sale.
3. Reliable - A little basic maintenance will keep the Honda 400 running for longer than you can probably ride it! You may retire before it does.
Buying Tips - A lot of these were sold so hold out for a good clean one. I like ones that are stock or close to it. A bunch of performance parts usually means it was run very hard. You want to find a clean, well maintained model with low hours. Preferably kept in a garage rather than outdoors.
Suzuki Quadsport Z400 - This is another on the list of top used quads for sale. It's a little sportier than the Honda with a liquid cooled engine and lighter weight. Still very rider friendly and easier to go fast on than you might think.
You could probably take the Suzuki Z400 racing without embarrassing yourself. But it really is a great all around sport quad too. The water cooled engine will require more maintenance than the Honda, but it's not really that bad. Earlier models (2003-2004) seemed to suffer more problems so a later model Z400 may be the best bet.
After all, you want the best value possible in used quads for sale. The Z400 is more highly tuned than the Honda, which gives it more performance. The downside is that the extra performance may cause reliability to suffer some, compared to the Honda.
Buying Tips - Same as the Honda or any other sport quad. They tend to get ridden hard by younger riders so keep looking for a good one. Some frame and swingarm cracking were common on Z400s that were abused so be sure to check for that.
Best Used Quads for Sale - Utility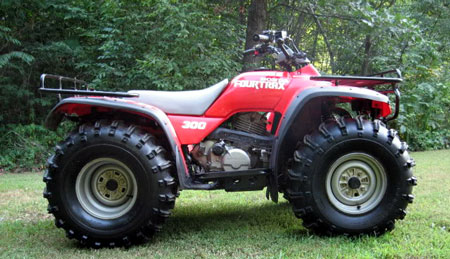 The Honda Fourtrax 300 4x4.
Honda Fourtrax 300 4x4 - Maybe the best basic utility ATV ever made! Not the best or worst at anything - it just keeps doing it. This thing could wear the Energizer bunny out! The Honda ATV model that built their reputation for reliability.
If you want a cheap ATV to start with, that means an older used model. The TRX 300 is really the only choice in that category. A lot of the TRXs were used for light duty chores around the home, so it's not that hard to find one in good shape with low miles.
Even though these Hondas are almost indestructible, all the advice about finding clean, well maintained used ATVs still applies. There are enough Fourtrax 300s out there so keep looking for a good one. Maybe one of the best older used quads for sale there ever was.
Quote from a typical owner -
"I've had my '99 FourTrax for 10 years now and it's never failed me. This wheeler is the ultimate puller. I've actually plowed with it using a 10' wide chisel plow! I've been through water around 4.5' deep with it. Mudding is no problem. I'm a proud owner."
Honda Utility ATVs - OK, here's the deal. You may hear that Honda ATV reliability is a myth. They're not what they used to be, blah - blah - blah. Well we just spent more hours than I want to admit scouring owner surveys from thousands of Honda owners.
The truth is - it's no myth! I confess I'm not really a fan of the performance of most Honda Quads. But there is absolutely no denying their reliability after seeing these surveys. Sure, there are a few exceptions here and there, but not many.
In general - the more complicated the model - the greater the chance of having problems as the miles roll up. Sophisticated transmissions and fancy computer controls are great when they work. They just tend to have more problems as the exposure to the elements and the pounding of the miles increase.
Simpler quads make the best used quads for sale. Less maintenance required and simpler components lead to a long, trouble-free life. Start with a used Honda quad in good shape and you should have years of service to look forward too.
Honda Recon - Great choice for a beginner utility Quad. The 250 engine and 2 wheel drive are stone simple. It's relatively light and handles well on trails. Good low end power gives good acceleration and pulling ability. Not much on top speed but that's what makes it a good ATV for beginners.
Honda Rancher - One of the most popular Honda utility models. Larger than the Recon and a more powerful engine. Two and four wheel drive models. Several different transmission choices. Lots of them were sold so it should be easy to find a good one.
Honda Foreman - This one is starting to get a little complicated with liquid cooled engine, selectable 2/4 wheel drive, torque sensing front differential, and some sophisticated transmissions. In spite of all the hi-tech goodies it seems to maintain its' reliability. Owners give it one of the highest satisfaction ratings of any ATV. That puts it on our list of best used quads for sale.
Best Used Quads for Sale - Top Brands
There were a couple of other brands that scored well overall in the surveys in addition to Honda. There weren't as many surveys submitted but enough to draw some valid conclusions for several models from each manufacturer.
Suzuki - The previously mentioned Z400 is joined by the entry level Z250 as a favorite Sport Quad. The Ozark 250 made the list for beginner utility ATVs. Eiger models were highly rated as used quads for sale by most owners.
If a Honda Rancher doesn't do it for you then the Suzuki Eiger would be a good alternative. Solid 400cc engine with a choice of 2WD or 4WD and manual 5 speed or automatic transmission. Just a nice all around mid size utility ATV.
Fans of larger quads voted the Vinson as one of their favorites. 500cc liquid cooled engine mated to a dual range CVT transmission. It's trail riding ability made it one of the first "sport" utility ATVs.
Yamaha - Not to be left out, Yamaha had several of their models on the highest rated satisfaction list. The Raptor 350 and 660 were the highest rated Yamaha Sport Quads.
The all-out YFZ 450 was even reliable enough to be mentioned. What's the best selling Sport ATV of all time? The Yamaha Warrior and yes it made the list too. Light, strong, and fast is a tough combination to beat. The only bad news is that Warriors tended to get thrashed so it could be a challenge to find one in pristine condition. But it would be worth the effort.
If you need a little more utility but still want something sporty, then the Wolverine 4x4 would be your best bet on the list of used quads for sale. Stick the Warrior engine in a 4x4 chassis with a 5 speed transmission and automatic clutch and you'd have a best selling "sport ute".
The Grizzly 660 was highly rated by enough owners it deserves a mention. Although it's reliability was very good it is a pretty complicated four wheeler. You would want to find a used one in really good shape to avoid the chances of some expensive repairs.
Best Used Quads for Sale - Conclusion
Honda ATVs seem to have a slight edge on the competition according to the results of the owner surveys. Several models from other major manufacturers are pushing the Hondas very hard though. We were able to draw several conclusions in general based on info from the surveys.
Simple Quads are generally more reliable than complex quads. The more complicated systems you have on an ATV, the greater the chance you have of something going wrong. As time and miles take their toll, things like computer electronics, CV joints, 4WD systems, and liquid cooled engines tend to have more problems.
A lot of those problems can be traced to a lack of regular maintenance. And high tech ATVs require more maintenance than their simpler 2WD, solid axle, air cooled engine little brothers. That's why you see us put so much emphasis on finding a well maintained used model.
New technology is less reliable than proved older technology. Real world riding uncovers unexpected problems with new technology that no amount of pre-production testing can. That's just the way it is. Honda is notorious for being slow to incorporate new technology into their ATVs. Think there could be a connection?
First year models tend to be less reliable. We saw this a lot in the owner surveys regardless of the manufacturer. The first run of a new model tended to have more problems. Unanticipated things tend to go wrong with the first production run of a newly introduced model.
So that's our best advice for finding the best used quads for sale. Stick with these guidelines and you should be able to find a great used quad with years of reliable service left in it.
---
Used ATVs - How To Find the Best Buys.
---