Best Used Honda ATV Models.
We have our list of the best used Honda ATV models after analyzing thousands of owner surveys. We expected to see some of the models on the list but were surprised by a few others. Check it out and see what you think.
Owners were asked to score their Honda ATVs in four categories:
Reliability
Comfort
Performance
Quality
Each category was scored from 1 for the worst to 5 for the best. Cumulative scores were totaled for each model. Our research found models with a total score of 4.75 or better. So only the absolute best models will be listed here.
Models with too few survey results were eliminated because we didn't feel those average scores would be accurate. Model years from 2003 thru 2009 are covered. Year and model are listed first, followed by the overall score.
Top Used Honda ATV Models.
2009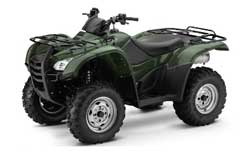 Rancher FPA
Rancher AT Power Steering TRX 420 FPA - (4.8) - Top of the line Rancher with 4 wheel drive, electronic shifting, electric power steering, and four wheel independent suspension. Better ride and more comfortable than other Rancher models. Reliability suffers a little, but is still very good considering all the technical sophistication.

2008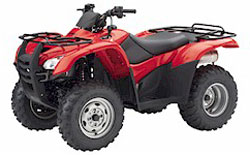 Honda Rancher 4x4
Rancher 4x4 ES TRX 420 FE - (4.86) - Liquid cooling, fuel injection, and electric shifting keep the tech-heads happy. Overall toughness and reliability keeps everyone else happy.
Rancher 4x4 TRX 420 FM - (5.0) - Basic simplicity and legendary reliability have made this Rancher model one of the best selling 4 wheel drive utility ATVs of all time. This is the manual shift model, which is regarded as the most reliable of all the used Honda ATv models.
Recon ES TRX 250 TE - (5.0) - Good utility ATV for new or smaller riders. Decent low end power with good enough handling and comfort for light trail riding. Electric shifting is easier to use, but could cause problems. Shaft driven two wheel drive with a swingarm rear suspension keeps maintenance to a minimum.
2007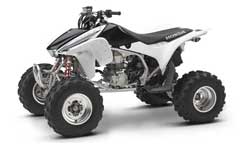 Owners loved the TRX 450R.
Foreman 4x4 ES TRX500FE - (4.83) - The Foreman is back on the list with its' larger air cooled engine. Stone simple for the most part, this one gets upgraded to electric shifting.
Rancher TRX 420 TM - (4.81) - Basic Honda Rancher with 2WD, electronic fuel injection, and liquid cooled engine
Rancher 4x4 TRX 420 FM - (4.91) - All new for 2007 mid-size utility ATV. Features EFI, liquid cooled engine, no belt 5 speed transmission.
Recon ES TRX250TE - (4.9) - The entry level utility styled Recon stays on the favorites list. This one adds electric shifting like the Rancher.
TRX 250 EX - (4.83) - Simple entry level sport quad with unique no-stall clutch that's easy for beginners to use.
TRX 400 EX - (4.96) - Bullet proof Honda engine with a good chassis and suspension. The score shows this is one of the best Sport ATVs you can find.
TRX450R - (5.0) - A perfect score for a used Honda ATV sport model is just ridiculous! The 450R can win everything from the Baja 1000 to the local trail ride. Owner's absolutely loved these things! When this is one of the hardest ridden and most abused sport quads out there, that says a lot.
2006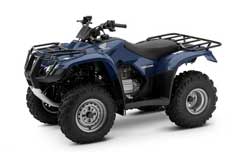 Honda Recon is great for beginners.
Rancher 4x4 ES TRX350FE - (4.84) - All the ruggedness of the 4x4 Ranchers with electric shifting.
Rancher TRX 350 TM - (4.91) - A little dated on the technology side, but as reliable as they come. Good simple, basic ATV.
Recon ES TRX250TE - (4.86) - The Recon is hard to beat for simple and reliable. Perfect for beginners and the smaller of stature.
TRX 400 EX - (4.94) - A kinder and gentler sport quad that does most of what the 450R will do short of all out racing. Smaller air cooled engine is more user friendly for trail riding than the more radical 450R.
TRX 250 EX - (4.87) - Great ATV for beginners. Easy to ride and easy to maintain with shaft drive. A great value for a used Honda ATV.
TRX 450R - (4.84) - This has to be the most reliable hard core sport ATV on the planet. These quads get thrashed more than most, and keep coming back for more. They always get some of the highest owner's ratings in our surveys.
2005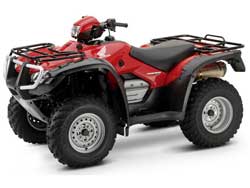 Foreman - Think of it as a Big Boy Rancher.
Foreman 4x4 ES TRX500FE - (4.75) - Think of it as a Rancher on steroids. Larger engine and dimensions for a larger rider.
Rancher TRX 350 TM (4.9) - Most basic Rancher model with 2 wheel drive and air cooled 330cc engine.
Rancher 4x4 TRX 350 FM - (4.80) - Basic solid utility ATV with 4WD and manual transmission. This one does most of what anyone would ever want.
Rancher ES TRX350TE - (4.89) - Two wheel drive version of the electric shift Rancher. Owner satisfaction remains high in spite of a few more problems with the electric shifting.
TRX 250 EX - (4.91) - The semi-Sport Quad that everyone loves. Simplicity helps the reliability and ease of maintenance.
TRX 400 EX - (4.81) - Great all around Sport Quad. Reverse gear makes trail riding a lot easier.
TRX 450R - (4.82) - Highly tuned Sport Quad that racers love.
2004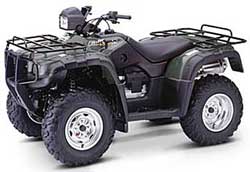 Rubicon made the list for 2004.
Foreman TRX 450 FM - (4.82) - Manual shifting utility 4x4 with automatic clutch. Give your left foot something to do.
Foreman ES TRX 450 FE - (4.86) - Electronic shifting for those that don't like to use their feet. Good all around used Honda ATV for chores or trail riding.
Foreman Rubicon - (4.84) - Larger and with more power than the Ranchers. Unique automatic transmission with electronic controls.
Recon ES TRX250TE - (4.82) - The basic Recon gets electric shifting. The 250 Recons are favored by owners for their basic simplicity and value.
Sportrax 400 EX - (4.80) - Stone reliable Sport Quad. Sportrax 450R - (4.77) - One of the most solid high performance Sport Quads ever.
Sportrax 450R - (4.77) - A racer makes the list! As hard as most of these sport quads are ridden, that's amazing. No electric start for this year yet, but it's not that hard to kick start.
2003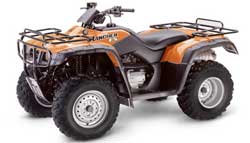 Rancher TRX 350FE had a perf et score
Rancher 4X4 ES TRX350FE - (5.0) - Basic, simple, reliable, mid-size, and with a perfect owner satisfaction score! Electric shifting is a favorite feature.
Four Trax Recon - (4.88) - Basic 250cc small utility style used Honda ATV. Solid and reliable. No frills.
Foreman Rubicon - (4.84) - Good choice as a used Honda ATV utility model. 500 class 4x4 that can do it all.
Sportrax 250 - (4.85) - An entry level favorite due to its' simplicity and reliability. One of the best used 4 wheelers for beginners.
Sportrax 400 - (4.85) - Always near the top of anyone's favorite Sport ATV list.
Conclusion - Top Used Honda ATV Models
If you're in the market for a used ATV, any of the Honda models on our owner's top rated list would be great choices. Of course, finding a well maintained ATV in good condition should always be your goal.
Even though you may find a model off our list, if it has been abused or is in rough condition, you should be probably keep looking for a similar ATV in better shape. Not even a highly rated Honda can overcome severe neglect.
For more info and where to find the best deals - Go to Used Honda ATVs for Sale.
---
Honda ATV - Guide to all the Honda four wheeler models.
---