Best Used Polaris ATV Models.
2001 - 2017
The results are in! We have our list of the best used Polaris ATV models. Thousands of owner surveys don't lie but they do provide some interesting insights.
Owners were asked to score their Polaris ATVs in four categories:
1. Reliability
2. Comfort
3. Performance
4. Quality
Each category was scored from 1 for the worst to 5 for the best. Cumulative scores were totaled for each model. Our research found models with a total score of 4.80 or better. Models with too few survey results were eliminated because we didn't feel those average scores would be accurate.
Model years form 2001 thru 2017 are covered. Year and model are listed first, followed by the overall score.
Sportsman 500 is the most popular used Polaris ATV model.

Top Used Polaris ATV Models
2001 Sportsman 500 H.O. - (5.0)
The perfect score says a lot! Favorite features were ride, handling, and power. Not so favorite things were the weight (700lbs), and the variable locking front differential. Easily damaged footboards were a concern for a few owners.
Good mudding ability was mentioned but radiator clogging and overheating were a couple of things to watch out for. Some owners called it a "tank" because of it's ability to tow heavy loads and plow in low range.
Most owners mentioned outstanding reliability with only a few various problems after thousands of hard miles.
2002 Sportsman 500 H.O. - (4.83)
Favorite things were the same as the 2001 model with several owners saying this is their second Sportsman and many others claiming they recommended Sportsman models to friends and other riders.
Dislikes mentioned were the single linked braking system and the rear wheels only EBS (engine braking system). Easily damaged CV joint boots generated a few complaints. Overall reliability was listed as a plus.
2004 Magnum 330 4x4 - (4.83)
Owners actually seemed surprised by how well their Magnums performed. Maybe because of the smaller engine or lower price it's like they didn't really expect as much from this used Polaris ATV.
There were a few who thought more power would be nice. Most were surprised how well the Magnum handled trail riding and work chores. Reliability was rated as excellent with no significant problems.
We didn't really expect to see this model on the list, but would have to say it looks like the Magnum 330 over delivers!
2004 Sportsman 500 H.O. - (4.93)
Starting to see that owners like the Polaris Sportsman 500? The 2004 model keeps it up with several owners declaring it the "best overall ATV". Everything wasn't perfect with a few complaints about the lack of fuel capacity and the seemingly delicate CV boots. This was still the highest rated used Polaris ATV utility model.
2004 Sportsman 600 Twin - (4.88)
This model had a short run, but strangely had higher ratings than either of it's replacements - the 700 and 800 twins. Owners liked the low end torque and fuel mileage of the 600. More complaints about CVT belts getting wet and slipping showed up with this model for some reason. Several still didn't like the EBS.
As a best used Polaris ATV we don't know if the Sportsman 600 should be on the list due to concerns about replacement parts. Short run models sometimes aren't supported very well when it comes to parts supplies.
But it definitely scored well enough to be included, so we'll let you decide. We just recommend a little homework on the parts situation before you buy one.
2005 Predator 500 - (4.8)
Another Predator sport quad makes the list with an outstanding score! Guess all those "Sport Quad of the Year" awards weren't a fluke.
The 2005 models came with a reverse gear, Fox double adjustable aluminum shocks, chromoly axle, and radial tires. Owner loyalty for these things borders on a cult!
That shouldn't be a surprise - It just proves our point that a simple quad usually equals a reliable quad. And it doesn't get much simpler than a sport quad.
2006 Predator 500 - (4.92)
Looks like the Polaris Predator has a lot of fans! It gets a lot of compliments on its' great all around performance. Dunes, tight trails, open trails, and all kinds of terrain in between are handled well by this sport quad.
Most owners felt it was easier to ride and more forgiving than the all out racing 450 class quads. Reliability was also regarded as better due to the less high strung tuning of the Predator.
2006 Sportsman X2 - (4.92)
The X2 adds the ability to take a passenger with you. Longer wheelbase and more weight than the standard Sportsman. Owners liked the good ride and stable handling of the longer wheelbase. A little tougher to get through tight trails but the turf mode rear differential does help. A very few complaints about rapid wear of the transmission belt, but the X2 was the highest rated Sportsman on the list.
2007 Outlaw 500 - (4.86)
The Outlaw was the first sport ATV with an IRS rear suspension. Add the power from an engine supplied by KTM, and owners really loved this quad. Many mentioned the good ride, traction, and handling on rough trails as favorite traits.
Complaints were fairly minor. Several said they thought first gear was a little too tall for tighter trails. A significant number had problems with the seat coming loose, but most had found a suitable fix for it.
2008 700 Sportsman EFI X2 - (4.88)
Owners appreciated the versatility of this long wheel base utility ATV. They liked the interchangeable passenger seat/dump box combination. The X2 is one of a few ATVs designed to carry a passenger, and that was mentioned as a big selling point.
You would think with the availability of bigger engine models there would have been some dissatisfaction with the smaller 700 engine. But we found just the opposite with many owners stating they wouldn't need or want more power.
2008 Outlaw 525S - (5.0)
We don't see very many perfect scores in these surveys, but owners absolutely loved the big Outlaw. Many also mentioned being a little intimidated by it, so fair warning. This is a serious go fast machine! The KTM engine makes big power and the Fox suspension helps put it to the ground.
Judging by owners comments, the Outlaw seems to be equally at home on the dunes, trails, and motocross track. As a used Polaris ATV, it may have lost some edge as a racing ATV, but it should still be more than enough for most trail and fun riding.
2009 Sportsman 550 XP EFI w/EPS - (4.8)
This is the first appearance of an XP model on our list. Interestingly, it's the 550 rather than the more highly touted 850. We feel at lest a little vindicated because we felt after testing both that the 550 was the better ATV for most folks.
Owners mentioned the great balance of power and handling, the comfortable ride, and the ease of riding with the new electric power steering.
Reliability and durability were also mentioned as favorite features of the 550 XP.
Some thought the ATV was too noisy, and we noticed a few complaints about the clutch engagement. As competitive as the mid size class is, there were remarkably few negative reviews.
We have started to include UTV models with the used Polaris ATV models due to their popularity.
2010 Ranger RZR 800 - (5.0)
First time the RZR made the top of the list. Several owners report switching from ATVs to a UTV for the first time. Many admitted they had concerns about the durability of the larger UTV, but were surprised at the toughness of the RZR.
2010 Polaris Sportsman 800 - (5.0)
Owners loved the ride and the power to pull and haul heavy loads over rough terrain. A few complaints about a sensitive throttle but most said they quickly adapted.
2010 Sportsman 550 X2 - (5.0)
It seems the 2 place 550 hit the sweet spot with owners. Very enthusiastic replies about overall satisfaction. Most owners used these strictly for recreational riding.
2010 Sportsman 550 - (4.8)
The base model 550 seemed to be favored by owners looking for more utility than any other feature. They didn't want or need power steering and didn't seem to miss it.
Several owners mentioned using their Sportsman for farm chores including plowing and towing. Others used theirs heavily for hunting. Oddly, not a single owner mentioned a lack of power with the smaller 550 engine.
They did mention the simplicity and reliability of the design, as well as the extra comfort from having more room in the footboard and seat area.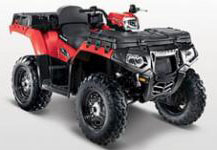 Polaris Sportsman 550 X2.
Polaris Sportsman 800.
The most popular used Polaris ATV model continues to be the Sportsman, now with more model choices and engine sizes.
From 2011 and newer, only used Polaris ATV models with a perfect 5.0 score will be listed.
2011 Ranger RZR 800 S 
Owners mentioned the safety features and overall toughness, along with the good ride. Several called out the ability to handle rough terrain and even snow.
2011 Ranger RZR XP 900 
Several replies said they felt the XP 900 was significantly ahead of the competition as reasons for their high rating.
2011 Ranger RZR 4 800 EPS 
Owners loved being able to take more passengers with them. Most seemed to use the RZR 4 for recreational riding. They liked the ride and handling agility for a machine this size.
2011 Polaris Outlaw 525 IRS 
Many responses saying this was the best sport ATV for handling the biggest variety of riding situations. From steep hills, tight trails, wide open sand dunes, and rough terrain, they felt the Outlaw worked the best. One of the most sought after used Polaris ATV sport models.
2011 Sportsman 500 HO 
Sportsman 500 continues to be an owner favorite. Comfortable ride and good durability are mentioned most often.
2011 Sportsman 850 EPS 
People loved these! Especially larger riders that said they felt more comfortable on the 850 than any other ATV. Ride, handling, power, and the confidence in the machine to go anywhere were mentioned as favorite features. Several thought the big Sportsman offered better value for the price than other makes and models.  
2012 Ranger RZR 800 
All day riding fun is a common reply in the survey. Owners felt the RZR 800 had a combination of features that added up to a high level of overall satisfaction.
2012 Ranger RZR S 800
Several replies noted the "fun factor" that made you want to keep riding all day. 
2012 Ranger RZR XP 900
Power, handling, ride, and overall speed were all listed as favorite features. Reliability kept owners happy.
2012 Sportsman 500 HO
The survey answers show that folks really use these Sportsman models. For just about anything you can imagine! They plow snow one day, go mudding the next, use the cargo capacity to load it up, and finish off with some trail riding. This used Polaris ATV is regarded a best value by many owners.
2012 Sportsman 550 EPS
Owners said they just felt this model offered a better value and features than any others in the category.
2012 Sportsman XP 850 EPS
Basically the same comments as the 2011 model. Power and plush ride were still favorites.
2013 Ranger RZR 570
Durability and the power of the 570 engine were listed as favorites. Several owners said they were surprised at how much abuse the RZR could take and keep going.
2013 Sportsman 550
We saw comments like "tank", unbreakable, etc. in reference to this model. It honestly sounded like some folks were trying to see how much abuse this thing would take. Judging from the perfect rating, it must have been a lot!
2013 Sportsman X2 550 
The longer wheel base and cargo box/seat combo were favorites. This model gives you all the favorite features of the Sportsman 550 in a slightly larger package with even more versatility.  
2014 Ranger 400
Several people chose this model to transition from ATVs into a UTV. Most were surprised and impressed with the capabilities of the little Ranger. Good low end power was a favorite.
2014 Ranger EV
The electric Ranger is a niche model, but owners were very satisfied with this one. There isn't a lot of competition in this segment, so we think most folks gave this one a top rating for the way it works.
2014 RZR 800 XC
This one seemed to get high marks for being good at what it's supposed to be good at. Which is navigating tight, narrow trails at relatively low speed. 
2014 Ranger 570 EPS
Versatility and value were the most popular features. The 570 engines seem to be gaining fans, as several mention it as a notable feature.
UTV models have become so numerous, we will cover them in a different article after 2014.  
2015 Sportsman EXT
A surprising result with the 325 ACE engine installed in a Sportsman chassis. Value price was a draw for many. Most owners felt the EXT had enough power to do everything they wanted, if just a little slower.
2015 Sportsman 570
Consistent comments about the good power versus engine size, and the comfortable ride. Several mentioned the good value for the price.
2015 Sportsman Touring 850 SP
Sportsman 850 models continue to be popular with owners. They liked the versatility of this touring version, along with the power and smooth ride.
ACE models will be listed with other used Polaris ATV models.
2016 ACE 900 SP
The 900 engine in the ACE chassis motivated owners to give this model the highest rating. Favorite features were power and handling. Power steering was considered a must have. 
2016 Sportsman 570
Reviews were almost evenly split between those that liked the utility function and those that appreciated the recreational riding ability. No wonder the Sportsman is an overall favorite!
2017 Polaris Sportsman 850 High Lifter
Specialty model for ATV mud riding. But owners gave them the highest rating possible.
2017 Polaris Sportsman 570 EPS
Versatility was the favorite feature talked about in owner replies. They like the way this used Polaris ATV could work around the home, pull a trailer, plow some snow, and then go trail or mud riding. And perform well at all of it.
2017 Polaris Sportsman XP 1000 High Lifter
Similar comments to the 850 model, only with more power. Owners felt invincible with the 1000, but also felt all that power was very controllable.
Best Used Polaris ATV Models - Conclusion.
There you have it. The best of the best in used Polaris ATVs. That's not to say there aren't other good choices in used ATVs, but the ones on this list are tops. We don't think it's any accident that so many of the mid size Sportsman models are on the list. There's no doubt it's one of the best utility models on the used ATV market.
---