ATV Crashes - Learn How to Reduce Your Risk of Injury.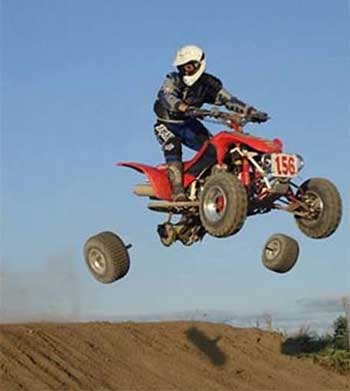 How to avoid ATV crashes - and how to avoid injuries if you don't.
Injuries resulting from ATV crashes are an all too common occurrence. So how do you minimize your chances of being injured? This is one of those cases when the best advice is the most obvious. Don't crash.
But if you can't resist the temptation to become a yard dart, we'll give you some tips to try to keep you walking upright. First off, how about some tips on not being involved in ATV wrecks at all?
Best Ways to Avoid ATV Crashes.
Attend a certified ATV rider training course. That will give you a great head start on learning good riding techniques that will stay with you a lifetime.


Gain experience. Give yourself time to get used to your ATV. A fourth of all injuries happen to riders with less than a month of experience. A full half of all injuries happen to those with less than a year of riding experience.


Don't drink or do drugs and then ride. The latest US government reports show that over 30% of all ATV crashes involve some type of rider impairment.


Ride at a reasonable speed for you, the ATV, and the conditions. ATVs are designed to go over extreme terrain and they do that very well. They are not intended for high speeds. A high center of gravity, narrow track width, short wheelbase, and low pressure tires, don't add up to high speed stability.


Don't overload your 4 wheeler, and don't carry a passenger on a machine not intended for it. Too much weight on either end of your quad will make it much more unstable. A passenger on the back could even prevent you from being able to steer! Your chances of flipping over or rolling over increase dramatically when your ATV has an unbalanced load. And those are the two main causes of most injuries and fatalities in ATV crashes.


Don't make unapproved modifications to your four wheeler. Changing wheel and tire sizes, suspension mods, lift kits, etc., can really screw up the handling of your ATV if not done correctly.


Follow a regular maintenance schedule. Be sure to check the condition of tires, steering, suspension, and brakes before every ride. Pilots call it a pre-flight - but flight is what you really want to avoid in this case!


Use good, common sense judgment. The best advice here is don't tackle obstacles you don't know you can handle. Don't ride faster than you can see in unfamiliar areas. Don't try to cross a suspended bridge with broken or rotted planks. (That might have been in an Indiana Jones movie - good advice anyway). You get the picture. Don't do stupid stuff. Remember the equation - Stupid x Speed = Pain. More importantly, don't involve someone else in your stupid stuff. The pain of causing a friend or loved one to be hurt is often worse than your own physical pain.
Best Ways to Reduce Injuries in ATV Crashes.
OK, let's suppose the worst has happened. You're flying at low altitude looking for a soft spot to land. What should you be wearing and what should you do.
Wear a helmet. You've heard it a million times. You know deep down it's true. Just do it. Your odds of survival just improved 42%. And you just reduced the possibility of non-fatal head injury by 64%. To be or not to be a vegetable - that is the question.


Wear a jacket with a good spine protector. Central nervous system injuries account for about 80% of all fatalities from ATV crashes. Spinal Chord injuries are on the list right behind head injuries. While you're at it - you might as well add elbow and forearm protection to that jacket. It doesn't cost much more and you won't even know it's there. Except when you bounce off some rocks and don't even feel it! Another option is the motocross style chest, shoulder, and back protector. In hot weather this rig may be a little cooler while still giving good protection.


Add a neck brace and protector if you want to be thorough. It looks like a foam rubber donut but can keep your neck from getting overextended. Also protects the collarbone from the bottom of the helmet.


Wear goggles. Ever been hit in the eye by a bumblebee at a closing speed of about 60 mph? It ain't fun. My eyes aren't what they used to be but I would like to preserve the vision I have left. Just think about how irritating a little speck of something is when it gets in your eye. Now think about that little speck being jammed into your eye at about 50 mph. You don't really need that kind of aggravation do you?


Wear gloves. They don't have to be anything fancy. Good deerskin or elk skin gloves will work just fine. If you want to step up to a padded motocross style glove, it would give you that little extra bit of protection.


Wear long pants. Padded motocross type pants for the ultimate insurance against injury.


Wear boots or shoes that cover the ankles. Once again, motocross boots are the best. Bike racers have been crashing their brains out for decades so their stuff is pretty well tested. (I know - I was one).


Try to get away from the ATV in a crash. Most injuries happen when the machine rolls over on the rider.


Tuck and roll before you hit the ground. Skydivers are really good at this. Basically, cross your arms across your chest, tuck your chin down, and dip your shoulder as you hit the ground. Think rolling fetal position. Stay curled up until you stop moving. Don't stick your arms and hands out to try to break the fall. I know that's a hard instinct to overcome. Practice on a mat or mattress, or a sawdust pile or something relatively soft if you feel the need.
This police training video shows the technique as used for bike crashes. It's a good demonstration of what we are trying to do in ATV crashes.
You can see from the things covered in this report that a little common sense, plus some training and preparation, can drastically reduce your risk of injury from ATV crashes.
---
US Consumer Products Safety Commission Annual ATV Report.
ATV Crashes
---