Youth ATV Safety - Three Most Important Tips.
Youth ATV Safety should be at the top of your list if you're even thinking about getting the tike a four wheeler. Even if your retirement plan doesn't depend on your offspring, you want to keep the little one safe. After all, these are the people that will decide if you end up in a rest home or not. (AARP prefers the term "retirement center").
These tips focus on what we think are the three most critical factors concerning ATV safety for your kids. Education, supervision, and proper riding gear. We cover each one in more detail below.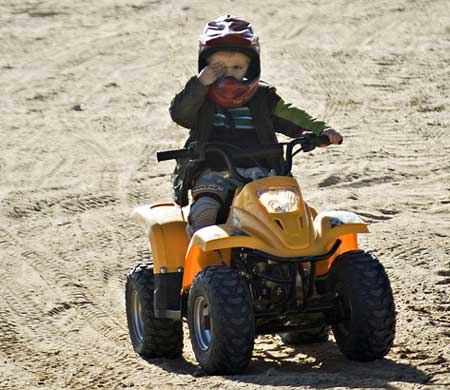 Proper training and safety gear will improve your child's ATV safety.
Education - This would mean you and your kids. Even if you think you know what's going on, you can always learn something new. A good rider education course is my favorite place to start.
I took a course after riding and racing more than 30 years and was shocked at how much I learned. Chances are you will be too. There's a reason this is listed first, please don't skip it.
Check with your local ATV dealers about courses in your area or click this link for more info. ATV Safety Institute
Supervision - Simply put, you or some other responsible adult should keep your kid in sight at all times. This ATV safety tip will cost you nothing but your attention. In the entire animal kingdom, humans may do the worst job of watching their young. Grizzly bears don't let their cubs out of sight, neither should you.
Safety Gear - I love safety gear. Over the years, I've had occasion to test a lot of it first hand. One thing I always noticed as I was impersonating Superman flying through the air ... never regretting wearing it! In fact, I usually wished for more of it.
This list will give you the basics for youth ATV safety gear first - then some options that can be added.
Youth ATV Safety Gear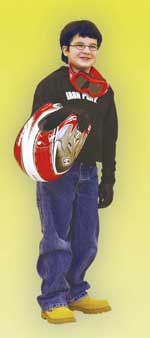 Helmet - Absolutely, positively, NEVER let your child get on an ATV without a helmet. Remember how you freaked out when you accidentally dropped him on his head? This is 10 times worse.

A helmet is the most important piece of youth ATV safety equipment you can buy. Be sure to get a helmet that is at least DOT approved.

Kid's four wheelers are supposed to be fun. Not wearing a helmet is the quickest way to experience the opposite of that. Enough said.


Goggles - You know when your parents told you not to do certain things because "you could lose an eye like that"? Well, turns out when it comes to youth ATV safety, they would have been right.

You wouldn't let the little one stand in front of a sandblaster, so don't let 'em ride without eye protection. And goggles are the best eye protection.


Gloves - As I'm typing this, looking at the accumulation of scars on my hands from not wearing gloves, I can't get the word "idiot" out of my mind. Here's a great chance to force your will on your child - enjoy it! By the way, nothing fancy, any good, sturdy glove will do just fine.


Long sleeve shirt or jacket - Yes, even if it's hot. Just think how cool it will be not to have to call your wife to meet you at the emergency room to get juniors elbow stitched up.


Long pants - Same as above. Just substitute "knee" for elbow.


Boots or shoes that cover the ankles - Ever been riding and had a snake get wrapped around your ankle? I have and what a rush it was! Bet I pumped enough adrenaline to jump start Dick Cheney's heart. So why am I sharing that with you? Because you just never know what can jump off the ground and grab you ... or your kid.
That pretty well covers the basics of youth atv safety gear. Now we'll list a few options if things are starting to get a little more serious.
Advanced Youth ATV Rider Wear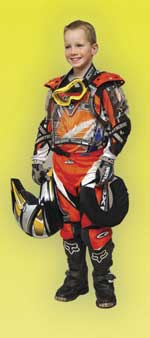 Upgrade to motocross racing style helmet - Designed for more protection at higher speeds.


Racing style motocross gloves - Same deal. Just a higher level of protection with more padding and tougher materials.


Padded motocross pants - More of the same. Extra padding and thickness in high impact areas like hips and knees.


Motocross boots - Still more of the above. They extend further up the leg and have built-in shin guards and ankle protection.


Chest protector - Protects the chest and rib area. Some models also have back protectors included.


Elbow and knee guards - If what you already have doesn't include these, they can be added separately.


Neck brace and protector - Keeps the neck from being overextended and helps protect the collar bone from the bottom of the helmet.
OK, all that could probably withstand a nuclear blast. It would certainly blast a hole in your wallet if you bought it all at once! The main point to remember is that the faster the kid goes, the more protection he needs.
Our three main ATV Safety Tips to remember are equal parts rider and parent education, appropriate riding gear, and supervision while riding. Follow those guidelines and you and your child should have a great ATV experience.
---
Youth ATV Guide from Youth ATV Safety
---