2019 Honda Talon

1000X and 1000R Model Overview.
"Life is Better Side by Side"
The 2019 Honda Talon is official! The biggest surprise is there are two of them. The Talon 1000X and the 1000R.
The X model has a shorter wheelbase, narrower track width, and less suspension travel. Honda says it was intended for maximum maneuverability in tighter situations.
The R model has a wheelbase about 5 inches longer, a track width about 5 inches wider, and about 5 inches more suspension travel. It's intended for higher speeds in more wide open spaces.
Honda Talon Features
Engine
The Talon engine is based on the same 999cc vertical twin from the Pioneer 1000. Externally, they look the same, internally, not so much. 
The Talon engine gets larger throttle bodies, bigger fuel injectors, more aggressive cam, different pistons and crankshaft, roller tipped exhaust valve rockers and automotive style rubber mounts.
The lubrication system is semi-dry sump to prevent oil starvation at extreme angles. Cooling is by an extra large front mounted radiator. 
All this adds up to more power higher in the rev range than the Pioneer. 104 hp and 8750 rpm redline to be exact.
Transmission / Final Drive
The dual clutch six speed transmission is also sourced from the Pioneer, but this one shifts 50% faster and has a heavier duty clutch.
It also has a true hi/lo range with a 42% gear reduction ratio for better low speed performance. Reverse gear has an 18% lower ratio.
The tranny has two automatic modes - standard and sport, and full manual mode. Sport mode extends the shifting points higher in the rev range. 
A nice feature is that the automatic modes can be overridden by the paddle shifters at any time without having to flip a switch.
I-4WD is Honda's name for their final drive system with an auto locking front diff based on traction control technology from the auto division.
The front diff stays open for better steering until the system senses wheel spin. Then, power is sent to the other side by applying brake pressure to the spinning wheel.
Honda calls the system in the Talon "second generation" and claims it works quicker and more efficiently than the Pioneer version.
The Honda Talon driveline also features bigger CV joints, axle shafts, and U-joints to survive the higher loads anticipated.
Suspension
This is the major difference between the Talon X and R models. The X is aimed at better maneuverability in tight quarters, while the R has more travel and longer wheelbase for better high speed stability.
---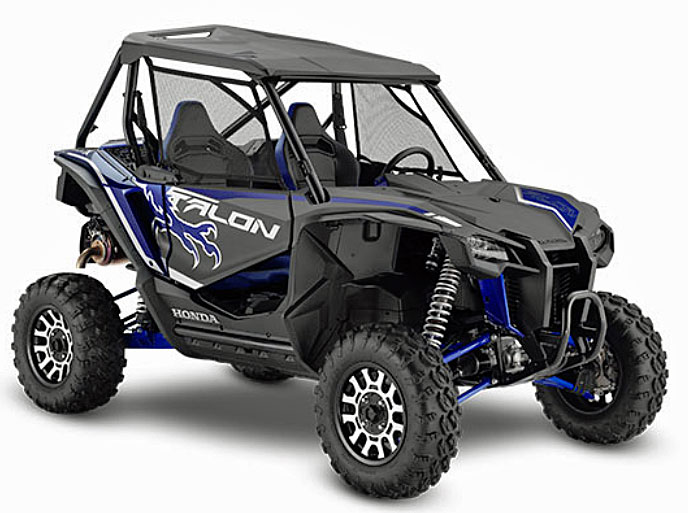 Talon X in Metallic Blue and Gray.
Talon X

FRONT SUSPENSION
Independent double A-arm
14.6 inches of travel
REAR SUSPENSION
3 link trailing arm
15.1 inches of travel
WIDTH / WHEELBASE
64.0 inches / 87.6 inches
TURNING RADIUS
---
Talon R in Pearl Green.
Talon R
FRONT SUSPENSION
Independent double A-arm
17.7 inches of travel
REAR SUSPENSION
4-link trailing arm
20.1 inches of travel
Rear anti-roll bar
WIDTH / WHEELBASE
68.4 inches / 92.7 inches
TURNING RADIUS

Both models get adjustable Fox Podium shocks with dual rate springs built to Honda specifications. 2.0 for the X and 2.5 for the R. 
The 4-link rear suspension of the Talon R has an added upper link for more strength and uses special mounting pivots to stabilize geometry throughout the wheel travel.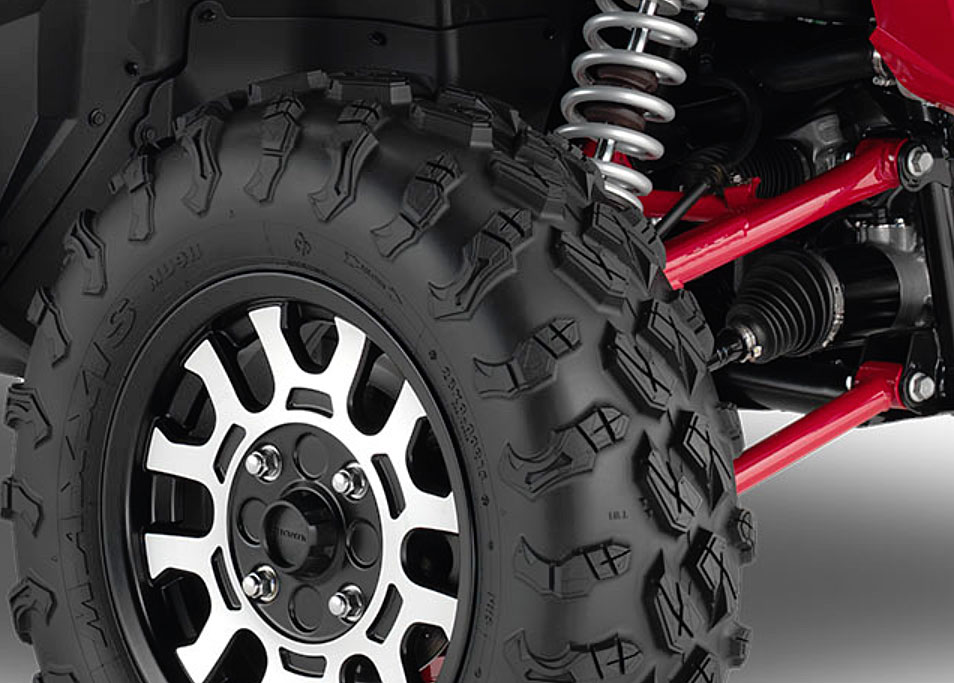 28 inch Maxxis tires designed for the Talon.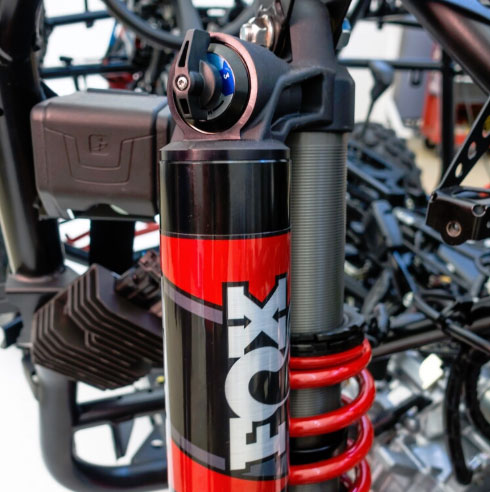 3 way adjustable Fox shocks.
Wheels / Tires
Wheels are 15 inch aluminum to clear the larger brakes of the Talon. Tires are 28 inch by Maxxis and were developed specifically for the Talons. The R gets black wheels.
Chassis
Talon 1000R chassis and roll cage.
Tubular and stamped steel chassis with a large diameter tubing full roll cage. 
Full length skid plates.
Outer front CV guards. 
Brakes and Steering
250mm discs front and rear with twin piston calipers in front and single piston at the rear. Honda borrows some more technology from the automotive side with EBD (electronic brakeforce distribution) that optimizes front to rear brake force in two wheel drive.
The Talon gets speed sensitive electric power steering and a fully adjustable tilt steering wheel.
Body and Interior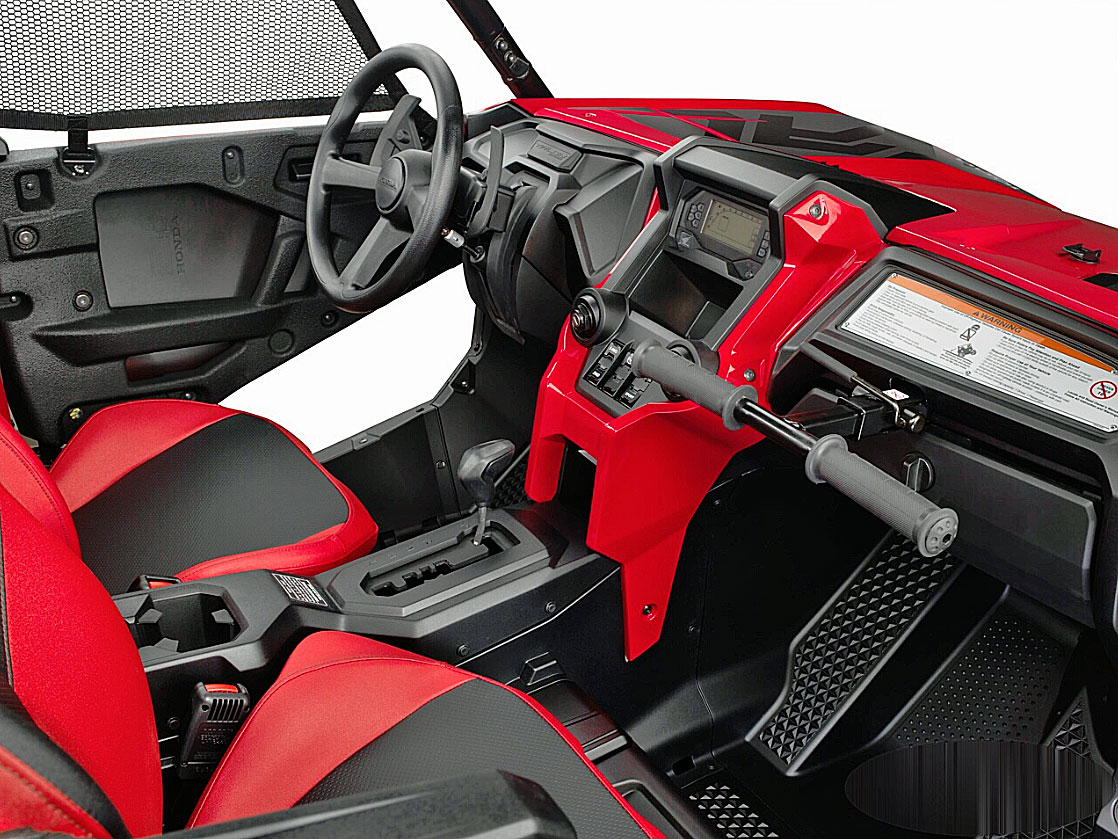 The seats are slotted for four point safety harnesses. 
Automotive style fore-and-aft seat adjustment. 
Center mounted digital multi-function gauge and rocker switch controls.
Sealed glove box.
Small rear bed with 299 lb capacity. 
Molded plastic top is standard - drip rail on the front - slots on the rear to prevent dust from blowing back into the interior and allow rear facing towing.
Plastic 3/4 doors with interior panels and handles on the inside.
Driver and passenger door nets with quick clips.
Tool kit under the passenger seat.
Slots behind doors create circulation around the shocks for better cooling. 
Standard front bumper. 
Painted plastic body panels.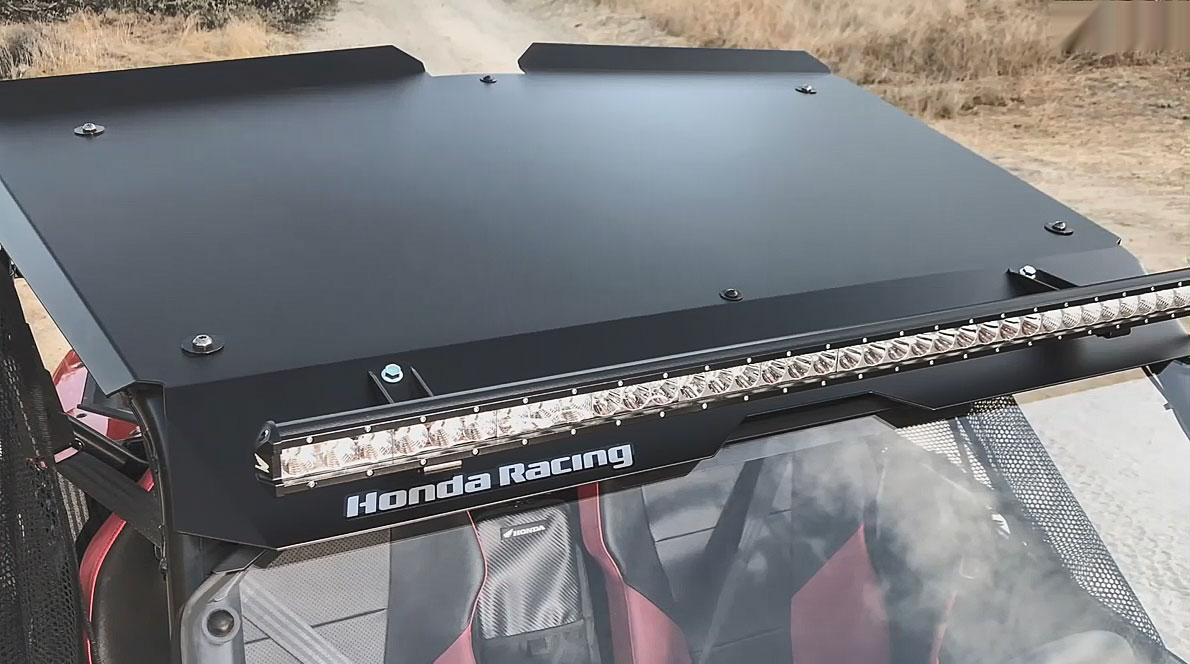 Optional aluminum roof with light bar.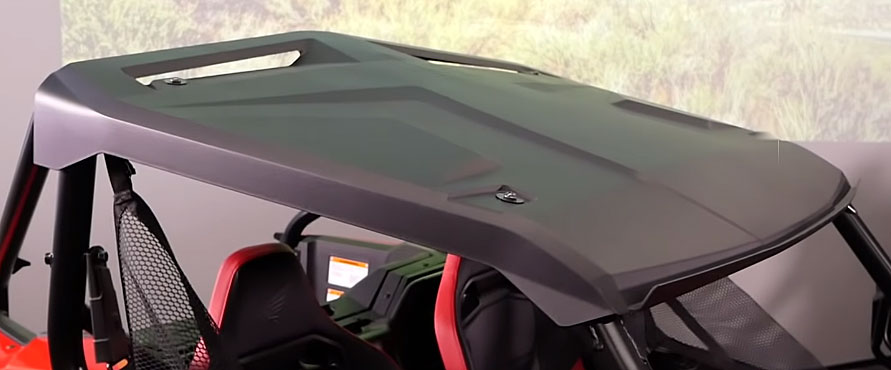 Standard plastic roof with front drip rail and rear vents.
---
---
---