Best Kids ATVs by Age Group.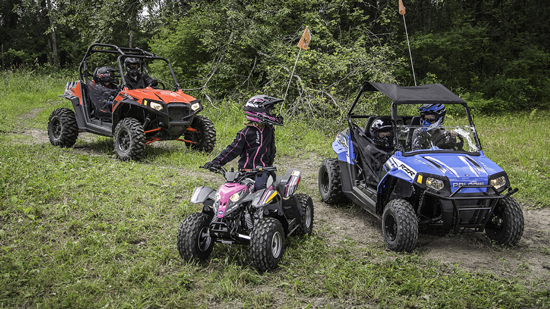 What are the best kids ATVs? That answer depends a lot on you and your kid. How old are they? What size are they? Are you comfortable handling some basic tools? And the big one - how much money do you want to spend?
All good questions that deserve answers. That's why we considered the pros and cons of gas versus electric, cost comparisons of the various makes and models, and the safety factor of models in each segment. So let's get started.
Electric or Gas?
We though it best to divide things up based on the most popular youth ATV age groups. The youngest groups were limited to electric kids ATVs, so that was easy. When both gas and electric were eligible, things got tougher. 
Mini Electric for 1-3 - Fischer-Price Lil'Quad is the most popular choice. Top speed of about 2mph.
Electric for under 6 - Fischer-Price Power Wheels is top rated. It has 2 speed ranges. 2.5 mph in low and 5 mph in high.
Both models are widely sold at many major retail stores. Pricing can get competitive, so it pays to check for sales.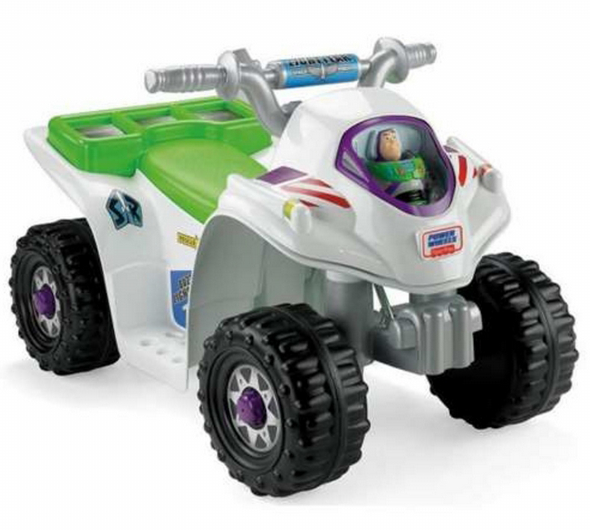 The Fischer-Price Lil' Quad is our top choice for under age 3 kids ATVs.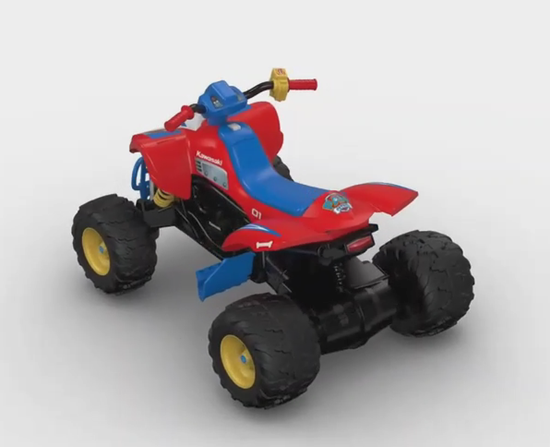 The Power Wheels models from Fischer-Price are top rated by parents for kids 3-6.
Choice of electric or gas for over 6 - Higher performance electric models with speeds in the 8 to 15 mph range. 50cc gas with similar speed range. There is a big difference in price with name brand gas powered costing around $2,000 and electric less than $1,000. 
Name brand 50cc models are all similar. Several come with 12 month warranties. There's much better dealer support than the electric kids ATVs. Best way to choose may be which dealer is closest or you like best. 
Rosso is one of the higher rated performance electric ATVs.
Suzuki Quadsport Z50 is a top rated 50cc gas model.
Higher performance electric and gas for over 10 - Gas offers more choices and performance at this level. Electric models with larger frames and more power. Top speeds max out at around 15 mph. Gas ATVs are much faster, with speeds up to almost 30 mph. Most can be limited to around 15 mph.
Most 90+cc models are similar in looks, performance, and price. Several have a longer 12 month warranty. Same advice as 50cc. Consider the dealer as much as the kids ATVs. Some newer models from Polaris offer more modern fuel injection and parental speed controls. 
Polaris Sportsman 110 offers utility styling with front and rear racks, and fuel injection.
Honda TRX 90X has a unique manual shift transmission and 12 month warranty.
Cost Comparisons

Electric or gas initial cost - Electric is much less for youngest kids. About half or less for 6+ age group. Less than half for older and larger kids.
Name brand or cheap? - Non-name brand is about half or less for gas powered. Dealers come and go, subject to recalls, parts can be hard to get. Reliability and quality problems. Bad resale value.
Name brand has more stable dealer network, parts availability, better quality and reliability, less hassle to run, much better resale. Less costly overall. 
Operating cost - Less for electric, you fuel by plugging in outlet versus gas. Less maintenance with fewer parts and systems. Downside is much shorter riding time duration unless you want to change batteries. More expense and hassle to do that makes gas more attractive.
Resale value - Name brands win no contest. Most models haven't changed much over the last decade or more. Used in good shape looks identical to new and will perform the same. Used electric market isn't very strong in most areas. Left to online auction sites.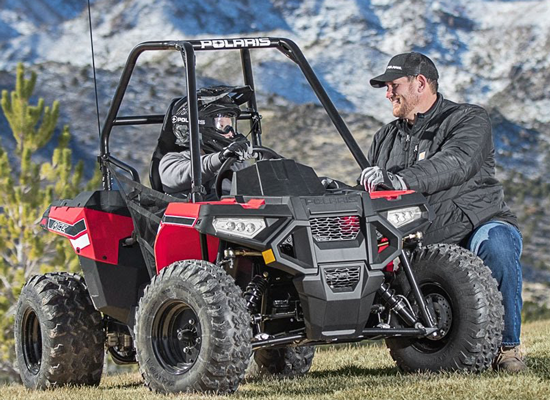 Polaris Ace 150 offers new safety features for kids ATVs. Roll cage, seat belts, and side nets.
Safety Comparisons

ATV or UTV style? - New UTV and single seater with roll cages, seat belts, and side nets are much safer. ATVs are relatively safe at lower speeds. Less so as speed increases. Requires more rider safety gear.
Speed differences and parental controls - Below age 3 is usually limited to around 2 mph. Up to age 6 can be limited from about 2 - 5 mph. Over 6 years old with electric or gas can go up to 15 mph and over age 10 can go 30 mph or more for gas.
Most have some kind of parental speed controls from fairly simple throttle limiters, to speed limiting transmission collars, to changing fuses in "speed circuits", The latest are app based controls that operate from a smart phone. Expect to see more of these.
Newest trends in safety with app controls - Polaris setting new safety standards with app based speed controls and ignition locks and GPS based systems to limit riding areas. 
Best Kids ATVs - Conclusions.
In the youngest under 6 category, we highly recommend the Fischer-Price electric kids ATVs. They're widely available at many large retail stores and relatively inexpensive. The Lil' Quad and Power Wheels models are also the highest rated by owners.
For the 6-10 age group, we like the name brand gas models like the Suzuki Z50 and Kawasaki KFX 50 with their 12 month warranties and extensive dealer networks. The electric models in this category don't really have dealer networks so you're on your own for the most part. 
The over 10 age group has a large number of choices in both style and manufacturer. Stick with a name brand and a good dealer and you can't really go wrong.
If safety is your most important criteria, take a serious look at the single seater Ace and side by side Ranger models from Polaris.
Related Articles:
Best Kids Electric ATVs - Top owner rated models.
Top Gas Powered Youth ATVs - Best choices for each age group.
Best Cheap Kids ATVs - Best values not lowest price.
---
---