Cheap Kids ATVs - Best Values
By cheap kids atvs, we'll assume that to mean inexpensive or lower cost, rather than cheap quality or cheaply made. Lower cost but cheaply made ATVs rarely end being the cheapest to own and operate. But there is a good compromise between low cost and good value.  
In our opinion, the best value low cost atvs for small kids are electric. Electric atvs cost less, are easier to maintain, easier to operate, and can be easily upgraded for more performance as riders gain size and experience.
Top of the line electric atvs will cost less than the cheapest gas kids atvs. The gas atvs require much more maintenance and mechanical know how to operate.  

Gas atvs are fine for older, larger, and more experienced kids. They're not the best for beginners. And absolutely not for toddlers!
Best Cheap Kids ATVs by Age Group
Toddlers 12-36 months
Fischer-Price Lil Quad - Under$100
Best for very small kids first ATV.
Drives 2 mph max., forward only, on hard surfaces & grass.
6V Rechargeable System; includes battery & charger.
Maximum weight 40 lbs. 
One Year Power Wheels® Bumper-To-Bumper Warranty (battery excluded).
Features easy push button controls for stop and go. Footrest are extra low to make for easy on and off. Also designed to help keep child's feet on the ATV.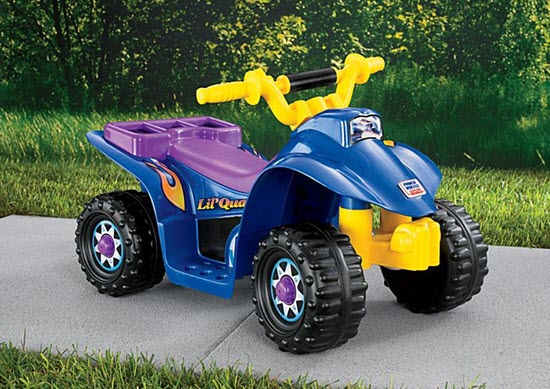 Fischer-Price Lil Quad for Toddlers
Age 3-7 Years
Fischer-Price Power Wheels - under $250
3 and 6 mph max. forward; 3 mph max. reverse.
Drives on hard surfaces, grass and rough terrain.
High speed lock-out for beginners.
Power Lock® Brakes.
Includes 12-volt battery and charger
Maximum Weight: 65 lbs 

Twist grip throttle
The Power Wheels models are made mostly of molded plastic, including wheels and tires. That can limit traction on many surfaces which is ok for small kids.
There are lots of styles to choose from in the Power Wheels line including sport style ATVs, dune buggies, and theme models like Barbie and Batman. 
For cheap kids ATVs, the Power Wheels models were the highest rated by owners.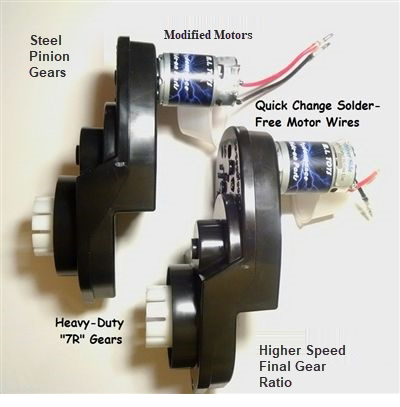 Performance upgrade for Power Wheels.
Performance upgrades including higher voltage battery, more powerful motor, rubber tires, etc. are widely available. 
That allows you to get into a kids ATV for a relatively cheap price, and then upgrade performance without having to buy another higher priced model.
Don't get it wrong though, it won't equal the performance or toughness of the higher dollar Rosso or Razor models. But it is a good way to extend the useful life of what you already have.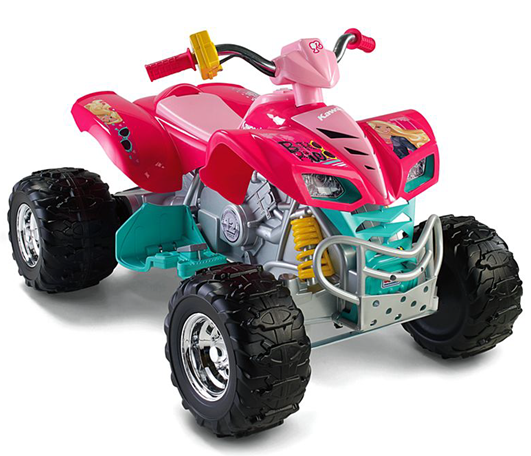 Fischer-Price Power Wheels KFX Barbie Model
Next level of performance are metal tube frame atvs with better suspension, more power and speed.
These cheap kids ATVs are very similar to gas powered models. More of a true electric ATV than a ride on toy. Just sized for smaller kids than most gas youth ATVs.
Rosso Motors and Razor are the highest rated manufacturer for these.

Rosso eQuad S - $525
ages 3 - 8 years
36V battery and 500W motor provide great power and range
all-terrain rubber tires and a shock absorbing suspension package
disc brake system and 3-speed governor with reverse
Weight Capacity - 90lbs
Top Speed - 13mph
Maximum Range - 2hrs.
Charge Time - 6hrs.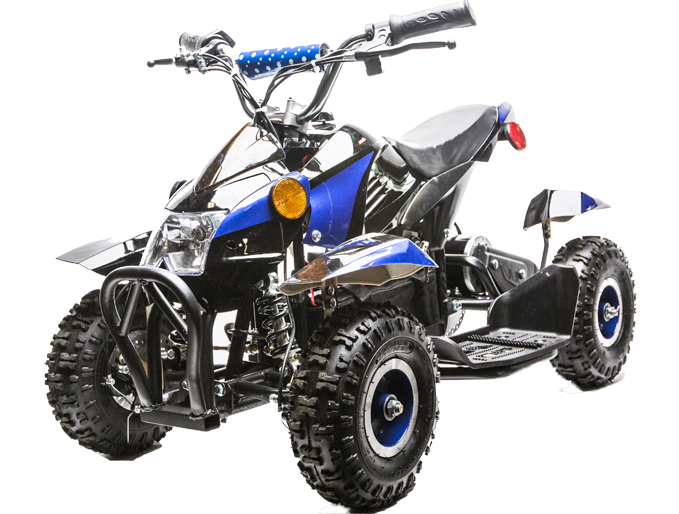 Rosso Motors eQuad S
Rosso eQuad X - $575
ages 3 - 8 years
36V battery and 800W motor
Upgraded from Rosso Motors Kids 36V/500W Sport ATV with features including more power, bigger tires, front & rear utility racks and dual LED headlights.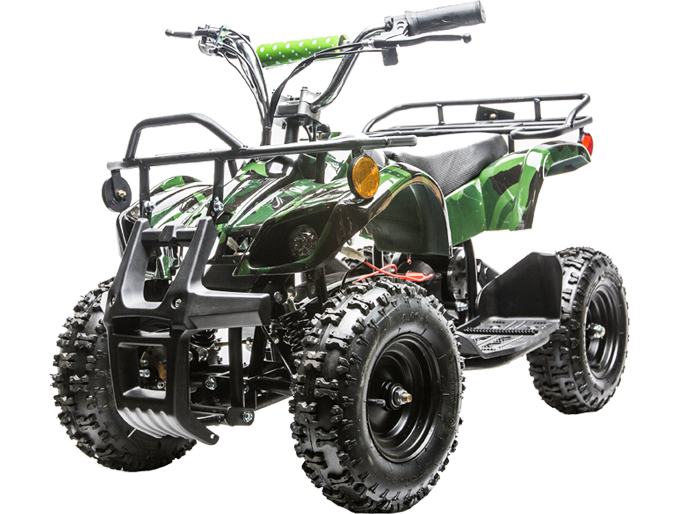 Rosso Motors eQuad X
Razor Dirt Quad - $479
8 and up 
8mph 
120lbs 
40 min. run time.
Rear suspension w/ disc brake.
Adjustable riser handlebar for better fit.
Twist grip throttle and hand brake lever.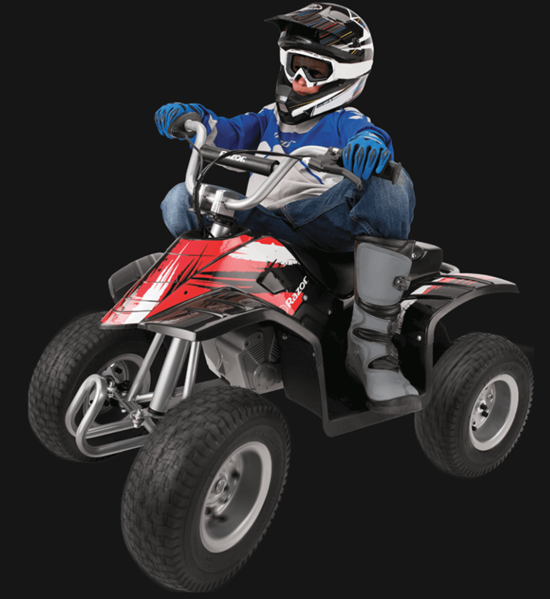 Razor Dirt Quad
Razor Dirt Quad 500 - $599
14 and up 
9mph
220lbs 
1 hr. run time.
Rear suspension and disc brake.
Larger frame and 500W hi-torque motor.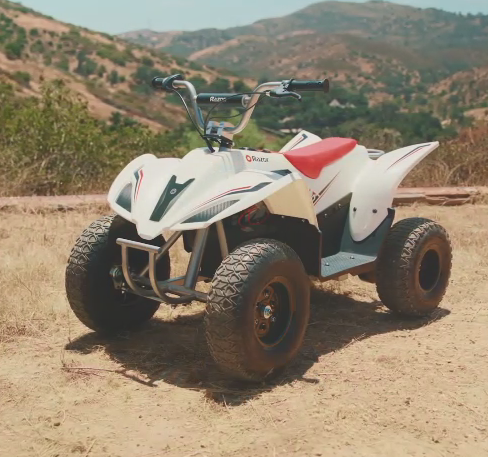 Razor Dirt Quad 500
Cheap Kids ATVs - Conclusion
At a price range of under $100 - to just under $600, you can see what a value these youth electric ATVs are compared to gas models. Easy maintenance, and much less of it, along with plug and play simplicity, keep the cost of ownership lowl
It's the best way we know to get your kids on ATVs without sinking a ton of money doing it.
---
Cheap Kids ATVs
---