Best Kids Electric ATV - Top Rated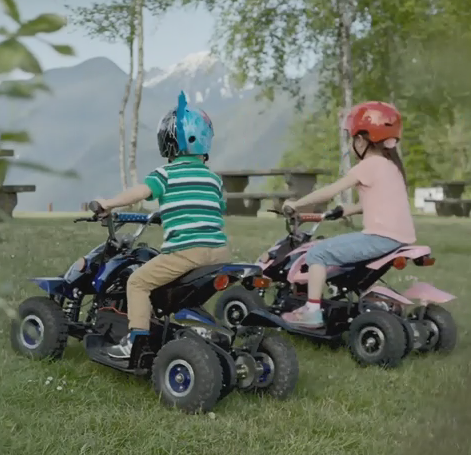 We narrowed our Best Kids Electric ATV choices down to this list after reviewing and analyzing thousands of owner surveys. We think it offers a good mix between inexpensive entry level models, mid-level models for bigger kids, and more serious performance electric youth ATVs.
Top Kids Electric ATV Manufacturers and Models.
---
Fisher-Price Mattel Power Wheels -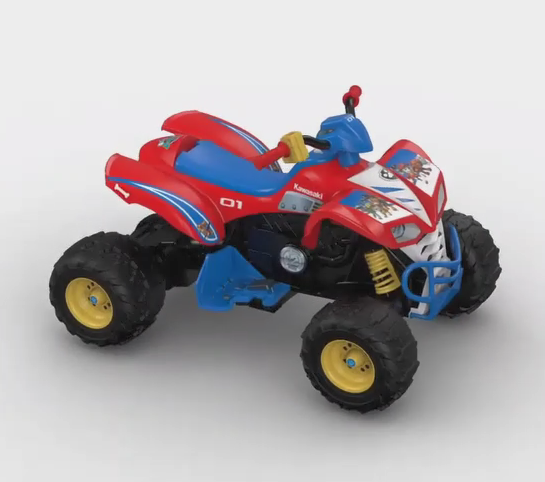 Hot Wheels Kawasaki KFX - $240
12v battery
3-7 age
65 lbs
2.5-5 mph
Hard surface, grass, rough terrain
Most popular model by far in terms of numbers sold, and consistently the highest rated. The Power Wheels models are widely available both in retail stores and online. Performance upgrades, as well as replacement parts are also easy to find.
Has 2 forward speeds and reverse. Forward speed has a low of 2.5 miles per hour and a high of 5 miles per hour. The higher speed can be locked out by parents.
Has a Twist Grip throttle and is equipped with what Fisher-Price calls "power brakes". Also includes a 12 volt battery charger. Styled to look like a sport ATV.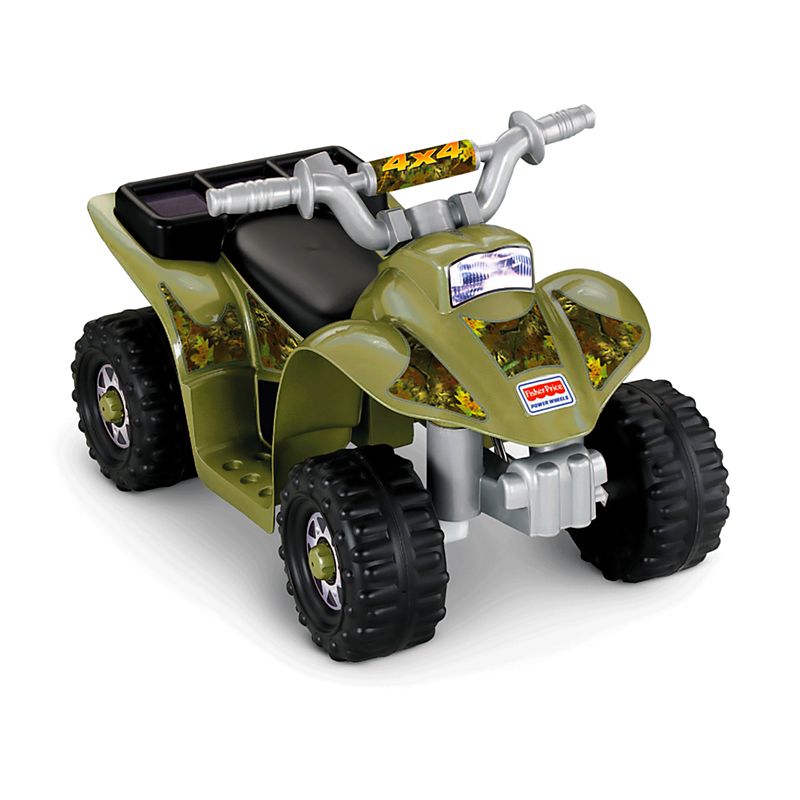 Kawasaki Lil quad - $85
6V battery
1-3 age
40lbs
2 mph
Hard surface and grass
Operates by push button on handlebar. Built in footrest for added security. Includes 6 volt battery and charger. Highest rated kids electric ATV for this age group. 
Rosso Motors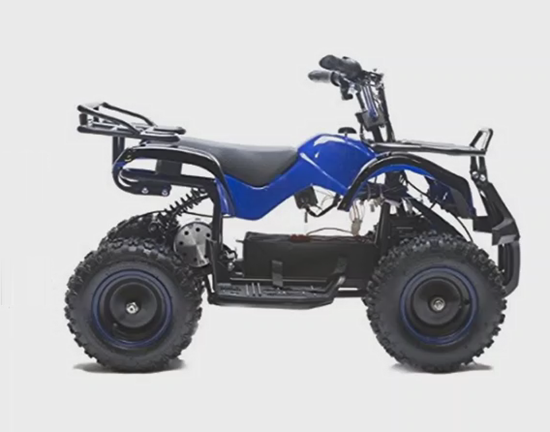 EQuad S - $525
36V
3-8 age
90lbs
13 mph top speed
Any surface
Rosso Motors offers a higher level of performance and toughness. they are more of an actual electric ATV than toy. The Rosso motors electric ATV is equipped with a metal tube frame, four-wheel suspension and disc brakes.
It offers three forward speeds and reverse. 10 inch inflatable rubber tires instead of the plastic of the more toy-like kids electric ATVs. An extra $50 will get you an E Quad X with camo body work and front and rear racks. 
Peg Perego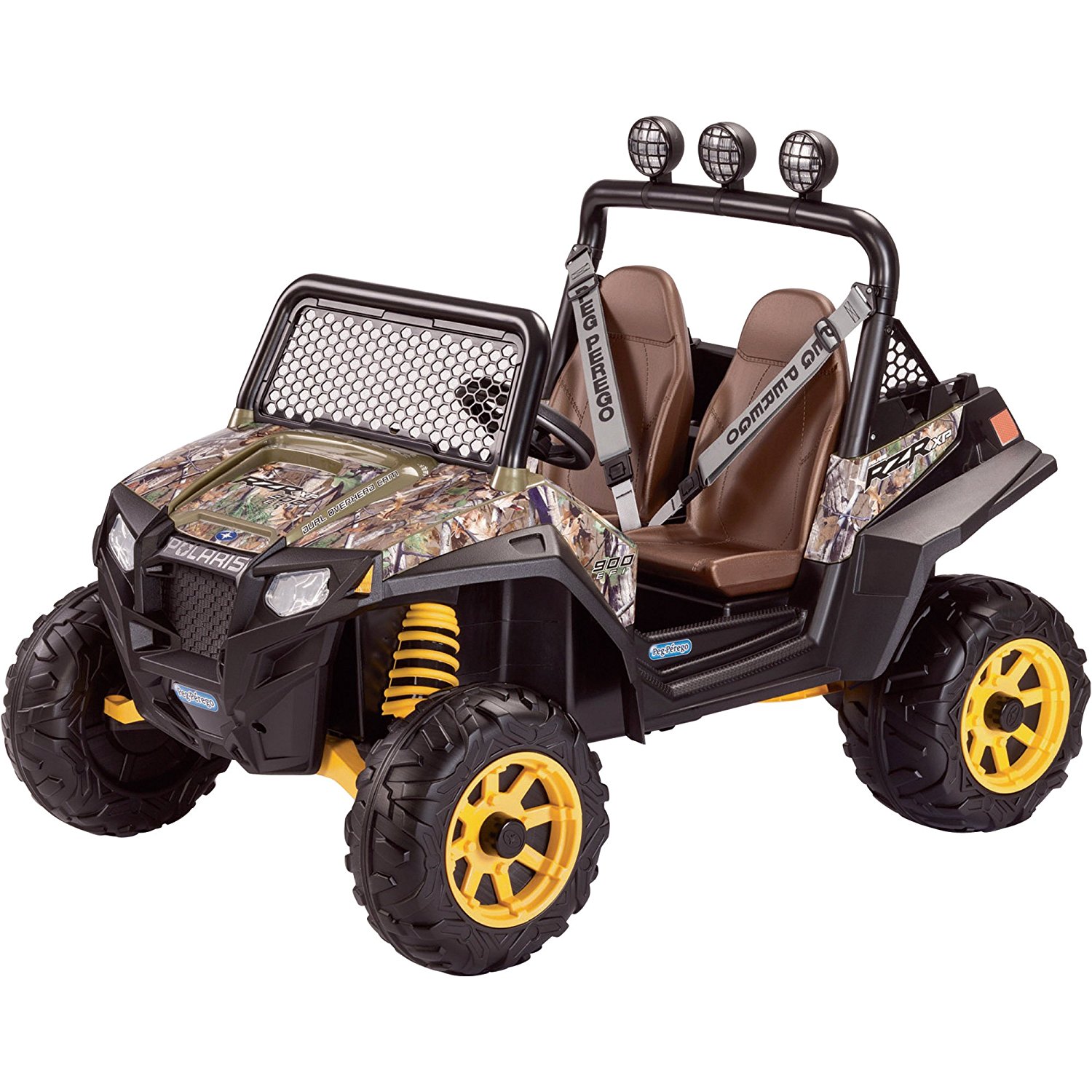 RZR 900 - $398
12V
3-8 age
130 lbs
2.5-5 mph
Hard surface, dirt, grass, gravel
If you prefer more of a UTV Style the RZR 900 from Peg Perego had the highest rating. It also has seating for two with seat belts. Both seats are adjustable to accommodate kids as they grow. Other features include a  working horn, windshield, roll bar and cup holders. You even get a sport bed with tie down anchors. 
Mechanical specs include a 12 volt battery with charger, 2 forward speeds with a shifter, and reverse. It does include a parental lock out for the 5 mph speed. Even though Peg Perego is an Italian company this model is manufactured in Fort Wayne, Indiana.
Razor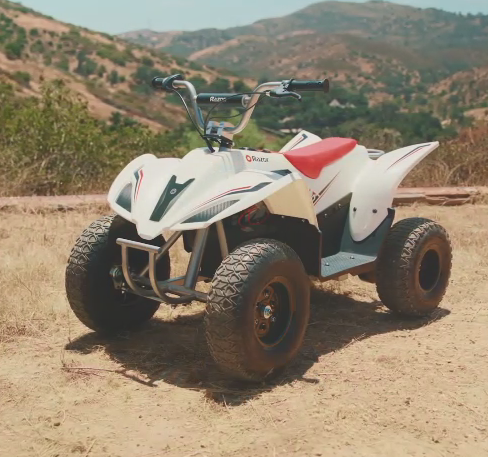 Razor Dirt Quad - $479
24V
8-11 age
120 lbs
8 mph
Any terrain
The Dirt Quad is a more serious youth electric ATV. It comes with a stout metal tube frame, 13 inch diameter pneumatic tires, a Twist grip throttle and handbrake rear disc. Rough terrain is handled by a rear coil spring suspension. Adjustable riser handlebars fit a wide variety of riders.
A front brush guard and rear lift handle help keep riders out of trouble. Shatter resistant plastic body panels and a powder-coated frame improve durability. 
Best choice Products (BCP)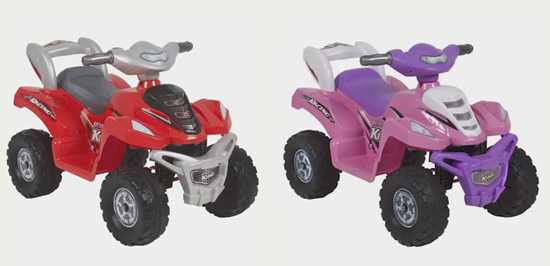 6 Volt ATV Quad - $65
6V
18 months-4 years age
66 lbs
2 mph
Hard surfaces and grass
This is the least expensive of the most highly rated  kids electric ATV models. It seems to be aimed at younger riders with an easy to operate  forward and reverse switch on the handlebar. The simple construction makes it easy to assemble and maintain.  Comes with a battery charger
---
---