ATV Comparisons After 24 Hour Endurance Test.
ATV comparisons can be pretty subjective depending on what's being compared. In this case the top manufacturers of 4x4 utility ATVs were invited to submit their choice of what they thought would be their best four wheeler in a 24 hour endurance test. 24 hours of continuous trail riding!
I think the models they chose to enter in this 24 hour bash are significant. You would think they would choose models they felt had the best chance of surviving a test like this. I would take that as a strong hint about which models may have the best reliability.
24 Hour ATV Comparisons Entry List


Can Am Outlander 500 - Middleweight liquid cooled and fuel injected V-twin. 4 wheel independent suspension 4x4 ATV.
CVT transmission with engine braking. Automatic variable locking front diff.
Honda Rincon 680 - Biggest and most powerful utility ATV they have. The big liquid cooled and fuel injected single is mounted longitudinally and hooked to an automotive style 3-speed automatic transmission.
4 wheel independent suspension with torque sensing front diff.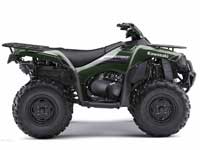 Kawasaki Brute Force 650 4x4i - Middleweight liquid cooled V-twin with dual carbs. 4 wheel independent suspension 4x4 ATV.
Famous Kawasaki adjustable front diff lock. Dual range CVT tranny.
Polaris Sportsman 800 X2 - 2-up heavyweight with liquid cooled and fuel injected vertical twin. Fully independent suspension at all 4 wheels.
Torque sensing front diff. Dual range CVT transmission. Unlockable rear diff.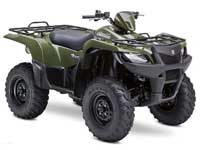 Suzuki 450 KingQuad - Big bore size with middleweight engine and handling. Liquid cooled single with fuel injection.
4 wheel independent suspension with locking front diff. Dual range CVT transmission.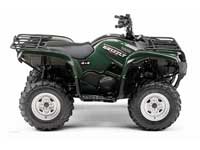 Yamaha Grizzly 700 - Heavyweight liquid cooled, fuel injected single. Fully independent suspension at all 4 wheels.
Yamaha's version of a CVT transmission with front diff lock. Electronic Power Steering (EPS).
Looking at this list of 4x4 ATVs - it's interesting that Can-Am and Suzuki sent their smallest and least powerful models. Honda and Yamaha sent their biggest guns. Kawasaki entered a well proved old school model. Polaris sent the only 2-up model and the heaviest ATV in the test. ATV Comparisons can be brutal - we'll see if they chose wisely
24 Hour ATV Comparisons - The Test.
The test sections included well worn trails like you would see in most riding areas - sandy sections - rocks - pot holes - hard pack - and chatter bumps. Throw in a moderately steep hill climb, some tight technical sections, and a rock creek bed.
All the ATVs were ridden within their limits to simulate real world trail riding. The object was to ride 'em the way most people ride - just for 24 straight hours! This wasn't an ultimate speed test.
Having said that, Dick Burleson was one of the test riders and this guy rides the crap out of whatever he's on! Eight time AMA National Enduro Champions tend to do that. I have seen him up close and personal in a race - when he passed me going so fast I checked to see if my engine had died! So these poor ATVs didn't have it easy.
Utility ATV Comparisons - Results
Let's end the suspense right here - they all finished the 24 hours! That tells me that the factories knew what they were doing with the models they entered. It also says that 4x4 utility ATVs are pretty damn reliable! Just keep in mind this test was about recreational trail riding - not work chores.
So lets's see what the test riders thought about each model and see who did what the best. Let the ATV comparisons begin!
Kawasaki Brute Force - $7399
Good - Lots of power and the carbs work well enough you don't miss the EFI. The tranny works well and the adjustable diff lock is a favorite feature.
Bad - Even though there is plenty of power - it hits hard at low speed making it really tricky to control in tight situations. Heavy steering that gets even worse in 4WD. You can really only stand to use all wheel drive at lower speeds. Rough ride when the terrain gets knarly. Engine braking is so aggressive it can cause the rear wheels to lock on slippery surfaces.
Conclusion - A pretty good deal for the price but it's showing some age and needs to be updated. The steering and suspension just aren't up to snuff. Somebody has to finish last. That's the thing about ATV comparisons, when you're just a little behind, it's really magnified in a test like this.
Honda Rincon 680 - $8299
Good - The automatic transmission if you don't like CVT belts. Great lights for night riding. Good suspension.
Bad - No low range in the tranny makes slow technical stuff challenging. Automatic shifting is a little early and hurts the performance. Engine performance was a little flat. Quit a bit of steering feedback in rough terrain.
Conclusion - It probably won't strand you anywhere but the performance just doesn't measure up to some of the others in the test. If slipping CVT belts bug you - this is the 4x4 ATV for you.
Suzuki 450 KingQuad - $6699
Good - Great value with features that cost thousands more on some of the others. Solid, usable power with decent suspension and steering.
Bad - Stock tires wear out in a hurry. The suspension can feel tippy if it gets pushed hard enough.
Conclusion - Nice overall package with light and nimble handling on the trail, easily controllable power and a relatively smooth suspension. Best value in the group.
Can Am Outlander 500 - $7499
Good - Plenty of user friendly power make it easy to go hard on the trails. Strong brakes. Good ride from the suspension.
Bad - Too much steering feedback to be comfortable at higher speeds. No handlebar mounted rear brake make downhills tricky. Steering gets heavy in 4WD.
Conclusion - A good ATV for long rides if you're not hustling it too hard. Really competent if not spectacular. Price may seem high for a 500, but consider the performance.
Yamaha Grizzly 700 EPS - $9099
Good - Sportiest utility ATV of the group. Excellent steering, controllable power and good suspension and handling at most speeds. The power steering lets you run 4WD for much better handling with no penalty in steering feedback.
Bad - Brakes were a little weak and displayed some locking on downhill sections.
Conclusion - The Grizzly is a true sport/utility ATV. I thought the power steering might be a gimmick - but it really makes a difference when in 4WD. You can use all wheel drive more which means better handling and control - which means getting down the trail faster and easier than your riding buddies! Direct ATV comparisons like this one magnify how much this matters in overall rideability.
Polaris Sportsman 800 X2 - $9699
Good - Most versatile 4 wheeler in the group. It can haul a serious load and then go surprisingly fast down the trail. All while you sit in roomy comfort - with room for one more! Good suspension and handling, good steering with very little feedback.
Bad - 839 pounds. You don't really feel it most of the time - but you wouldn't want it on top of you. No handlebar mounted rear brake lever.
Conclusion - If you're going to spend this much money you want your ATV to do more than one thing well. The big Polaris isn't as sporty as the Yamaha, but it's not that far off either. Then factor in the dump bed and seating for two. The ability to unlock the rear diff to get around tight corners. The towing and load capacities. It really is a lot of bang for the buck.
Sport/Utility ATV Comparisons - Final Thoughts
The 24 hour test confirms what interviews with service managers and independent shop owners have told us. Most name brand ATVs are reliable if they are ridden sanely and given regular maintenance.
We can draw some other conclusions from these ATV comparisons. Some utility ATVs are better at some things than others. We'll make a few recommendations based on that. These are from the group of test ATVs only - you may have some ideas of your own!
Best Value
Suzuki KingQuad 450 - As much sport/utility ATV as most folks will ever need. It's cheap enough you can afford to upgrade the tires and have a 4x4 ATV that will stay with almost anything in most trail riding situations. When you look at the ATV comparisons the Suzuki stands out as a screamin' deal.
Best Sport Utility
Yamaha Grizzly 700 EPS - If you're a speed freak this thing rocks! The fact that it has 4WD and looks like a utility ATV just means it's easier to convince the wife how handy it will be for doing work around the house.
Best Multi-use
Polaris Sportsman 800 X2 - Don't bother convincing the wife - just bolt her on the back seat and show her! This thing is almost as big as a WWII Jeep and may be more useful! It's the best go anywhere - do anything ATV in this group.
---
ATV Comparisons - Budget 4x4 ATVs Reviewed.
4x4 ATVs Comparison Test Report - What's the Best 500 Utility ATV?
---