4x4 ATVs Comparison Test Report.
Find out which 500 utility ATV finishes on top.
Since middleweight 500 4x4 ATVs represent the most competitive class in the utility ATV world - why not do an ATV comparison test featuring the most popular utility ATVs in that class? So that' s what we have here.
If you have work to do and still want to have some fun with your ATV - 500 4x4 utility four wheelers fit the bill. Big enough to handle hauling and towing chores - and small and nimble enough to be plenty of fun for recreational riding. The pricing shown is for 2009 models.
Most of these 4x4 ATVs, or very similar ones, are still offered as 2012 models. Examples would be the Suzuki KingQuad 450 becoming the 500, and the Arctic Cat 500 spliting into a 450 or 550. We don't feel any of the changes were significant enough to change the results of the comparison.
ATV 4x4 500 Class Contestants.
Arctic Cat 500 Auto
Can-Am Outlander 500 H.O. EFI
Honda Foreman Rubicon GPScape
Polaris Sportsman 500 EFI Deluxe
Suzuki King Quad 450
Yamaha Grizzly 450
For this test manufacturers were asked to enter what they thought was their most competitive middleweight 4x4 ATVs with an engine under 500cc. Most of the riding was on well maintained trails with some special tests thrown in to simulate some typical utility type chores like hauling and towing.
Opinions from five test riders were gathered and we also consulted several owner surveys to back those opinions up. The test results are biased slightly toward the trail riding ability of these 4x4 ATVs. They all performed normal utility work fine, but the trail riding parts of the test produced some clear favorites. Prices shown are for 2009 models.
Note - There are a couple of ATVs not tested here that are worth mentioning. The new Honda Rancher 4x4 AT with power steering and independent rear suspension. This is Honda's first major update to a utility 4x4 in years and I think the new Rancher would have done very well in this comparison.
The Suzuki KingQuad 500 with power steering is the other significant model. More expensive than the 450 - it does solve most of the few problems mentioned.
500cc 4x4 ATVs - The Results.


Suzuki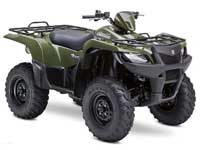 Suzuki King Quad 450 - $6699
Pro
Fuel injected engine runs strong with a great mid-range punch.
Suspension works well after the pre-load is adjusted.
Good chassis performance when loaded which is nice for hunters and campers.
Full size dimensions make for a roomy ride but the tightest turning radius in the group keeps it maneuverable.
Con
Some engine backfiring.
Prone to a little dive in the front under heavy braking.
Steering is a little twitchy and heavy in 4 wheel drive - and gets worse with the front diff locked.
Brakes were grabby in slower technical riding.
The Suzuki 4x4 ATV finishes at the top with best performances in handling and chassis stability. Engine performance was second only to the bigger V-twin Can Am. Overall utility was rated as third best in this group. That all adds up to a winner. Owner surveys and other tests back it up with the KingQuad always getting high marks. Plus it's one of the best values for the price in any category!
Polaris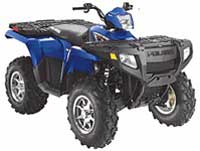 Polaris Sportsman 500 EFI Deluxe - $6999
Pro
Most comfortable with a plush ride - yet very good overall handling.
Fuel injection breathes new life in the old Sportsman with good response and a strong mid-range.
Long running favorite is well developed with few problems.
Supple suspension allows riders to stay in the seat.
Con
Heaviest ATV in the group.
Starting to look and feel a little dated - it's been around a long time!
Soft suspension suffers from some front dive under hard braking.
These Polaris 4x4 ATVs have been favorites for over 10 years. That's how long it's taken the competition to catch up. The Sportsman 500 still holds its' own - but the others are getting much closer. The second place finish shows why it's still one of the best overall utility ATVs out there.
Can Am

Can Am Outlander 500 H.O. EFI - $7499
Pro
Big power from the only V-twin engine in the group.
Tough to beat on fast, relatively smooth trails.
Good suspension and overall handling in most situations.
Comfortable ride and good ergonomics overall.
Con
Throttle response is off just enough to hurt rideability in slower going.
Brakes tend to fade when wet or dirty.
The 500 will run on top with most big bores - but it costs as much too.
Geared too high for slower, technical riding.
Not so great for utility work - Handling suffers with a load on the racks.
Bottom of frame is prone to damage without skid plates.
The 500 Can Am 4x4 ATVs - aren't really in to the utility side of things. That hurt the Outlander's finishing position in this test. If you ride faster more open trails and don't care so much about doing chores with your ATV - this 500 that runs like a 700 might be for you!
Yamaha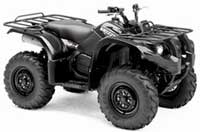 Yamaha Grizzly 450 - $6699
Pro
Light and nimble feeling.
Smaller dimensions and light weight are good in tight going on the trail.
Handles well with a load.
Scored well in the handling and stability tests.
Least expensive 4x4 quad in the group.
Con
Lacks power with the smallest engine in the group.
Smaller size may be uncomfortable for larger riders.
Heaviest steering of the group in 4WD with the diff locked.
A middle of the pack finish for this Yamaha 4x4 ATV when it's the smallest, lightest, least powerful, and cheapest machine in the group. Not bad and it puts the Yamaha in contention for the best value of any of these ATVs.
Arctic Cat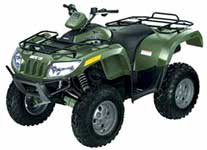 Arctic Cat 500 Auto - $6849
Pro
Long travel suspension is plush in rough riding.
Highest ground clearance in the group.
Good at slow, rough technical riding.
Very good performance in utility tests when loaded.
Con
Soft suspension causes a lot of squat, brake dive, and body roll at higher speeds.
Steering gets a little unstable on higher speed trails and has too much feedback.
Tippy feeling due to higher riding position.
If you need to haul heavy loads over rough terrain, the Arctic Cat 4x4 ATVs may be your best bet. That seems to be what this ATV is designed to do, along with slow trail riding in extreme terrain. Just don't ask it to go too fast or you may have a more thrilling ride than you really wanted!
Honda
Honda Foreman Rubicon - $7499
Pro
Typical smooth running Honda engine with no drama.
CVT transmission with no belt to worry about slipping.
Best transmission performance in the group.
Comfortable riding position.
Great instrumentation including the GPS.
Honda reliability.
Con
Twitchy steering.
The swingarm mounted solid axle doesn't perform as well as the independent suspension on the others.
Suspension is too harsh overall.
Mediocre braking performance trails most of this group.
No locking front differential
Lowest ground clearance causes problems in rougher trail riding.
I don't know that the Foreman was one of the best Honda 4x4 ATVs for this test - but that's the one Honda went with. No diff lock and a solid rear axle on a swingarm are really old and out of place among this group of ATVs.
But the Honda can handle work chores without breaking a sweat and requires less maintenance for the transmission and driveline. That and the Honda name could be enough for a lot of folks.
Think we're clueless? Tell us why you think so and then tell us about your favorite 4x4 ATVs. Of course, if you think we're right, we would really love to hear from you!
What Other Visitors Have Said
Click below to see contributions from other visitors to this page...

Good Comparison - Right on the money

Basically I agree with this comparison except I think the Polaris should be in the #1 spot. I may be biased because I own the identical Sportsman 500 efi …
Related Articles:
---
---