ATV Comparison Review.
Which Budget 4x4 ATV is Best?
What better time for a low budget 4x4 ATV Comparison? Since everyone is stretching their devalued dollars as far as they can - we thought we'd see how much 4x4 ATV you could get for under 6 grand.
We came up with a sampling of seven midsize 4x4 ATVs. Under $6K - under 500cc - and all with 4 wheel drive.
4x4 ATV Comparison - The Players
Arctic Cat 366
Honda Rancher 4x4 - Power Steering
Kawasaki Prairie 360 4x4
Kymco MXU 375 IRS 4x4
Polaris Sportsman 400 H.O.
Suzuki KingQuad 400AS
Yamaha Grizzly 350 Auto 4x4 IRS
Our review is based on info from several sources but mainly from the best comparison tests we could find. We just cut through the fluff and give you what you really want to know. Resources are listed at the end of the article.
Testing was done on a variety of terrain including fairly high speed trails, low speed technical trails, mud, water, and a series of "utility" tests". These involved simulations of common work chores like hauling, towing, and pushing calibrated loads.
4x4 ATV Comparison - Results
This ATV comparison showed the strengths and weaknesses of each ATV pretty quickly. Some were better at low speed technical riding and work chores - some were better at high speed fun. But three machines stood out for their performance in all the tests. So we ended up with two groups - the best - and all the rest.
The Best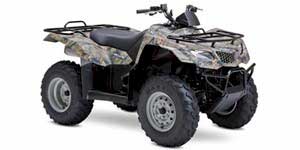 Suzuki Kingquad 400 AS - $5499
Good - Great suspension - good handling and steering - very roomy. One of the best all-around ATVs at work and play. Good predictable braking. Did whatever you wanted with very little drama. Large racks.
Bad - Handlebar mounted diff lock is hard to reach. Very limited built-in storage spaces.
Conclusion - Good choice for a do everything work/recreation 4x4 ATV. The Suzuki Kingquad is as good as any at towing and hauling stuff - and you can head for the trails on the weekends knowing you can stay with anything in this class.
Polaris Sportsman 400 H.O. - $5699
Good - Sportiest handling in the class. Good at high speed and very maneuverable with a shorter wheelbase in the technical and tight stuff. Big power, the most storage capacity in the class, the best suspension, and good steering.
Bad - Smaller dimensions could be a problem for larger riders. Rear foot brake hard to find and no handlebar mounted rear brake.
Conclusion - If you really want a sport ATV but still need to do some work then the Polaris Sportsman may be your best choice. The best performance 4x4 ATV in the bunch - if you fit on it. It can perform the usual chores with the best utilities in the group.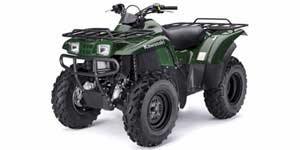 Kawasaki Prairie 360 4x4 - $5349
Good - Adjustable front diff lock works great. Good power and handling. Steering and suspension are good. Reasonably comfortable. Brakes work well and include a handlebar mounted rear brake.
Bad - You have to look pretty hard to complain about anything. The ergonomics could possibly be better with some complaining about the seat. A little under powered in this class with its' smaller engine.
Conclusion - Good solid all-around package. Performs chores easily and works well enough at higher speeds to be a blast on the trails. The front diff lock turns iffy traction like mud holes into play time.
ATV Comparison - Best of The Rest


Honda Rancher 4x4 (TRX 420 FM) - $5799
Good - Comfy ergonomics. Great brakes. Storage area. Power steering. Plenty of power with responsive delivery. Great for work chores.
Bad - Rough ride and poor high speed performance from the suspension. A lot of folks didn't like the manual foot shifting. Low ground clearance.
Conclusion - The Honda is a great work horse with plenty of power and lots of storage capacity. Build quality is as good as it gets. But the suspension is enough of a sore spot (in more than one way!) that all the good stuff just can't overcome it.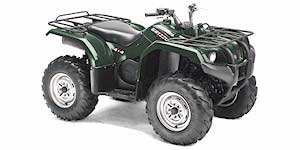 Yamaha Grizzly 350 Auto 4x4 IRS - $5999
Good - Very competent as a do everything package. Comfortable with probably the best ergonomics in the group. Good storage capacity with the biggest under seat storage area and decent size racks.
Bad - The smallest engine in the group felt underpowered compared to the others. Bare bones instrumentation with no fuel gauge.
Conclusion - The Yamaha Grizzly kinda hits the middle. Not really bad at anything - but not outstanding anywhere either. It works well at down the middle chores and slow-enough-to-enjoy-the-scenery trail riding. We think it's the best looking ATV here if that counts for anything.
Arctic Cat 366 - $5649
Good - Low speed handling in technical terrain. Load capacity for work chores. Digital dash. Comfortable ergonomics.
Bad - High speed handling that the steering and suspension just can't cope with. Prone to belt slippage around water. Ground clearance hampered by tow hitch.
Conclusion - A really good utility 4x4 ATV that is let down by sub-par high speed handling. For everyday work that doesn't involve any mud or water, it does a good job. Even tight trail riding or technical terrain don't trip it up. But the handling and steering at higher speeds don't measure up compared to the best.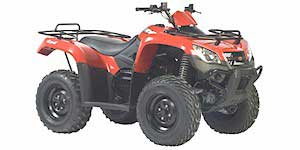 Kymco MXU 375 IRS 4x4
Good - Surprising build quality. Good suspension. Very comfortable. Handles utility work as well as any ATV here. Good value.
Bad - Scary steering. Really ruins an otherwise competent four wheeler at anything other than slow speed. Brakes felt a little weird but did stop OK. Prone to some belt slipping around water.
Conclusion - The quality of the Kymco ATV proves this Taiwanese company is serious about ATVs. They aren't quite there yet - but are getting very close. For now the MXU 375 is a good utility 4 wheeler at a value price. If Kymco irons out some issues - it could easily be in the top group next time around!
Final Thoughts
Since the purpose of this 4x4 ATV comparison was to find the best deals for under $6,000 - we need to add a few more tips.
Save more money by buying last years 4 wheeler model. Most of these same ATVs are available as 2008 models that are almost identical to these 2009s. For $1,000 to $1,500 less! Since this ATV comparison is about sticking to a budget - that could be important.
Upgrade to an ATV model with more features for a little more money. Several of these models are offered with bigger engines or better 4 wheel independent suspensions for a few more dollars. That put them over our $6k limit on retail price for this ATV comparison. But with all the rebates and specials being offered now - it may be possible to get them for a lot less!
Related Articles:
---
---