Yamaha Grizzly Accessories.
Our Guide to Yamaha Grizzly Accessories covers the most common accessories for all the Grizzly models. We'll also tell you which accessories are the most popular with Grizzly owners and their priority for improving the Grizzly.
We surveyed Grizzly owners first to find out which accessories they felt were most important. Answers varied some according to the type of riding and terrain the Grizzly was used for. But for certain accessories, the priority list was fairly consistent.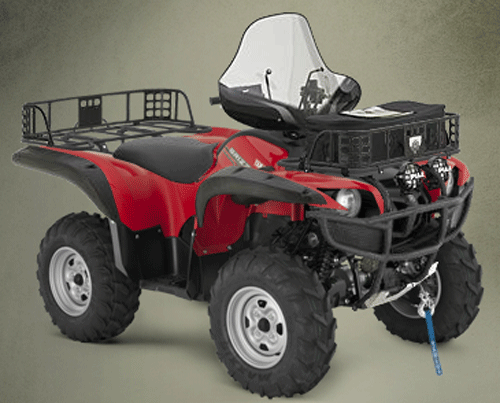 Yamaha has loads of accessories for the Grizzly.
Yamaha Grizzly Accessories - Most Popular
We've listed the accessories below by popularity according to our survey results. Keep in mind that your needs may be a little different depending on how and where you ride.
Winch - This is the first thing most Grizzly owners had on their accessory list. A winch will get you out of a lot of tight spots. If you ride in areas where you are likely to get stuck, you simply have to have a winch to get yourself out.
Winches are rated by pounds of capacity to give you some idea of the pulling power of each unit. For the Grizzly models, something in the 2500 to 3500 pound capacity should be fine.
There's also a choice between synthetic rope and steel cable. We really like the rope best. It's lighter, safer, less destructive, and generally just nicer to use. Use the links below to find the best deals.
Ebay Motors Links
Tires - There's not anything wrong with the stock Grizzly ATV tires. It's just a situation where they're not really bad at anything, but neither are they the best for any particular terrain. Most owners prefer to choose a tire that fits their specific riding style and terrain.
New tires are certainly not inexpensive, but they can make such a big difference in the performance of your Grizzly, they could prove to be the best money you've ever spent. Riding an ATV should be fun, and nothing is more frustrating than having ATV tires that don't work.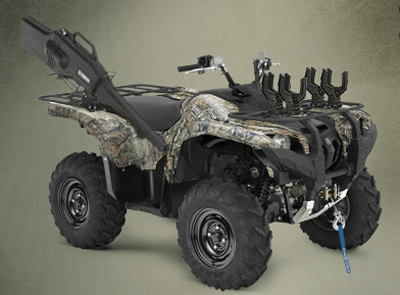 You can also order Grizzly accessories for specific needs like this hunting version.
Wheel Spacers - This one being so high on the list surprised us a little. Several owners thought the Grizzly felt a little tippy and were happy with the extra stability offered by the wider track after installing the spacers.
Not the most glamorous of Yamaha Grizzly accessories, wheel spacers get their job done out of sight in a functional sort of way. Considering the improvement they can make to the handling and stability, you can count them as a great value.
Wheels - A new set of ATV wheels won't make as much of a performance difference as ATV tires. Grizzly owners listed several different reasons for changing wheels. Everything from style, wider width, larger diameter for mud tires, ability to run beadlocks, and more.
Lighter ATV wheels can produce a gain in performance by reducing the weight of the rotating mass of the wheel/tire combination. It's also a way not to lose performance if you're planning on switching to a larger and heavier tire.
The Yamaha Grizzly handling can be improved by using wheels with more offset. That will accomplish the same thing as wheel spacers, without having the extra weight and hassle of adding spacers. It's a much cleaner way to do things, although not the cheapest!
Air Filter - There are two main reasons Grizzly owners chose to replace ATV air filters. More performance with a higher flow filter. A filter better suited for your riding situation. Of all the Yamaha Grizzly accessories, air filters are the most bang for your buck.
The pleated K&N style filter has better flow, but is not a great choice for dusty conditions. If most of your riding is in damp areas, and you want a little extra bump in power, these work well.
In dusty conditions, an oiled foam or "twin" foam filter is the best choice. The twin foam has two layers with different densities of foam for the ultimate in protection and air flow. Naturally, they're the most expensive. A good quality single foam filter will suffice for most owners.
Slip on exhaust silencers for the Yamaha Grizzly save weight and improve flow.
Exhaust - High performance exhaust upgrades for the Yamaha Grizzly usually consist of silencer replacements, or complete systems from the cylinder head back.
Silencers improve performance by reducing weight and increasing exhaust flow over the stock mufflers. Most also increase noise levels, which can be a factor depending on your riding area.
Complete ATV exhaust systems are engineered to increase flow from the cylinder head back to the silencer. This may include larger exhaust pipes and careful selection of length, tuned to produce the amount of back pressure that gives the best performance boost.
It's common for these systems to be made from more durable materials like stainless steel or titanium. As you would expect, complete systems are much more expensive than just replacing the silencer.
Brush Guard - Adding a brush guard to the Grizzly won't help the performance any. What it will do is provide extra protection to the front of your ATV to keep that pesky trail debris out of your radiator and other places it shouldn't be.
If you have a winch, a brush guard will help keep it protected, along with the lights and bodywork. Some owners just liked the "tougher" look of the Grizzly with the brush guard installed. Hey, style and function, you can't beat that.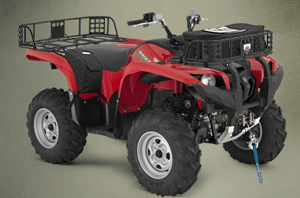 Improve utility with racks and storage bags.
Racks - Yamaha offers lots of options for improving the utility potential of the Grizzly.
The variety of specialized racks in the Yamaha Grizzly accessories catalog, and available through independent manufacturers, is just mind boggling.
Front and rear racks provide a place to secure a load, and rack extensions help keep it in place.
Then, there's a complete line of bags made to fit the racks perfectly, and it that's not enough, check out the fender bags for even more storage.
You can get started shopping with the link below that lists all the best deals available.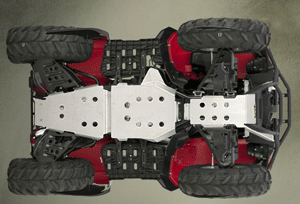 Aluminum skid plates for ultimate protection.
Skid Plates - The stock Grizzly has adequate protection for casual riding, but for anything more serious, you'll need more protection.
That will come with a choice between heavy duty aluminum skid plates like those in the photo, or plastic composite for the budget minded.
We think the aluminum offers the most protection, and you'll probably want to add A-arm guards while you're at it.
Check the link below for the best deals we could find. The listings are set to update constantly, so be sure to check back if you don't see what you want.
Other Yamaha Grizzly Accessories
The ATV accessories we mentioned above sure don't represent all the Grizzly accessories available. The Yamaha dealer catalog alone is brimming with accessories for almost any need.
We covered the most popular Yamaha Grizzly accessories in detail, because those are the ones that will be of the most interest to owners. But one of the advantages of a popular model like the Grizzly, are the many specialized accessories that are available.
Winter weather accessories like snow plows and heated grips can extend the usefulness and riding time of your Grizzly. Tire chains will keep you going in the snow and ice. A windshield will help keep debris off and knock a few degrees off that wind chill factor.
Some more hard core performance parts like clutch kits and fuel controllers can improve the throttle response and add power. Performance companies can provide internal engine parts like pistons and cams for even bigger power gains.
To improve the hauling capacity of your Grizzly, there are a wide variety of racks and bags that will fit almost any need. Towing is well covered too, with plenty of options in hitches and attachments.
If you want to extend your riding time, it's easy to find plenty of lighting configurations. From halogen spots to wide array LEDs, and mounts to put 'em almost anywhere you can imagine.
There's no shortage of electrical accessories either. Extra 12v sockets, GPS systems, music systems, etc., can be found on the Yamaha Grizzly accessories list.
You can see when it comes to Yamaha Grizzly accessories, your imagination (and pocketbook) are about the only limits.
Related Articles:
---
Yamaha ATV Guide from Yamaha Grizzly Accessories
---