New Yamaha Grizzly 700 Review.
The Yamaha Grizzly 700 has been King of the Hill among 4x4 utility ATVs in years past. Yamaha created and owned the big bore sport utility segment beginning with the Grizzly 660. But things change quickly in the world of ATVs, so we thought it was time to see how the 2013 Grizzly 700 stacks up against some of the newer competition.
The big Grizzly 700 was introduced as a 2007 model and continues relatively unchanged into the 2013 model year. That's not a slam, the 700 was so far advanced when it first arrived, it didn't really need a lot of updating. But that was then and this is now. Is the Yamaha Grizzly 700 still competitive in the hot big bore utility ATV class?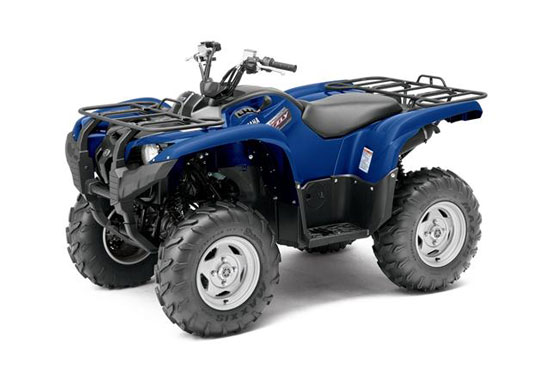 2013 Yamaha Grizzly 700 in Steel Blue with standard Aluminum Wheels.
We'll try to answer that question in this review. You can catch up on the basics of the Grizzly 700 in the quick video review below. It's for a 2012 model, but there is almost no difference with the 2013 Grizzly 700.
Yamaha Grizzly 700 Features
We'll give you the low down on all the noteworthy features first, and then get into how that relates to the rest of the big bore utility ATV class. Let's start with the heart of the big Grizzly, the engine.
Engine/Transmission/Driveline
Even though some of the competition has introduced larger twin cylinder engines for this class, Yamaha has stayed with the well sorted 686cc single cylinder. But don't mistake this for an "old" tech engine, since it was an advanced design when it was introduced a few years ago.
The big single sports 4 valves, needle bearing overhead cam, liquid cooling, and electronic fuel injection. Look a little deeper and you'll find even more sophisticated technology with a ceramic coated cylinder liner, gear driven counter balancer, forged piston, and a heat treated chrome-moly connecting rod.
It's not the horsepower king of the class, but it makes good power in the low and mid range, and the big bore/short stroke combination allows the engine to carry the power further into the upper rev range. The fuel injection has good response, so in the real world, the Yamaha Grizzly 700 engine is enjoyable to use without the intimidation factor of some of the higher horsepower competitors.
Top it off with rubber mounting to reduce vibration, a stainless steel exhaust for durability, an automatic cam chain tensioner for easier maintenance, and a high capacity radiator with electric fan for better cooling and reliability. Add several years of refinement and development and you have a very solid and usable power plant.
Yamaha calls their version of the CVT type transmission the "Ultramatic". In this case that may be a good description. We're not huge fans of most CVTs, but we have to admit the Yamaha tranny might change our minds. The big difference in this setup is the centrifugal clutch that Yamaha adds to the system.
By doing so, CV belt tension can be maintained for better response and much longer belt life than other systems. To us, the improved throttle response is the biggest improvement, and the extended belt life is just a bonus.
The power makes its' way to the wheels using straight thru drive shafts for minimal power loss. The Grizzly 700 transmission has a high and low range, along with reverse, neutral, and park. Yamaha's four wheel drive system uses a locked rear differential, along with a limited slip unit at the front. You'll find a manual lock switch on the right handlebar that locks the front diff for full 4 wheel drive.
One more feature we really like is the unique one way sprag clutch that allows for off throttle engine braking. When going down hills this makes things a lot easier than other ATVs that require you to ride the brakes, which can get a little dicey on loose surfaces.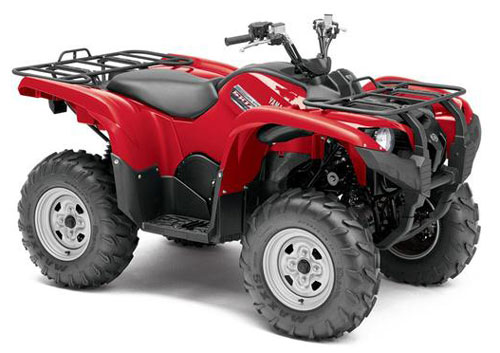 2013 Yamaha Grizzly 700 is available in red - a first for Yamaha utility ATVs.
Chassis/Suspension/Brakes
The chassis of the Yamaha Grizzly 700 has been configured to place the heaviest components like the engine, transmission, and even the fuel tank, as low as possible in the frame. This reduces "tippiness" and improves overall handling.
The big Grizzly 4 wheeler sports four wheel independent suspension just like most of the other utility ATVs in the big bore class. Shocks have a five position pre-load adjustment and for 2013, the rear shocks are upgraded to gas charged.
Disc brakes on all four wheels will handle just about any situation with no drama, and the dual handlebar brake levers are something we've always liked.
We wouldn't call the Grizzly 700 a sport utility ATV, but its' relatively small dimensions, lighter weight, and tucked in body work all add up to a very maneuverable and confidence inspiring ride for a big bore utility quad. At higher speeds, the basic suspension gives up at about the same time you should think better of it too.
If you add the optional electric power steering, the Yamaha Grizzly 700 is one of the most comfortable and user friendly big utility ATVs you can buy today. It may not be the biggest or most powerful, but many times that works better in the ads than it does on the trail.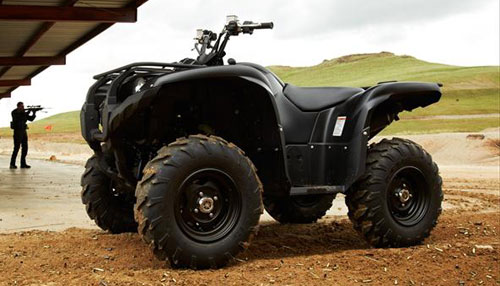 2013 Yamaha Grizzly 700 EPS SE in Tactical Black.
Comfort/Convenience
Comfort on any ATV starts with the seat. Fortunately, the Yamaha Grizzly 700 has one that's been well developed over the years. The 2013 model features one with the thickest foam ever, along with "air chamber" technology for even better bump absorption. If you've ever spent any time on a bad seat, you know how valuable a good seat really is. This one will let you go all day without paying for it all night.
Storage capacity always tops our list of convenience items on a utility ATV. The Grizzly 700 gets off to a good start with front and rear steel tube racks rated for a 99 pound load on the front and 187 pounds on the rear.
Add in a nice size storage compartment under the seat and another smaller one in the right front fender, both with seals for water resistance, and we're pretty happy. If you need more storage room, you can always add various bags, baskets, and cargo boxes from the Yamaha accessories catalog or aftermarket suppliers.
Staying with the utility ATV theme, we want a trailer hitch with good towing capacity. Once again the Yamaha Grizzly 700 delivers with a standard hitch rated for a 1300 pound towing load.
Next, we like information delivered with easy to read instrumentation about the essential functions on our ATV. The Grizzly 700 has it covered with a center mounted pod with a digital readout. It provides info on fuel injection, power steering, fuel level, speed, odometer and trip odometer, hour meter, transmission gear engaged, diff lock, and time of day with a clock.
This Yamaha Grizzly 700 tops things off with an easy access washable foam air filter, marine grade electrical connections (ALL ATVs should have these!), CV axle protectors, scratch resistant fenders, and dual halogen headlights.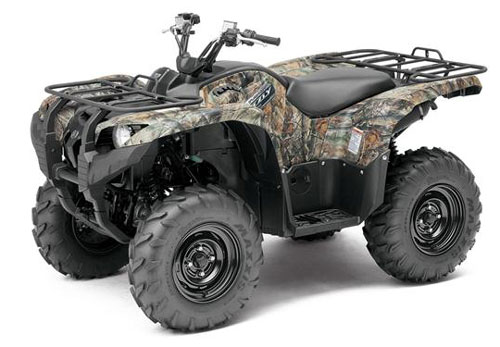 Grizzly 700 in Camo features scratch resistant fenders and "no snag" edges.
Yamaha Grizzly 700 - Conclusion
As we've grown more mature, the more we have learned to appreciate balance in all things. Since one of the Grizzly 700's main attributes is its' balance, we find ourselves naturally attracted to what is now one of the smallest big bore utility ATVs on the market.
But don't mistake smaller for less capable. Even though the current trend is to larger ATVs with larger engines, that extra weight and bulk doesn't always translate into a better utility ATV. We have found that many times it does translate into a more difficult to ride ATV.
In our opinion, the Grizzly 700 is one of the easiest to ride and most usable utility ATVs in the big bore class. It has enough power for just about anything you'd want to do, without being intimidating or touchy to use. It's big enough for most types of chores or work, yet small enough to be maneuverable in tight spaces. It has enough performance to handle most trail riding situations, but doesn't sacrifice reliability for speed.
We do recommend the EPS option because it just makes a great ATV that much better. It improves handling, comfort, safety, and the ability to do work that would be much harder without it. If you've ever ridden a big utility ATV with loaded racks while locked in 4wd you'll know what we're tailing about.
Put it this way. If we had to spend our own money on a big bore utility ATV that we were going to have to live with day in and day out for several years, we can't imagine a better choice than the Yamaha Grizzly 700 EPS. Even better, the going price on the Grizzly 700 also makes it one of the best values in the big boy class.
Related Articles:
---
---