Street Legal 4Wheeler Report.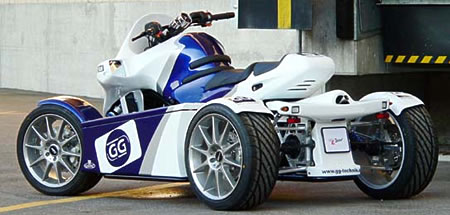 GG Quad 4 wheeler for the street.
The good news - this is a street legal 4wheeler. The bad news - not in most of the United States. There are some states and municipalities in the US that allow ATVs with required modifications to be driven on public roads. GG Quad, the distributor of this street legal quad, is working hard to get approval in more areas.
Those "modifications" usually consist of - headlight, taillight, brake light, turn signals, mirrors, and a horn. If you live in one of these enlightened states, consider yourself lucky. If not, start wearing your local legislators phones out to make it happen. With gas prices skyrocketing, they might be more receptive to the idea than you think.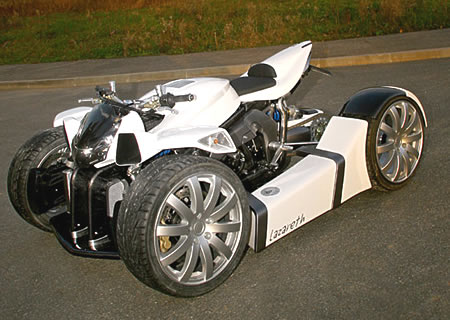 The French built Lazareth is a high performance street legal quad.
You, too could be cruisin' the streets on something like this. Provided you have about 50 grand you don't really need for anything else. Of course, the GG Quad represents the high end of the street quad segment. There are less expensive alternatives. Check out the video below for an in depth test of the GG.
The street legal four wheeler is actually common in other parts of the planet like Europe and Asia. Most of those consist of converted ATVs from the major manufacturers. In most EU countries, they are governed under a special category called Quadricycles.
Given their extensive track record in other parts of the world, it's not too far fetched to think that they might one day be more widely accepted on the roads of North America.
In the meantime, Bombardier seems to have taken the first step by introducing the Can Am Spyder trike. Three wheelers can be licensed as motorcycles in most states, so it's much easier to introduce a three wheel vehicle to the non-traditional market.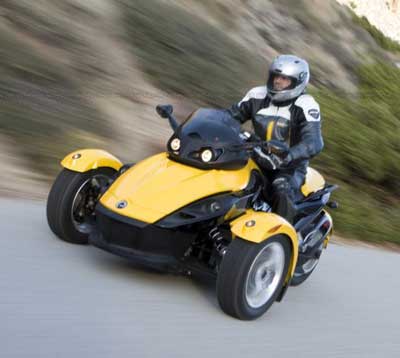 Can Am Spyder three wheeler.
The Spyder has been an overwhelming sales success, and Can Am has been expanding the model line since the introduction of the original. They are well aware of the street legal four wheeler market in other parts of the world, so you would believe they would love to be able to introduce them in the US and Canada.
Related Articles: Street Legal 4Wheelers.

---
Return to Street Legal ATV Guide from Street Legal 4wheeler.
---