Polaris Razor Guide - Overview of all Ranger RZR Models.
The Polaris Razor model line up just keeps expanding. What started as a specialty spin off of the Polaris Ranger division has really come into its' own. Our Ranger RZR Overview report tells you what the differences are among the many Razor models for 2012.
Each Razor model has unique features that work best in certain riding situations. We'll tell you what those differences are and why they matter in real world conditions. Regardless of what kind of riding you like, there should be one of these Polaris Razor models that will handle it well.
Polaris Razor Models


RZR 170 - $4,299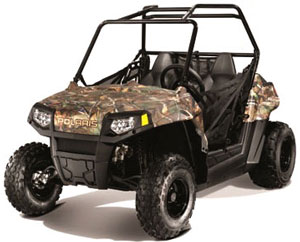 Razor 170 Youth model with optional camo color.
The only UTV side by side for kids over 12 years old. But this Polaris Razor doesn't look like a machine for kids. It appears to be a scaled down version of the original RZR. That's pretty much where the similarity ends.
The running gear is unique to the RZR 170. You get the more simple 2wd, along with a basic swingarm rear suspension. Front suspension is independent just like the big boys. Oh, and 4 wheel disc brakes are included, so it's not like Polaris is scrimping all that much!
Power comes from a 169 cc four stroke single cylinder engine. This one is air cooled by a fan to once again keep things basic for easier maintenance. You also get electric starting for convenience and an old school carb for less hassle and expense.
Transmission is a Polaris version of a CVT automatic with forward, neutral, and reverse gears. An easy to maintain O-ring chain handles the final drive to the rear wheels.
RZR 570 - $9,999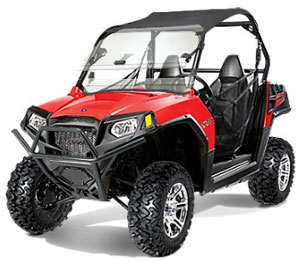 RZR 570 with optional roof, front bumper, split windshield, and tire/wheel package.
This is a new model for 2012. The 570 joins the RZR 800 as the only side by sides that can be driven on 50" trails. Even though it looks a lot like the RZR 800, it has much different running gear.
The engine is the second member of the new Polaris ProStar line. These more advanced engines have 4 valves per cylinder, and DOHC heads for much better power. In fact, the single cylinder 570 has almost the same performance as the RZR 800 with the older style engine.
Liquid cooling and electronic fuel injection finish off the engine specs. The 570 is a strong running engine with good low end torque that makes it perfect for the tighter 50" trails it was designed for. It works so well, we wouldn't be surprised if the RZR 800 is discontinued soon.
A new lighter weight transmission with more efficient gears helps improve the performance and response of the Razor 570 even more. Polaris says they concentrated on lower speed acceleration (0 to 35) since that is more important in most trail riding situations. At 4 seconds to 35 mph, it's only .2 seconds slower than the 800!
When you throw in the on-demand 4wd system, automatic CVT transmission, four wheel disc brakes, over 9 inches of suspension travel, tilt steering wheel, bucket seats, side nets, skid plates, and a certified roll cage - the Polaris Razor 570 packs a lot into a package that sells for under $10,000!
RZR 800 - $11,299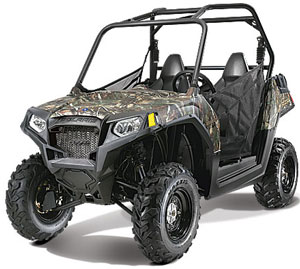 Polaris Razor 800 in Camo.
This is the original Polaris Razor that appeared in 2008 and started the sport UTV trend. The 2012 model gets several updates from previous models. Our favorite is the new lower price! Down from almost $14,000. Polaris is working hard to attract more riders to the safer and more comfortable UTVs.
The new RZR 800 has some obvious styling changes to the front end due to a larger radiator that has been repositioned for better cooling. What you can't see is the thicker skid plate underneath for better protection from rocks and limbs. More noticeable is the now standard glove box which improves convenience more than you would think with a 3 gallon capacity.
Although you can't see the new HO engine from the Razor S, you can sure feel it! That's right, all the new RZR 800 models now come standard with the S engine. It's tuned for lower speed acceleration much like the 570. It does seem to work better for most of the situations you would find on 50" wide trails.
Other more subtle changes were made to seal the cabin area better from heat and dust for a more comfortable ride. The passenger grab bar has been modified to eliminate the rattling that many owners complained about. A change to the shocks was made to improve durability.
Most of the improvements were more like refinements to the original Polaris Razor 800 rather than any huge changes to the running gear or design. Since it was such a success when it first came out, and still doesn't have any competition from other makes, that's all it really needed.
Full review of the Polaris Razor 800.
Razor S 800 - $12,699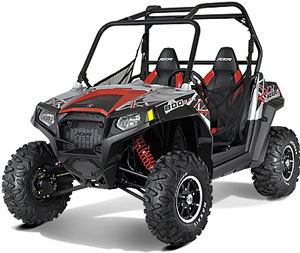 Polaris RZR S with Silver LE package.
The RZR S includes all the updates to the Base Razor 800 mentioned before. The S model is designed for higher speeds and more wide open spaces. Visible differences are the wider stance (60.5"), increased suspension travel (12"), and ground clearance (12.5") of the S.
A couple of Limited Edition models are offered for an extra $1,400. In addition to the fancy paint and graphics, you get upgraded shocks, wheels, tires, and custom bucket seats. Color schemes are white/orange or silver/red.
Full review of Ranger Razor S.
RZR 4 800 - $14,499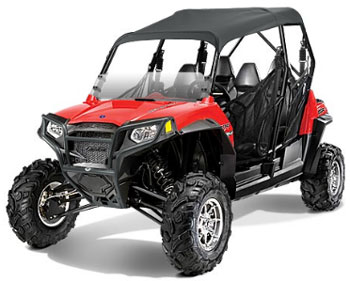 Polaris RZR 4 Robby Gordon model with optional roof, half windshield, and front bumper.
Take a Polaris Razor S and stretch it out to accommodate rear seats and you have the basis of the RZR 4. Folks were having so much fun with their 2 seat Razors, they wanted to share it with more people. Polaris thought it was a good idea, and created the RZR 4. In many areas, dealers tell us the 4 seaters are their top selling models!
The big RZR features special tires, adjustable shocks for quickly adjusting to the load, and interchangeable bucket seats front and rear. Suspension travel is the same as the RZR S, but the ground clearance is an inch less. Engines are the same in both models.
The extra weight causes the performance to suffer as you would think, but that's not really what this Razor is about anyway. The ride is actually better due to the longer wheelbase, and high speed stability is slightly better for the same reason.
An LE edition with Electronic Power Steering can be had for $15,799. If much of your riding is on tighter trails or with heavy loads, the power steering is something to strongly consider.
Ranger RZR XP 900 - $15,999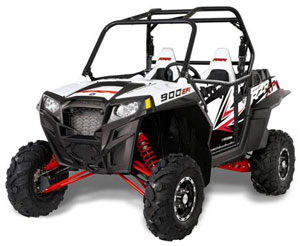 Razor XP 900 White LE package.
Polaris went all out with the performance of the XP 900. It looks to have more in common with desert racing buggies than with stodgy UTVs. This high performance segment is one of the hottest right now.
The XP 900 is right in the middle of it with 88 horsepower, 1,190 pounds, 14 inches of wheel travel, and 13 inches of ground clearance. Those are some serious performance specs, never seen before in the side by side class.
After recently driving a Polaris Razor S and then hopping in a XP 900, the performance difference is very noticeable. The RZR S is no slouch, but the RZR 900 just feels like a much more focused performance machine.
Things get started with the all new ProStar engine. It employs cutting edge technology with 4 valves per cylinder, DOHC heads, electronic fuel injection, and liquid cooling. The 875cc vertical twin runs smoother and much stronger than the old pushrod engine of the RZR S.
Along with the engine, the XP 900 gets an all new transmission too. Lighter, more compact, and with better overall efficiency, the new tranny complements the performance capability of the new engine.
A UTV with this kind of engine performance needs a suspension capable of handling the speed. Polaris didn't scrimp here either. A full 14 inches of travel at both front and rear is controlled by premium adjustable shocks. High speed stability is impressive, and with very little trade off in lower speed maneuverability.
The Polaris AWD system, CVT transmission, special ITP tires on aluminum wheels, 4 wheel disc brakes, and shaft final drive all contribute to a very well controlled driving experience.
It's obvious from the Spec sheet that the XP 900 is intended for wide open spaces and higher speeds. It's the widest of all the Razor models at 64 inches, which limits its' usefulness on tighter or narrower trails. But if you're lucky enough to have access to those wide open spaces, the Polaris Razor XP 900 is an absolute blast!
Full review of the RZR XP 900.
---
---